Buying Larimar
From only one place in the world, mined by hand, larimar is one of natures' rarest treasures. It was virtually unheard of before marahlago used it in their jewelry and brought it to the world's stage, but as Larimar has grown in popularity, so has the list of "imitators". Because Marahlago is recognized as the leader in Larimar, we created a how-to guide to buying Larimar to help when purchasing this rare gemstone.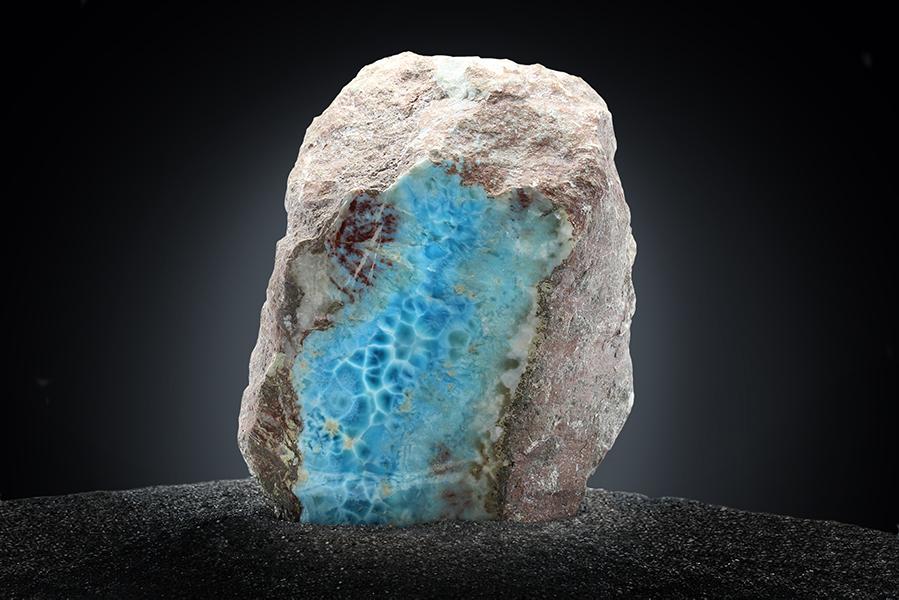 Branded or Generic?
When you buy a car, you aren't just buying the engine. The same happens with jewelry. There are many factors that define a piece of jewelry besides the actual gemstone. For example, the weight of silver will impact the overall strength and sturdiness of the piece, and the way the stone is set will determine how long it is likely to last. The embellishments in each design add to the overall aesthetic and eye appeal. The degree of polish affects the smoothness and brilliance. The final finish will affect the long term tarnishing rate of the sterling silver.
There are many factors that contribute to the difference between generic jewelry and fine jewelry, but it can be hard to know what to look for. Here are some of those differences:
Stone Setting
There are many ways to set stones: prong setting, bezel setting, half bezel, inlay and glue. Setting larimar correctly is important. If the stone is glued in cheaply, it can pop out of the setting. Also – look at the edges of where the stone meets the silver. If you see noticeable gaps, then the stone is not secure.
Marahlago only sets Larimar in bezel settings or inlay. Both ways of setting the stone are very secure and will protect it for generations to come.
Silver Quality
Your sterling silver shouldn't have any rough or sharp edges, as that shows that the silver wasn't finished properly. A heavier silver is also necessary to protect the stone.
Because Silver is a softer metal, Marahlago uses a more expensive alloy than Silver 925, to give it hardness for more durable wear. This special alloy is nickel free and makes the silver less likely to bend or scratch.
Accent Stones
Larimar is a natural gemstone, so pairing it with other elements of the design that are also natural is preferred. Real stones, such as sapphires, topaz, amethyst and pearls, are the desired accent stones, as opposed to synthetic stones such as Cubic Zirconias or Swarovski crystals.
Silver Plating
When possible, look for a silver that is rhodium plated. This will keep it looking good for generations.
Besides plating, Marahlago adds additional proprietary techniques to enhance their jewelry. This includes an anti-tarnish process on their silver that involves several layers of plating and polishing, to achieve the perfect look and durability.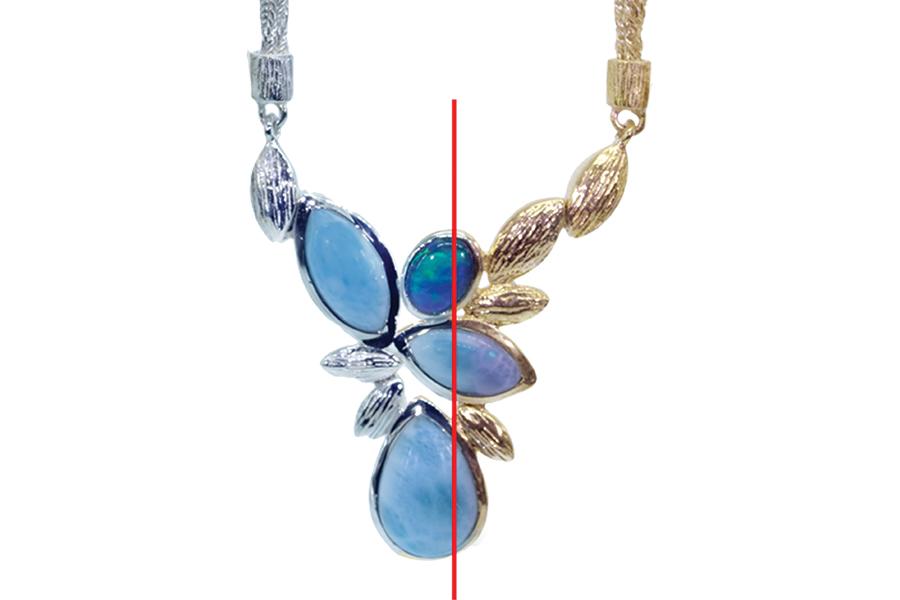 Why Do People Prefer Branded Jewelry?
The rule of thumb is usually that the more valuable and expensive an item is, the more likely the consumer will value a specific brand, as it comes with higher ratings of trust and quality. A brand tends to give the customer peace of mind as well as customer care if the item was to malfunction.
However, because the Larimar stone is so rare and only found in the Dominican Republic, you will find local vendors by the beach, hotels, or touristic locations there. In this case, go with your heart: If you love the stone that you are seeing, make your purchase, as chances are, you won't find it again!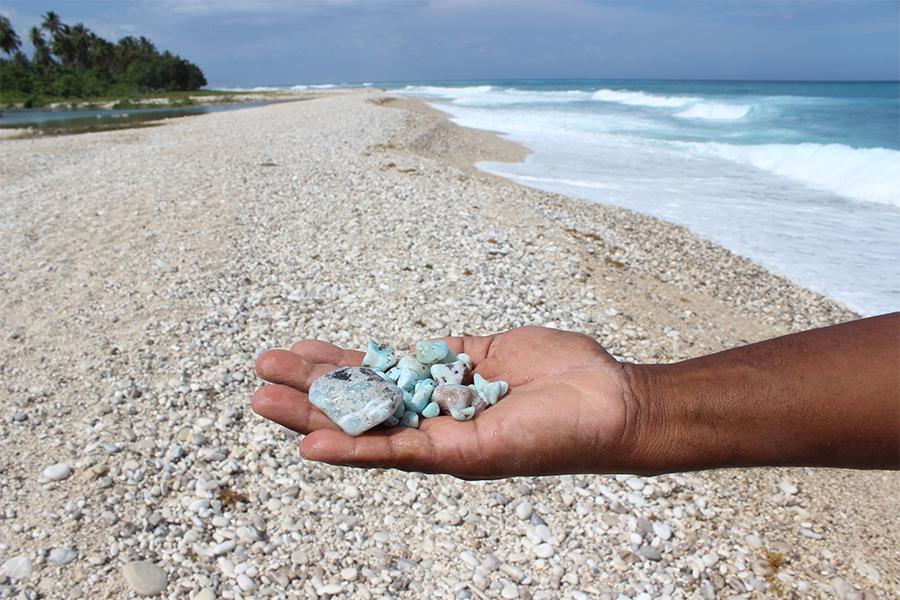 Is a Branded Product Better?
We believe the answer to that question lies in the consumer's heart and mind. Purchasing from a brand provides quality and customer service, added value, peace of mind, and consistency. However there are still beautiful gemstones you can purchase from local vendors. Every gemstone has its own unique quality and beauty is in the eye of the beholder.
What is the Best Stone?
Probably the most asked question for which there is no answer! Truth is, the best stone is the stone that appeals to you the most. The smaller you cut the stone, the lighter it will get. It is very rare to get a very deep color blue in a small stone. The blue should be in shades from a light blue to a standard sky blue. A very light blue or milky white color is less desirable.
What if the Stones Don't Match?
One of the great things about larimar is that all the shades of blues complement each other. And go well with almost every color! The difference in color and shapes gives it a unique design each time and highlights the rarity of the stone and its uniqueness.
Selecting Your Larimar Stone
At Marahlago, we carefully hand selects every stone to ensure that only the highest quality material is used in our designs. There are four factors we always consider: Color, pattern, inclusions and cracks. For more specific information on the grading factors, click here.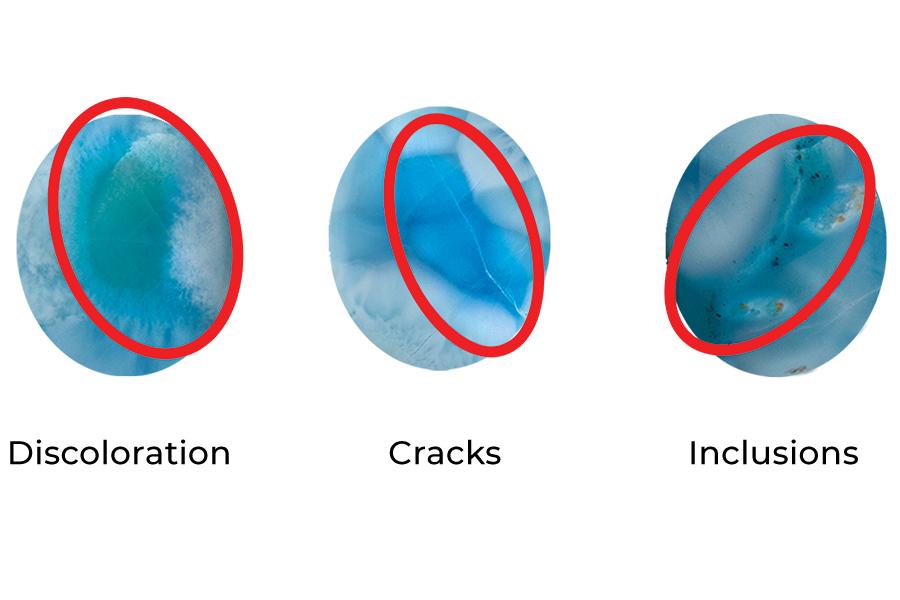 What is the Right Length of a Silver Chain?
Standard chains run 16" or 18" in length, but ultimately depends on the size of your neck, which will lead you to which size is right for you.
Marahlago has solved this by offering adjustable chains. Every standard chain is easily adjustable to 21". This offers inclusivity and flexibility to showcase your Larimar necklace no matter the size or the outfit!
To view our chains, click here!
What Larimar Designs are Popular?
This Caribbean gemsone's color evokes memories of the ocean and often gives a tropical vibe to its jewelry. Sealife designs are always some of the most popular. Marahlago has won multiple awards for their designs, including the JCK design award shown below, with its beautiful Oxidized Octopus Necklace, available here.
Where Can you Buy Larimar?
You can find Larimar throughout the Caribbean, especially in the Dominican Republic, the only place on Earth where the stone is found and mined.
Marahlago prides itself in hand-selecting only the finest Larimar stones to craft its jewelry. You can find the closest point of sale with our retail locator – or view our entire collection here. You will have peace of mind knowing you are purchasing the best quality of stone and jewelry – backed up with a 3 year guarantee.
How Can I Make Sure to Get the Best Color Larimar?
Ultimately, it is always best to pick the stone and color you like when you see it in person at a retail location. However, there are advantages of purchasing online at marahlago.com, such as occasional flash sales and gifts with purchase. An outstanding customer service team can assist you to select the best color possible for your purchase at www.marahlago.com.
Because Marahlago's team hand picks every single stone with customer satisfaction in mind, you have the guarantee to receive a beautiful piece.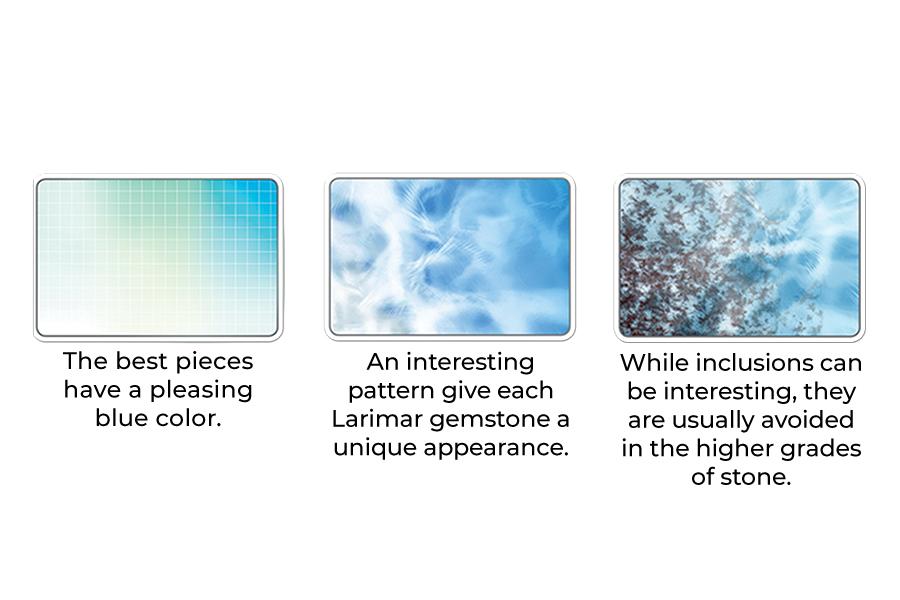 Why is Marahlago the World's Leading Designer of Larimar?
Experience equals expertise. Marahlago has been immersed in the world of Larimar for over 20 years, and has been consistent in their mission to make luxury jewelry at affordable prices. The focus is always the stone, and new designs are introduced twice a year. Marahlago has been able to become the Leader in Larimar jewelry by putting heart in soul in every product and every customer experience. More questions? Contact us for more details!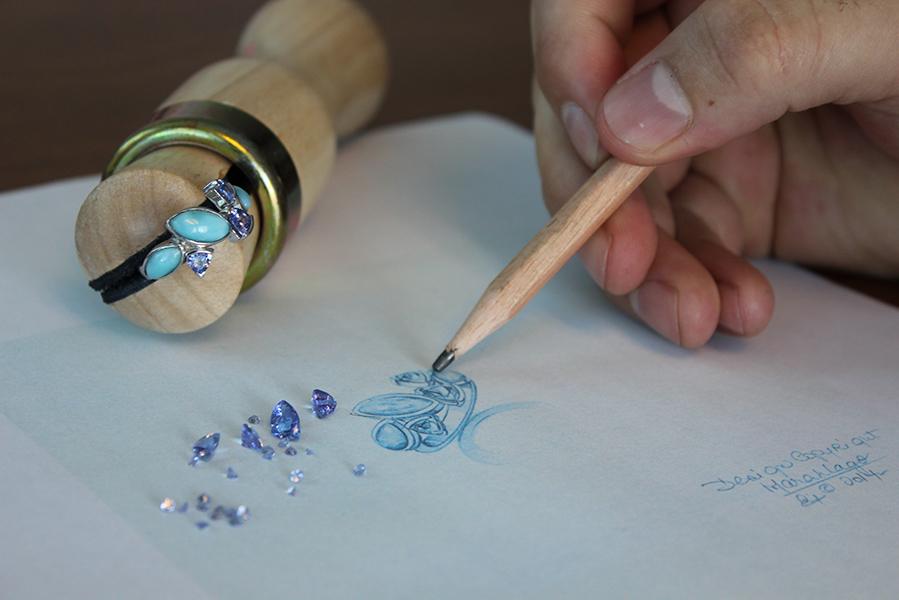 Look for the Marahlago Signature on Every Piece !

The best quality Larimar jewelry will have the Marahlago signature flower on it. Larimar is a limited natural resource, and will appreciate in value over time. Give yourself peace of mind when purchasing Larimar jewelry from Marahlago as it is a sign of great care and quality, from the ground when the stone is hand picked, to your hands when you receive it.