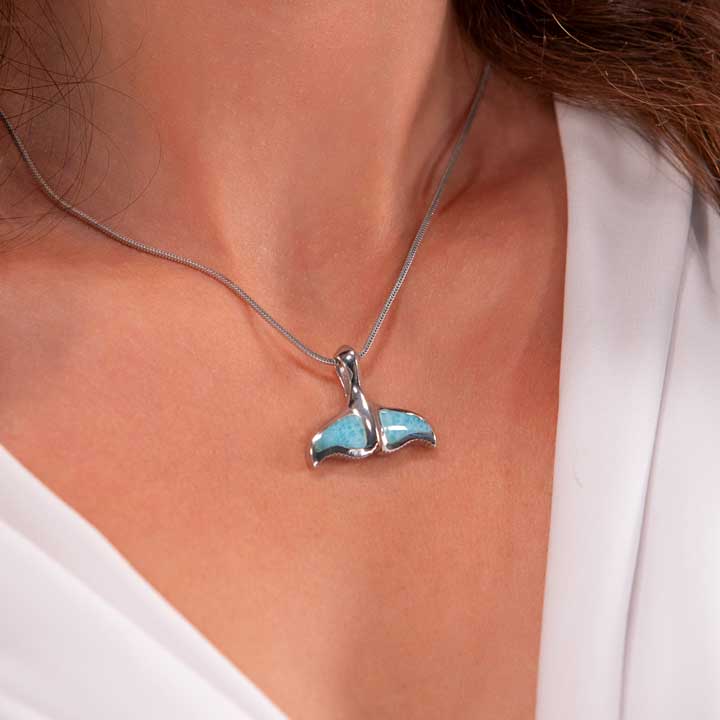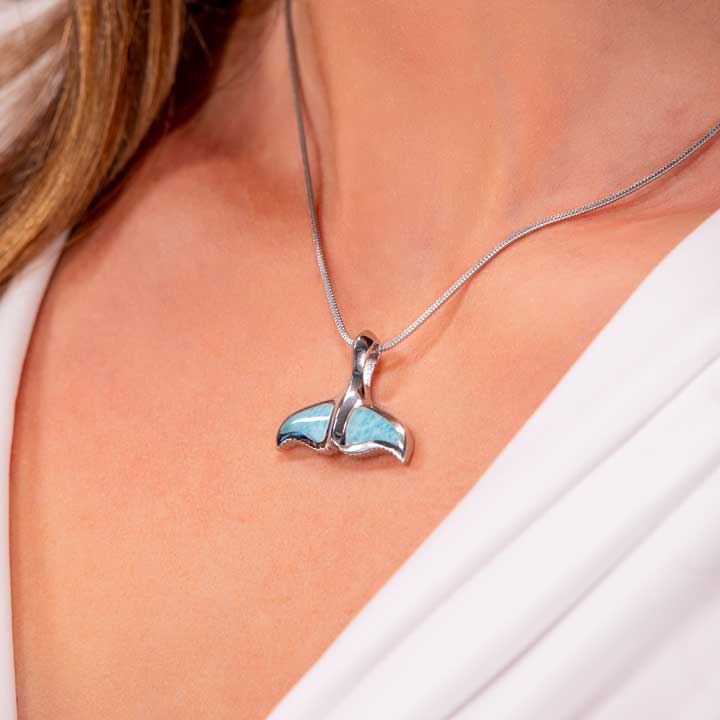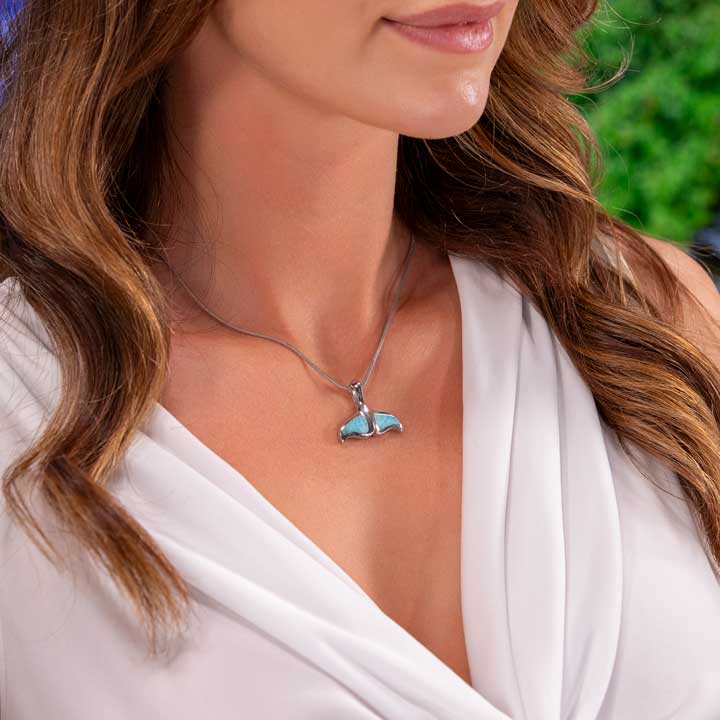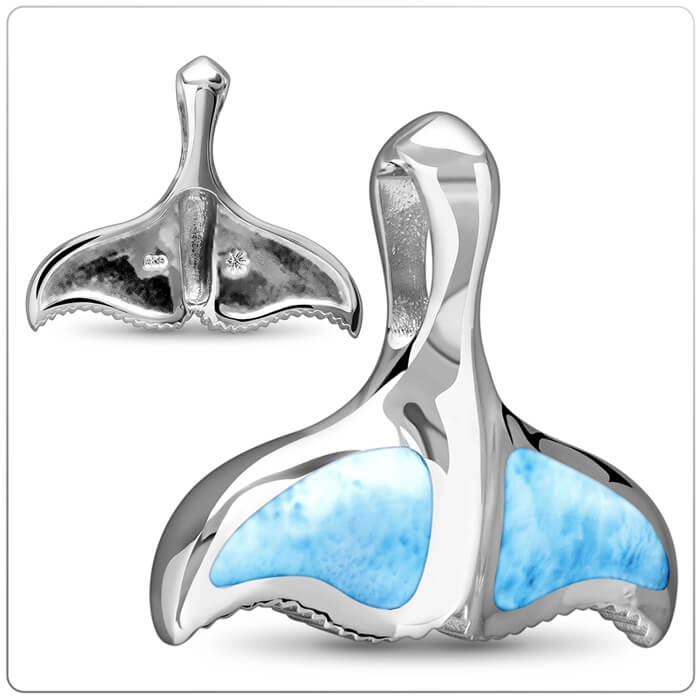 Whale Tail Necklace
Whale Tail Necklace
$198
or 4 equal Payments of $49.50
Free Expedited Delivery
Friday, Sep 29
We have several pieces of Larimar. The Whale Tail was a nice addition.

- Kay T -

I am so happy with my new whale necklace! As always the stone is beautiful, a rich sea blue! This is a perfect summer piece! I am enjoying wearing it!

- Ronald L -

This necklace is so Divine! I love the style, the fit and the placement. It is so lovely and my whale tail necklace now gives me a beautiful set. I cherish these pieces.

- Winifred A -
Whale Tail Necklace with Larima
Dive right into the power and glory of one of the Earth's most majestic creatures with this beautiful whale tail necklace set in sterling silver. Shimmering Larimar gemstones make this unique necklace come to life. This whale tail necklace comes with a sterling silver chain that adjusts in length up to 21"

Dimensions:
Two 5/16" x 3/8" Larimar Gemstones
Overall pendant size is 1 1/18"
Materials:
Includes:
Sterling silver chain adjustable up to 21"
Storage Pouch
Polishing Cloth
Gift Box
More about Whale Tail Jewelry
Marahlago whale tail necklace captures the elegance and beauty of the ocean with its stunning designs inspired by the graceful silhouette of a whale's tail. Marahlago is a renowned brand that specializes in creating exquisite jewelry pieces using Larimar gemstones, which are found only in the Dominican Republic and are cherished for their mesmerizing blue hues.

The whale tail symbolizes strength, intuition, and freedom, making it a powerful motif in Marahlago's collection. Each piece of jewelry is meticulously crafted to showcase the natural beauty of Larimar and the intricate details of the whale tail design.

Larimar is a rare gemstone that embodies the essence of the Caribbean Sea. Its varying shades of blue, reminiscent of the ocean's depths, create a captivating visual experience. Marahlago carefully selects the finest Larimar stones to ensure that each piece reflects the gemstone's unique patterns and colors.

The combination of Larimar and the whale tail design in Marahlago's jewelry evokes a sense of connection to nature and the sea. It is a perfect choice for those who appreciate the allure of the ocean and seek to express their love for marine life through their personal style.

Whether worn as a symbol of personal meaning or simply for its aesthetic appeal, Marahlago whale tail jewelry stands out as a striking and meaningful accessory. It celebrates the wonders of the sea and adds a touch of elegance and sophistication to any outfit, making it a cherished addition to any jewelry collection.
Adjustable Silver Chain
This necklace comes with a 21"adjustable chain that slides to adjust to your look.
To slide, simply pinch the silver ball with one hand and pull the silver chain to the desired length.
If you need a longer chain that will slide over your head or to see all chain options,
Click Here.
Free Shipping
Free Returns
If you don't love it or if you need a different size just let us know and we'll Email you a return label.
For more details, Click Here.
Warranty
We know that your Marahlago® jewelry is special to you, which is why we offer a 1 year warranty against manufacturing defects! Shop worry-free knowing we've got you covered. 👍