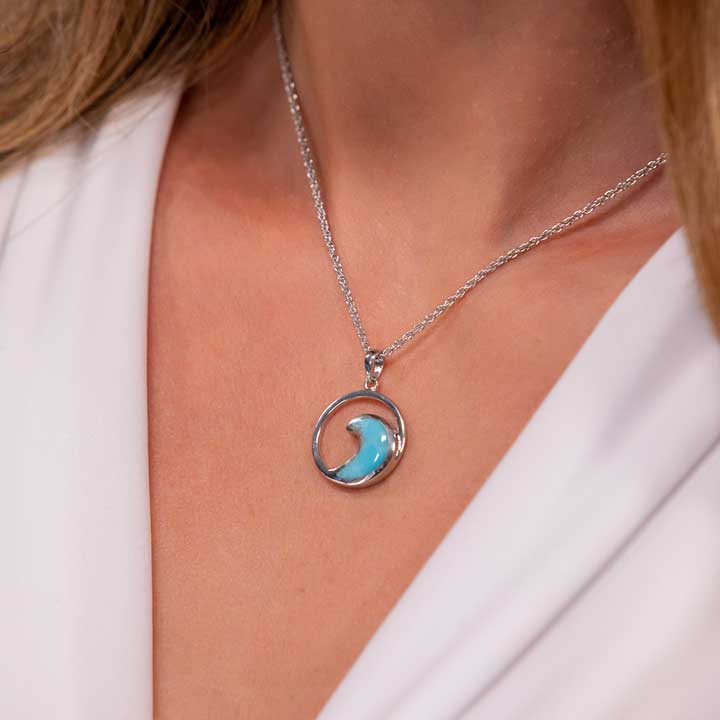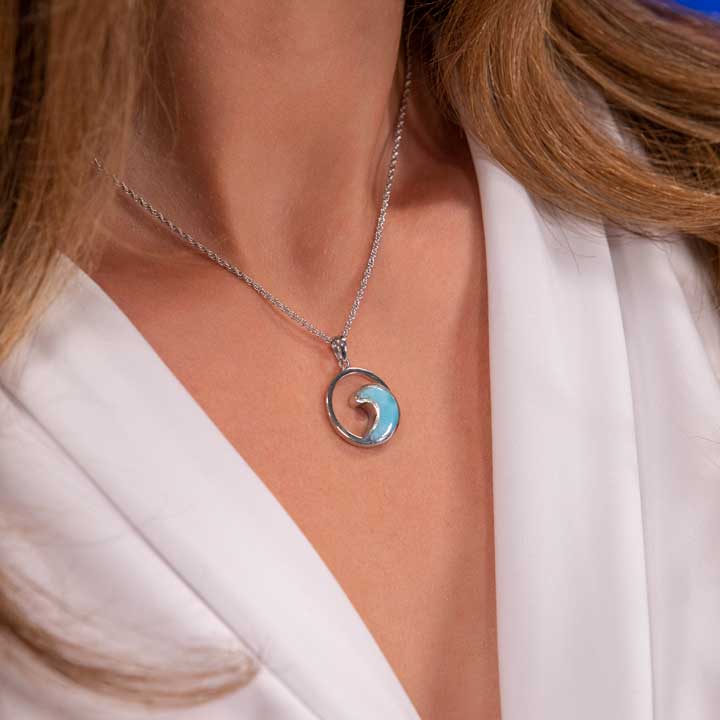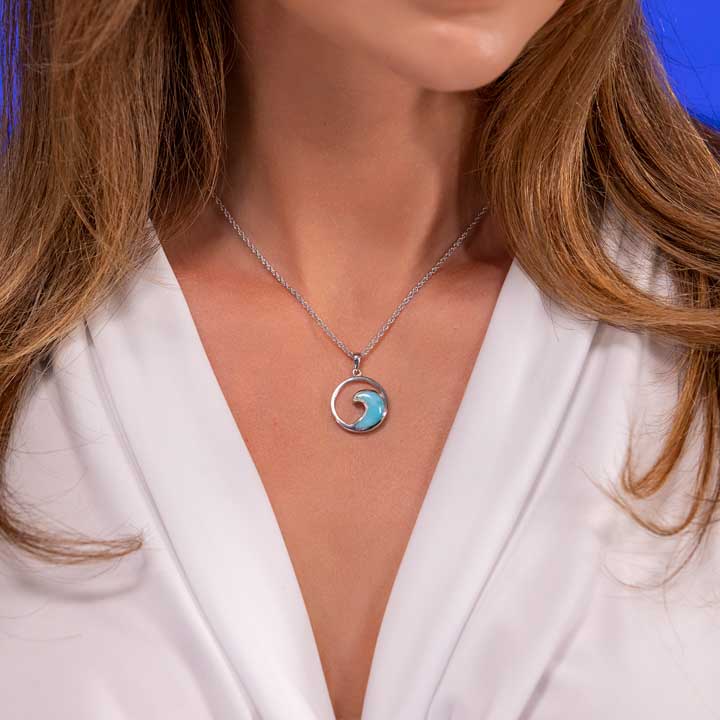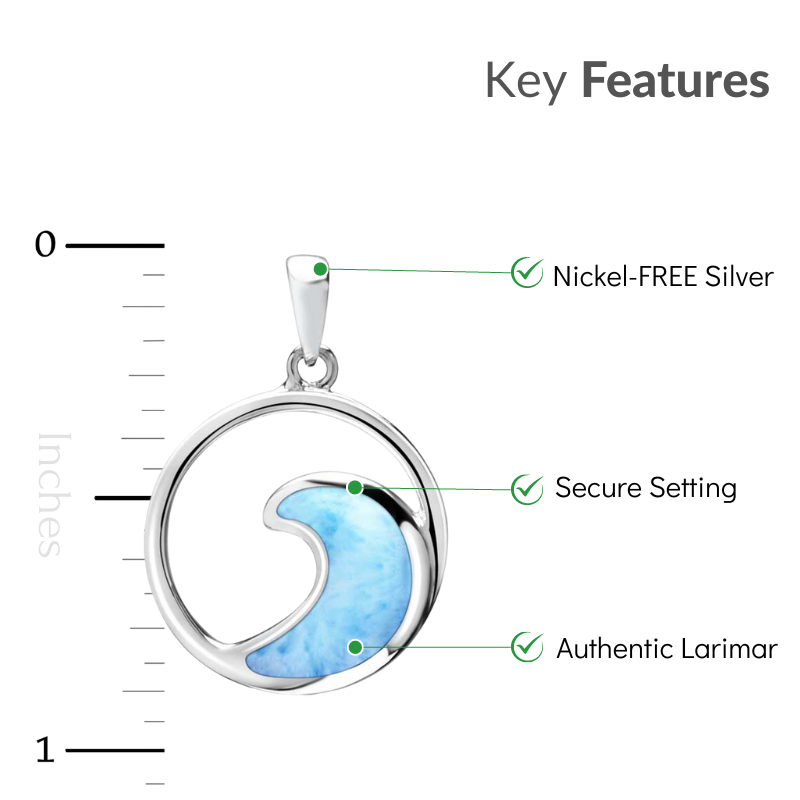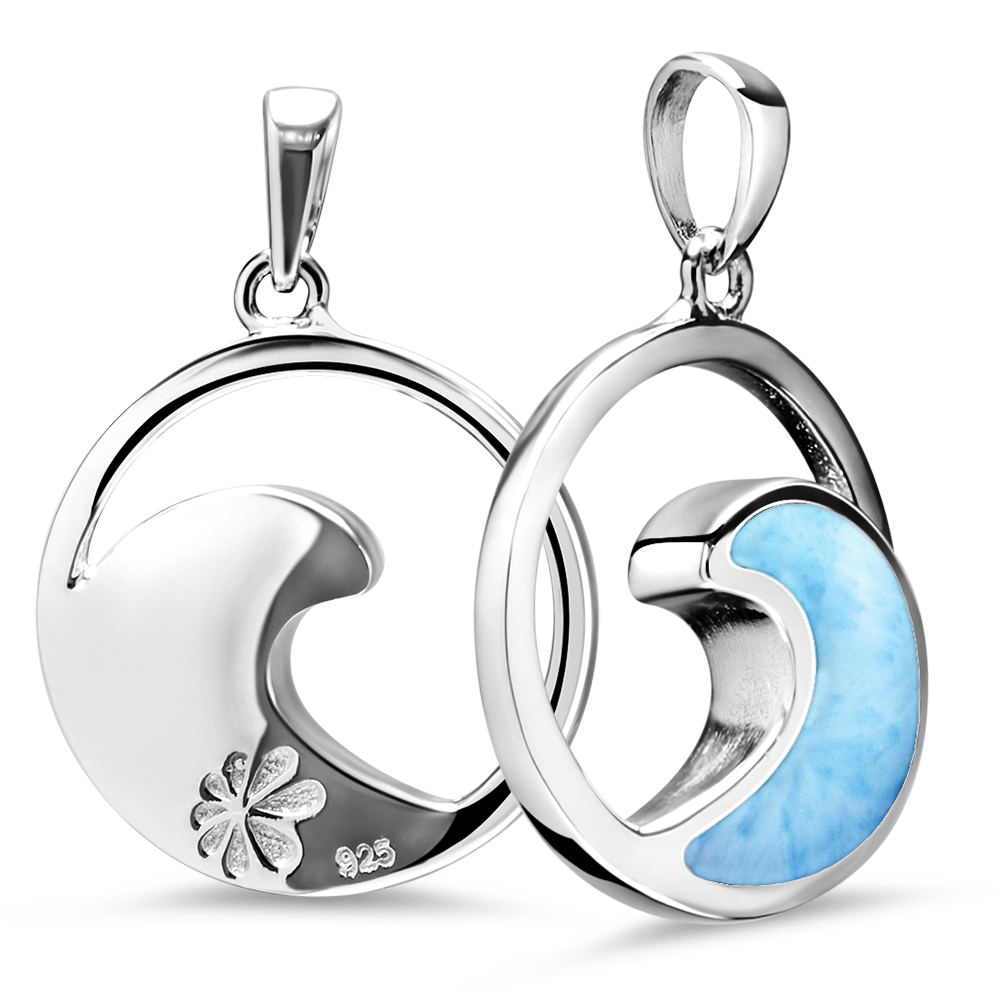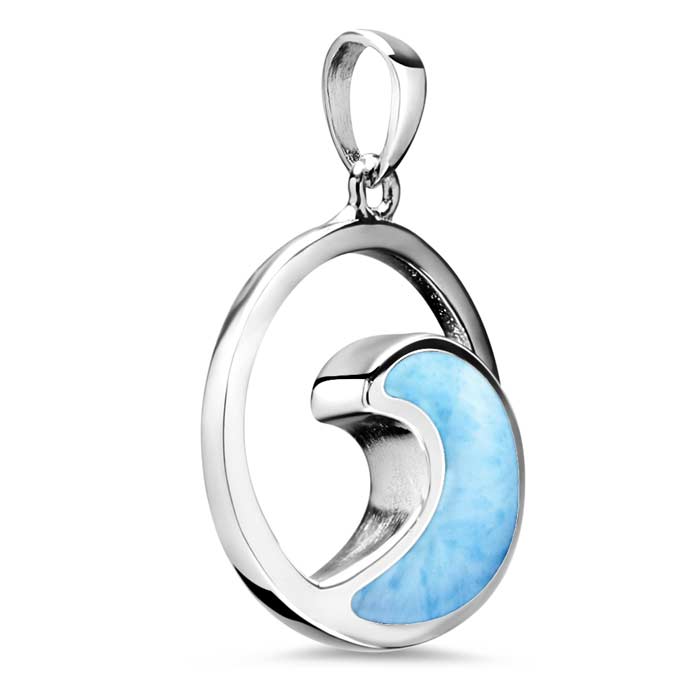 Wave Necklace
Wave Necklace
$219
or 4 equal Payments of $54.75
Free Expedited Delivery
Thursday, Sep 28
I love Larimar and this is a high quality piece. Simple and lovely.

- Catherine Z -

I love the amazing quality and detail of the necklace. The shape is relaxed, and the chain length is good and hits in a flattering position.

- Kathryn T -

Looked exactly as expected. My wife love's the wave. Nice design. Great color.

- Ray G -
Wave Necklace in sterling silver
The Wave Necklace is a stunning piece of jewelry that effortlessly captures the essence of the ocean's beauty. Each wave necklace comes with a sterling silver chain that adjusts up to 21"

Dimensions:
3/8" x 1/2" Larimar Gemstone
Overall pendant size is 3/4"
Materials:
Includes:
Sterling silver chain adjustable up to 21"
Storage Pouch
Polishing Cloth
Gift Box



The Marahlago Wave Necklace is a stunning piece of jewelry that effortlessly captures the essence of elegance and natural beauty. Handcrafted with meticulous attention to detail, this necklace is a true masterpiece.

At the heart of the necklace lies a mesmerizing Larimar gemstone, renowned for its rare and captivating beauty. Larimar is a gemstone found only in the Dominican Republic and is known for its breathtaking resemblance to the Caribbean Sea. The stone features a captivating range of blue hues, reminiscent of the ocean's gentle waves, making each piece unique and truly one-of-a-kind.

The Larimar gemstone is carefully shaped into a smooth and graceful wave frozen in time. Its soft, organic curves and vibrant color palette evoke a sense of tranquility and serenity, bringing a touch of nature's beauty to any outfit.

Expertly set in high-quality sterling silver, the Larimar pendant hangs delicately from a sterling silver chain, further enhancing its natural allure. The chain features an adjustable length, allowing for a customized fit that suits any neckline or personal preference.

The Marahlago Wave Necklace effortlessly complements both casual and formal attire, making it a versatile accessory for any occasion. Whether it's a casual day out, a romantic evening, or a special event, this necklace adds a touch of sophistication and charm to your ensemble.

Not only is the Marahlago Wave Necklace a symbol of timeless beauty, but it also holds deep meaning. Larimar is believed to possess healing properties, promoting inner peace, clarity, and emotional balance. Wearing this necklace can serve as a reminder to embrace the calming energies of the sea and cultivate a sense of harmony in your life.

Exquisite in design and rich in symbolism, the Marahlago Wave Necklace is a truly captivating piece that embodies the beauty of nature and the spirit of the ocean. It is a testament to the wearer's unique style, grace, and appreciation for the wonders of the natural world.
Adjustable Silver Chain
This necklace comes with a 21"adjustable chain that slides to adjust to your look.
To slide, simply pinch the silver ball with one hand and pull the silver chain to the desired length.
If you need a longer chain that will slide over your head or to see all chain options,
Click Here.
Free Shipping
Free Returns
If you don't love it or if you need a different size just let us know and we'll Email you a return label.
For more details, Click Here.
Warranty
We know that your Marahlago® jewelry is special to you, which is why we offer a 1 year warranty against manufacturing defects! Shop worry-free knowing we've got you covered. 👍