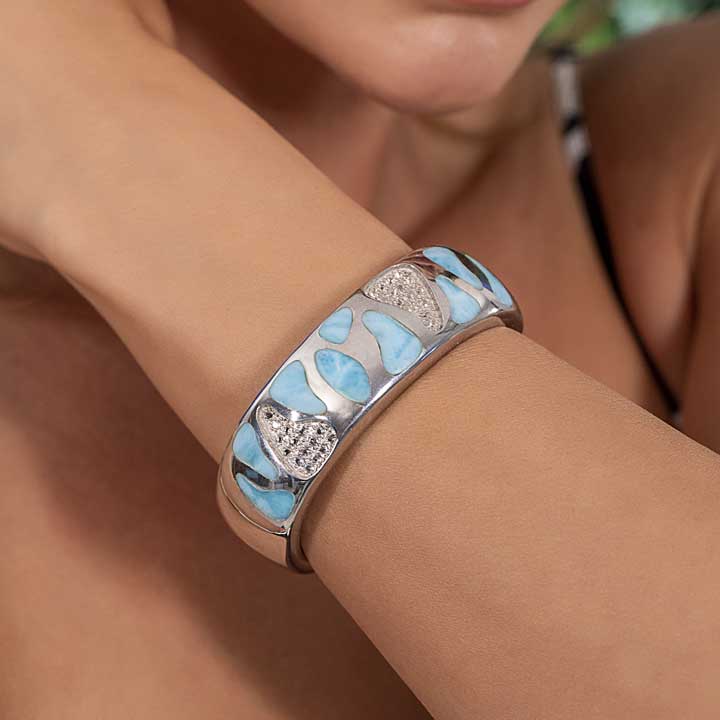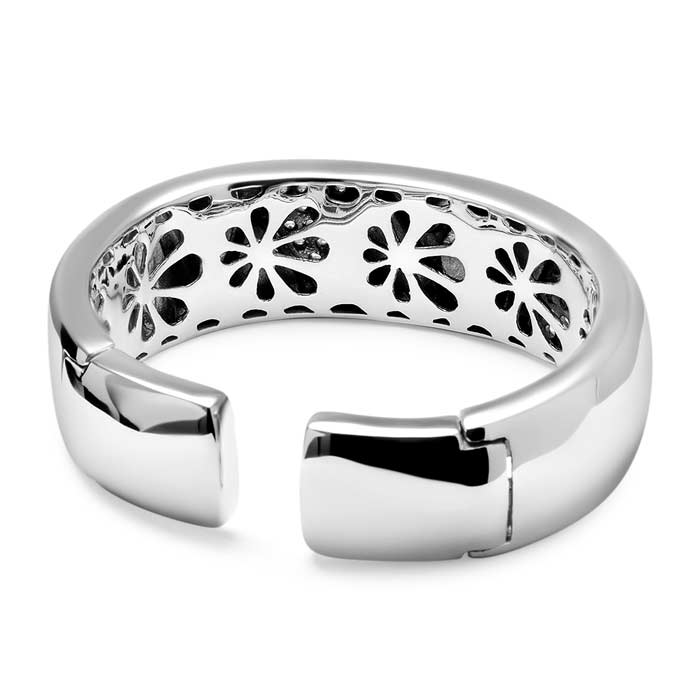 Surf Hinged Bracelet
Hinged Bracelet
$1490
or 4 equal Payments of $372.50
Free Expedited Delivery
Thursday, Sep 28
I love the cuff style bracelets, The blue has a good balance of blue and white. The hinge makes it easy to slip on.

- Erin N -

I love this cuff bracelet because it has this beautiful multi layered look. I spot something new and I fall in love every time I wear it. It is a solid hefty bangle. Outstanding craftsmanship, intricate details, innovative flapper bit so I don't bruise my wrist putting the bracelet on. So much prettier in person!

- Stella B -

Certainly another stunning piece of jewelry from Marahlago, showcasing its commitment to excellence. Eye-catching, wife just loves it!

- Victor T -
Hinged Bracelet In Sterling Silver
Bring the beach with you with our eye-catching Surf cuff bracelet made of flawless sterling silver, mesmerizing Larimar, and sparkling white topaz.

The hinged mechanism of this bracelet ensures a seamless fit and ease of wear, allowing it to comfortably wrap around the wrist and securely fasten. The two smooth hinges are easy to open with one hand ensuring the bangle is very easy to put on and take off. Hinged bracelets are ideal for people with limited dexterity.

Sizing:
A standard stock size Hinged Bracelet fits a wrist measurement from 5.75" to 6.25".
For other sizes, order "custom size" below
Dimensions:
Nine Larimar gemstones with white topaz and sterling silver.
Materials:
Includes:
Storage Pouch
Polishing Cloth
Gift Box
What is White Topaz
White topaz is a captivating gemstone that has been admired and valued for its beauty and versatility. It is a variety of the mineral topaz, which belongs to the silicate family. Unlike its more well-known counterpart blue topaz, white topaz has a pure, transparent appearance that closely resembles a diamond. This clear and colorless nature makes white topaz a popular alternative to more expensive gemstones like diamonds, as it provides an affordable and elegant option for various jewelry pieces.

Formation and Occurrence: Topaz typically forms in igneous rocks, such as volcanic deposits and crystallizes when mineral-rich fluids interact with the surrounding rocks, gradually forming the characteristic prismatic crystals that topaz is known for.

Properties and Characteristics: White topaz possesses a brilliant luster, which enhances its inherent sparkle. It ranks 8 on the Mohs scale of hardness, making it relatively durable and suitable for everyday wear in jewelry, such as rings, necklaces, earrings, and bracelets.

Uses in Jewelry: One of the most popular uses of white topaz is as a diamond substitute. Jewelers often use white topaz as an accent stone in engagement rings and other pieces of fine jewelry. It complements various metals, including white gold and sterling silver, allowing for versatile and striking designs. Additionally, it can be combined with other colored gemstones to create vibrant and aesthetically pleasing jewelry compositions.

Metaphysical and Healing Properties: In metaphysical and spiritual realms, white topaz is believed to have various healing properties. It is thought to promote clarity of thought, enhance intuition, and stimulate creativity. Some practitioners also associate white topaz with cleansing energies, helping individuals let go of negative emotions and promoting feelings of peace and positivity.

In conclusion, white topaz is a stunning gemstone admired for its diamond-like appearance and affordability. Its clear, colorless beauty, combined with its respectable hardness, makes it a popular choice in the world of jewelry, appealing to those seeking an elegant and budget-friendly alternative to diamonds. Whether used as a standalone gem or paired with other stones, white topaz continues to captivate jewelry enthusiasts with its timeless charm and versatility.
To measure your wrist, use a measuring tape around your wrist, snug, without squeezing the skin or leaving extra space.
Most Bracelets have a clasp that allows for some size adjustment, but if you have to bend or stretch a bracelet in any way, it does not fit and you will damage the setting. If the bracelet isn't available or if you need a different size, you may be able to order it below as a custom size. In order for us to determine the perfect length of bracelet for you, we need your exact wrist measurement.
Order a custom size
HOW MADE-TO-ORDER BRACELETS WORK:
The Larimar in Marahlago our bracelets are securely set and cannot be resized without risking damage to the stone or setting. We offer the option to custom-make your bracelet in the specific size you need. Although this process can take up to 8 weeks, it helps prevent any potential issues in the future.
Once your new piece is ready to ship, we will reach out and provide you with the tracking information.
Free Shipping
Free Returns
If you don't love it or if you need a different size just let us know and we'll Email you a return label.
For more details, Click Here.
Warranty
We know that your Marahlago® jewelry is special to you, which is why we offer a 1 year warranty against manufacturing defects! Shop worry-free knowing we've got you covered. 👍