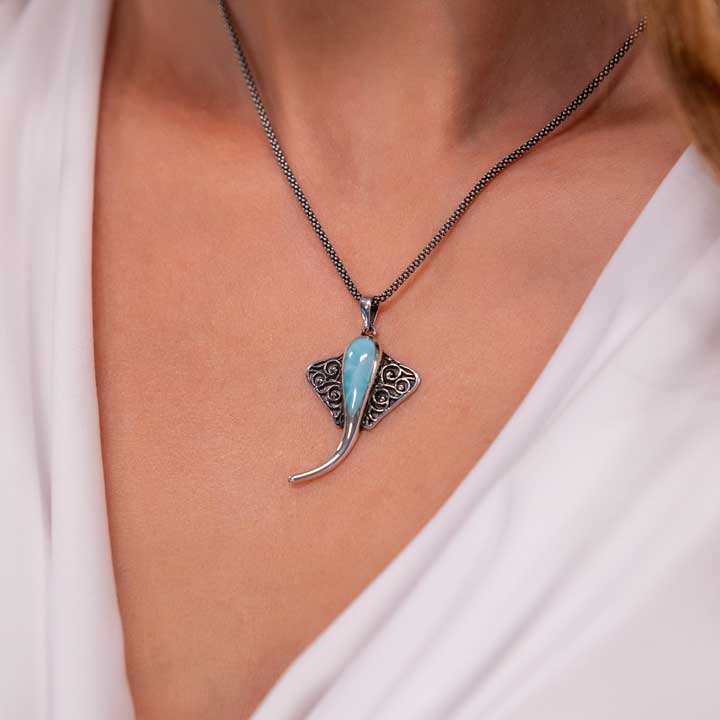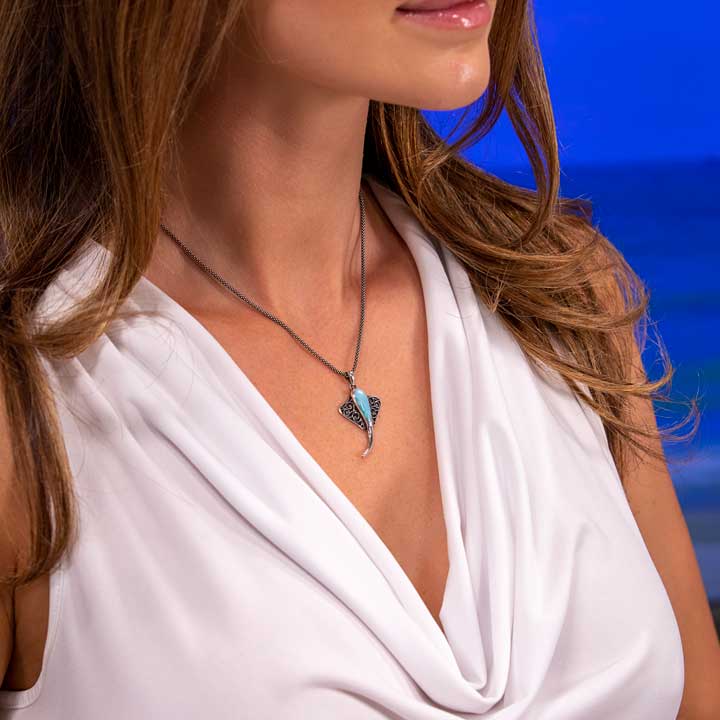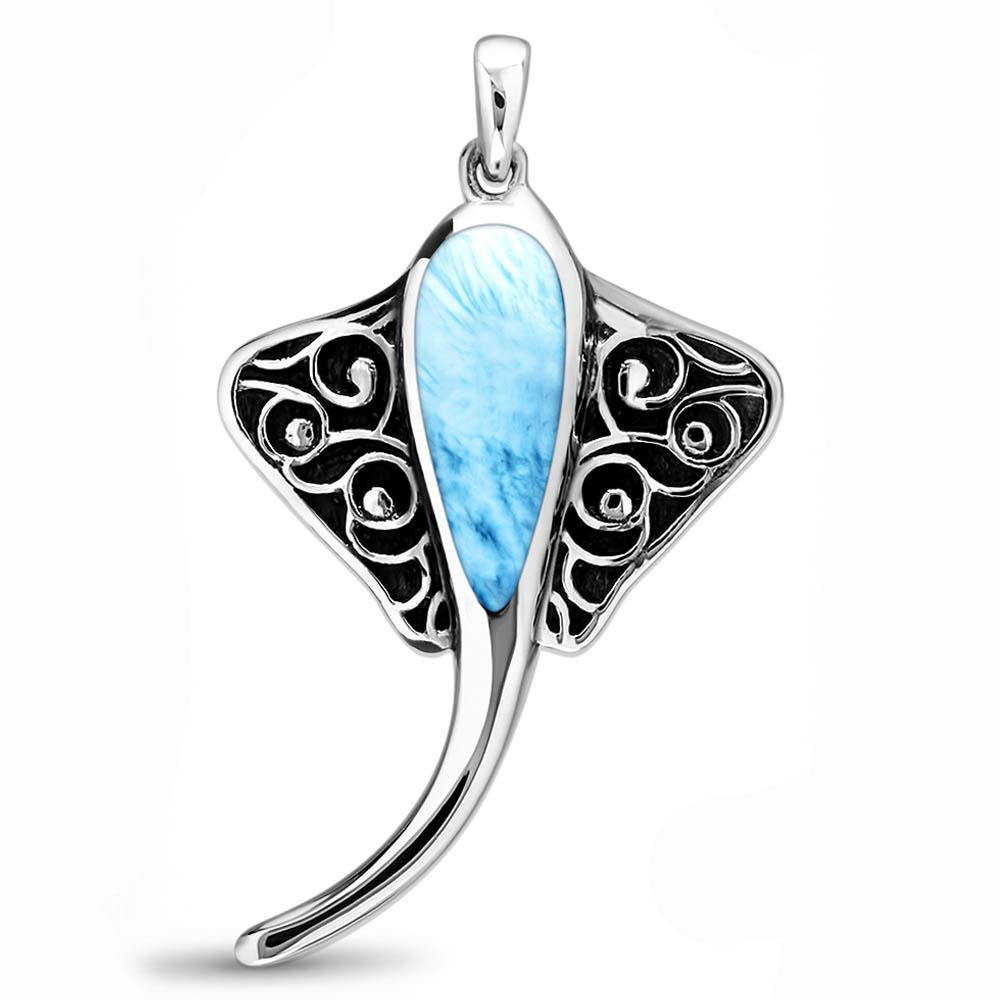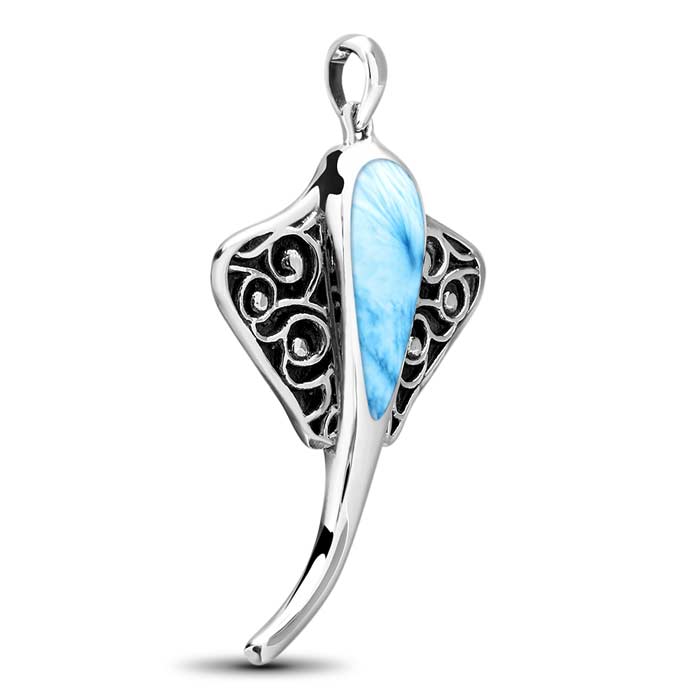 Stingray Necklace
Stingray Necklace
$165
or 4 equal Payments of $41.25
Free Expedited Delivery
Thursday, Sep 28
It has substantial weight and is adjustable to be longer or shorter according to preference. It is quality made and the color of the stone is beautiful.

- John B -

Love this beautiful stingray from the intricate silver sculpting to the lovely larimar! So pleased with its beauty.

- Judith F -

Love my necklace and so does everyone else! This is my first piece but will not be my last! Absolutely stunning!

- Roseann M -
Stingray Necklace in Sterling Silver
The Marahlago Stingray Necklace is a stunning piece of jewelry that exudes elegance and uniqueness. Handcrafted with exquisite attention to detail, this necklace features a genuine stingray design adorned with a captivating Larimar gemstone. The combination of the silver wings with an oxidized finish to highlight the intricately detailed sterling silver and the vibrant blue hues of the Larimar creates a mesmerizing contrast, making it a true statement piece. The Stingray Necklace includes a sterling silver chain adjustable upto 21".

Dimensions:
1/4" x 9/16" Larimar Gemstone
Overall pendant size is 1 7/16"
Materials:
Includes:
Sterling silver chain adjustable up to 21"
Storage Pouch
Polishing Cloth
Gift Box
What is oxidized silver?
The Marahlago Stingray Necklace is an exquisite piece of jewelry that exudes elegance and captures the beauty of the ocean. Handcrafted with meticulous attention to detail, this necklace features a stunning stingray pendant made from Larimar, a rare and captivating gemstone found only in the Dominican Republic.

The Larimar stone, with its mesmerizing shades of blue reminiscent of the Caribbean waters, is carefully shaped into a graceful stingray form, showcasing the natural patterns and hues unique to each piece. The pendant is delicately suspended from a sterling silver chain, adding a touch of sophistication to the overall design.

The Marahlago Stingray Necklace not only showcases the remarkable beauty of Larimar but also carries a symbolic significance. Stingrays are known to glide effortlessly through the water, embodying grace, agility, and adaptability. Wearing this necklace serves as a reminder of the harmony and fluidity found in nature and can inspire a sense of confidence and tranquility.

Whether worn for a special occasion or as an everyday accessory, the Marahlago Stingray Necklace is a timeless piece that combines natural elegance with exceptional craftsmanship. It serves as a wearable work of art, reflecting the wearer's appreciation for the ocean's beauty and their own unique sense of style.

What is oxidized silver?
Oxidized jewelry is a popular look that is created by dipping the silver in an antiquing solution to darken the sterling silver to an aged patina which results in a vintage style appearance. The vintage silver effect is often used to create contrast and highlight details in the silverwork that would otherwise go unnoticed. Once all of the silver is oxidized black, the raised surface is polished to remove the patina and leave the deeper areas black for contrast. The oxidation is just a surface treatment and does not change the properties of the metal. It is possible to intentionally or accidentally remove the effect by using silver cleaning solutions or a buffing wheel.
Adjustable Silver Chain
This necklace comes with a 21"adjustable chain that slides to adjust to your look.
To slide, simply pinch the silver ball with one hand and pull the silver chain to the desired length.
If you need a longer chain that will slide over your head or to see all chain options,
Click Here.
Free Shipping
Free Returns
If you don't love it or if you need a different size just let us know and we'll Email you a return label.
For more details, Click Here.
Warranty
We know that your Marahlago® jewelry is special to you, which is why we offer a 1 year warranty against manufacturing defects! Shop worry-free knowing we've got you covered. 👍