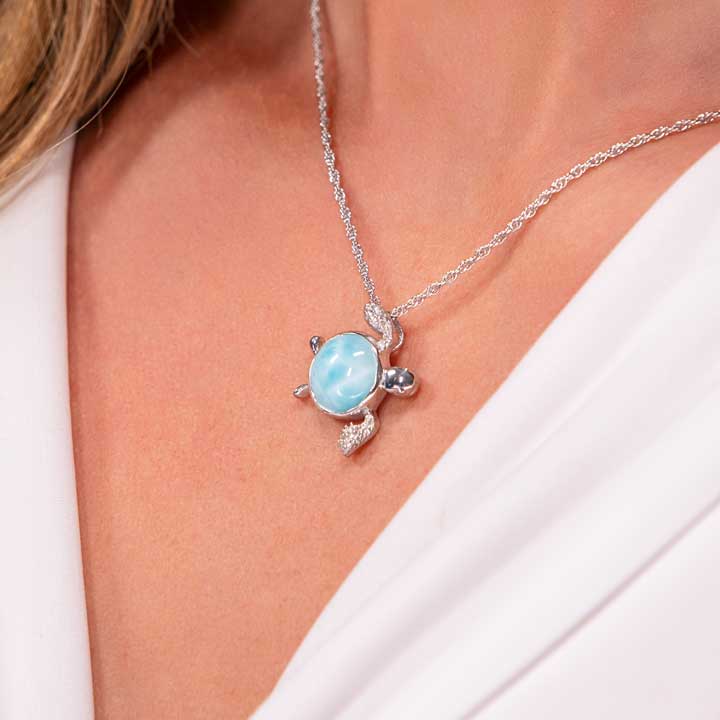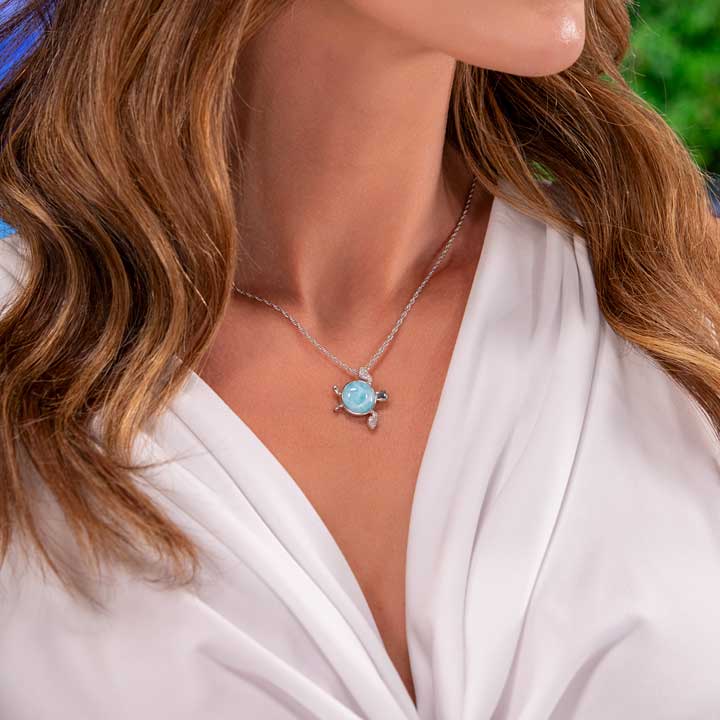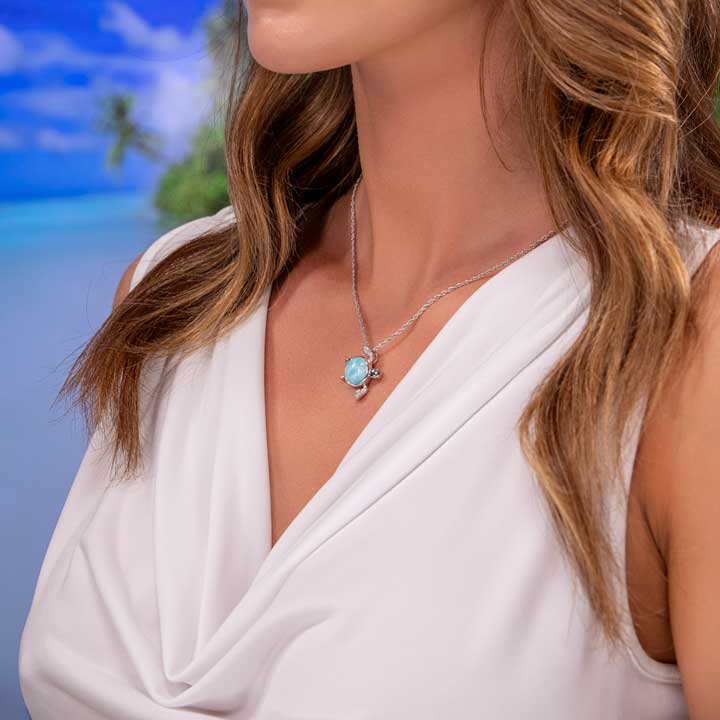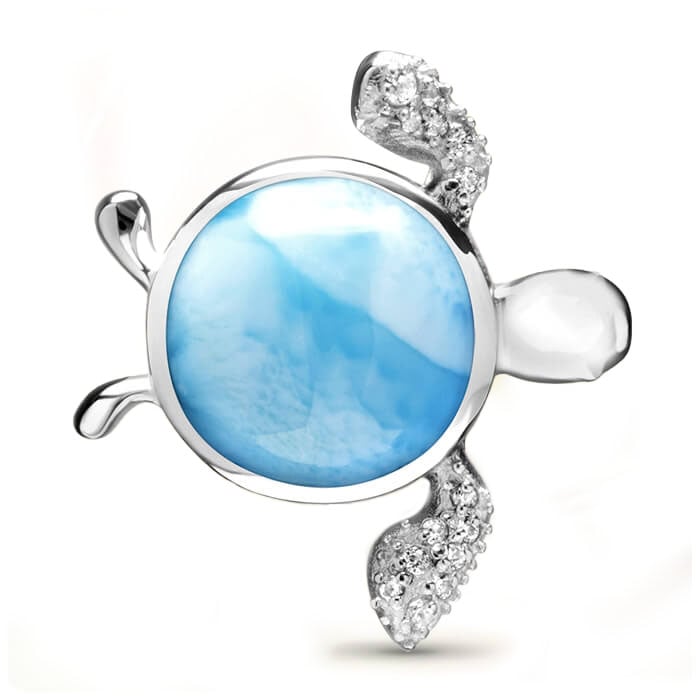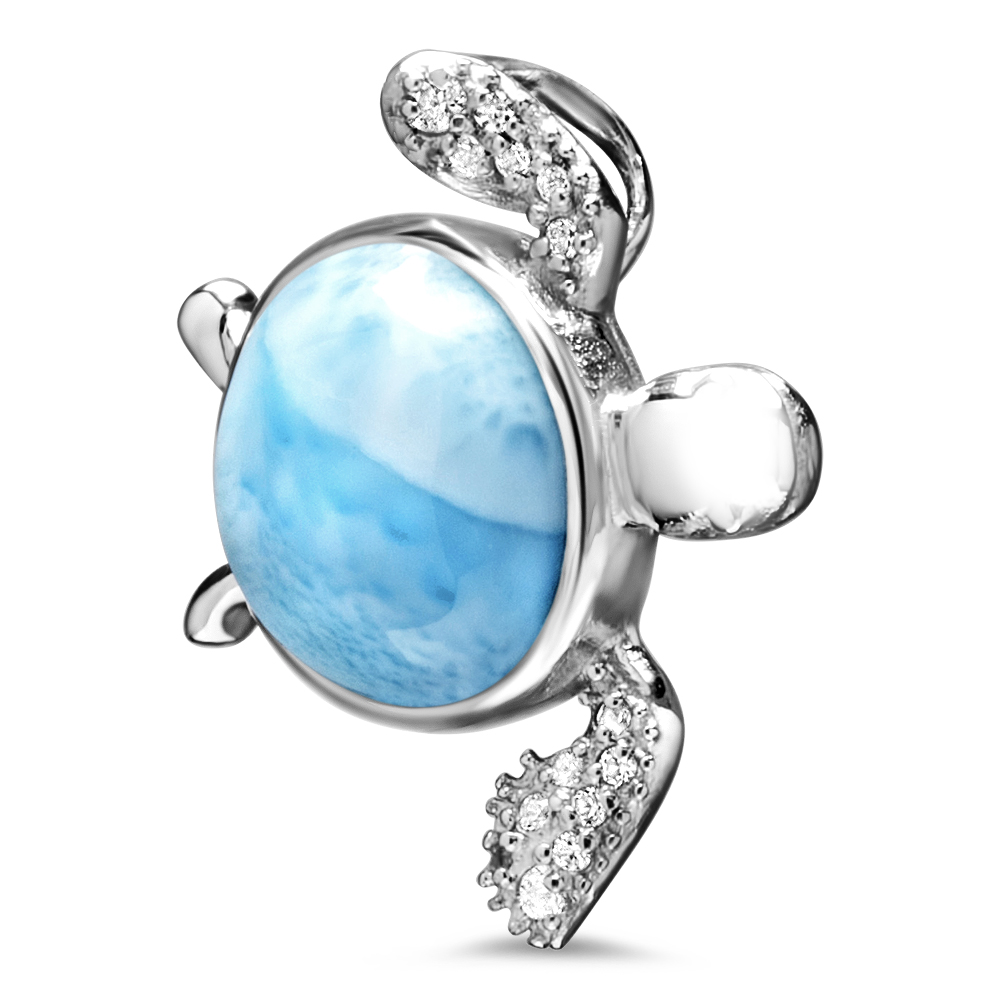 Sea Turtle Necklace
Sea Turtle Necklace
$240
or 4 equal Payments of $60.00
Free Expedited Delivery
Thursday, Sep 28
Excellent craftsmanship, beautiful design, great value and most important my wife loved it! Oh, fast shipping!

- Glenn B -

It's perfect just what I expected. Great product and quality never disappointed.

- Sue S -

Super flashy! Love to show off my favorite species in the Caribbean

- Susie J -
Sea Turtle Necklace in Sterling Silver
White sapphires and luxurious Larimar gemstone make this beautiful Sapphire Sea Turtle Necklace stand out.
The persistence and wisdom the Sea Turtle represents adds a beautiful symbol to a gorgeous necklace. Each Sea Turtle Necklace comes with a sterling silver chain that adjusts up to 21"

Dimensions:
1/2" Larimar Gemstone
Overall pendant size is 1 1/8"
Materials:
Includes:
Sterling silver chain adjustable up to 21"
Storage Pouch
Polishing Cloth
Gift Box
More about Turtle Jewelry
Marahlago Turtle Jewelry is a captivating collection that combines the timeless beauty of sterling silver with the enchanting allure of Larimar gemstones. Each piece is meticulously crafted to capture the essence of these magnificent creatures, symbolizing wisdom, longevity, and harmony with nature.

Larimar, known as the "Atlantis Stone," is a rare gem found only in the Dominican Republic. Its breathtaking blue hues evoke the tranquil waters of the Caribbean, reflecting the ocean's serenity and beauty. Marahlago showcases this exquisite gemstone in their turtle-inspired designs, creating wearable works of art that exude elegance and grace.

The intricate detailing of the turtle designs is a testament to Marahlago's commitment to craftsmanship. From delicate engravings on the shell to meticulously placed Larimar stones that emulate the turtle's vibrant shell patterns, every piece is a testament to the brand's dedication to excellence.

Wearing Marahlago Turtle Jewelry is not just a fashion statement; it's a celebration of nature's wonders. Each turtle piece serves as a reminder of the importance of preserving our environment and embracing the harmony between humanity and the natural world.

Whether it's a pendant, Necklace, or earrings, Marahlago Turtle Jewelry is a perfect choice for those who seek distinctive and meaningful accessories. With its timeless appeal and unique blend of elegance and nature, this collection is sure to turn heads and spark conversations wherever it is worn.

Indulge in the beauty of Marahlago Turtle Jewelry and let the graceful spirit of the sea turtle accompany you on your journey, reminding you to appreciate the wonders of the world and embrace the harmony of nature.
Adjustable Silver Chain
This necklace comes with a 21"adjustable chain that slides to adjust to your look.
To slide, simply pinch the silver ball with one hand and pull the silver chain to the desired length.
If you need a longer chain that will slide over your head or to see all chain options,
Click Here.
Free Shipping
Free Returns
If you don't love it or if you need a different size just let us know and we'll Email you a return label.
For more details, Click Here.
Warranty
We know that your Marahlago® jewelry is special to you, which is why we offer a 1 year warranty against manufacturing defects! Shop worry-free knowing we've got you covered. 👍