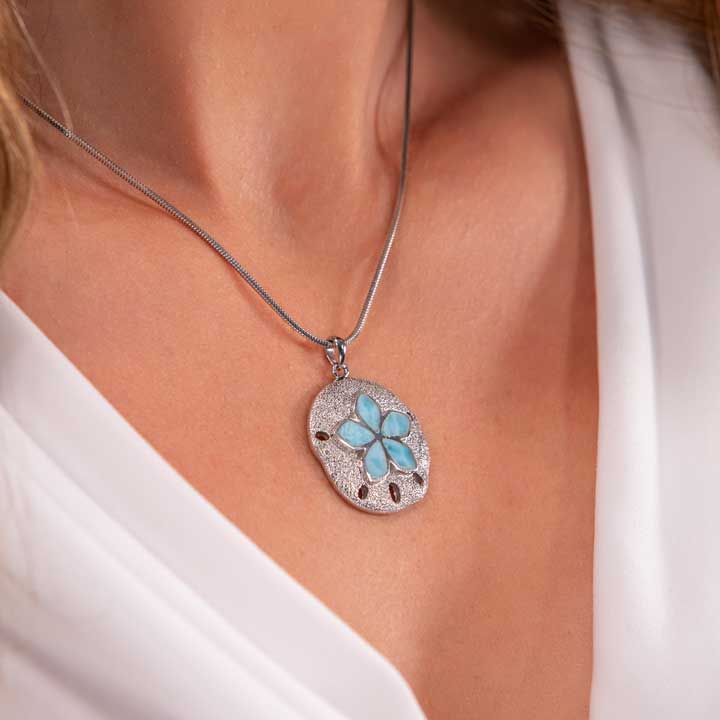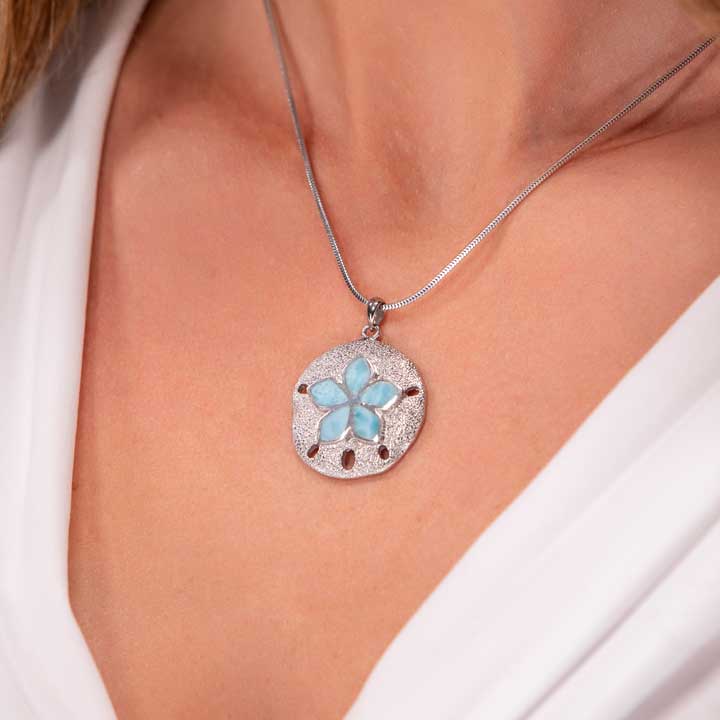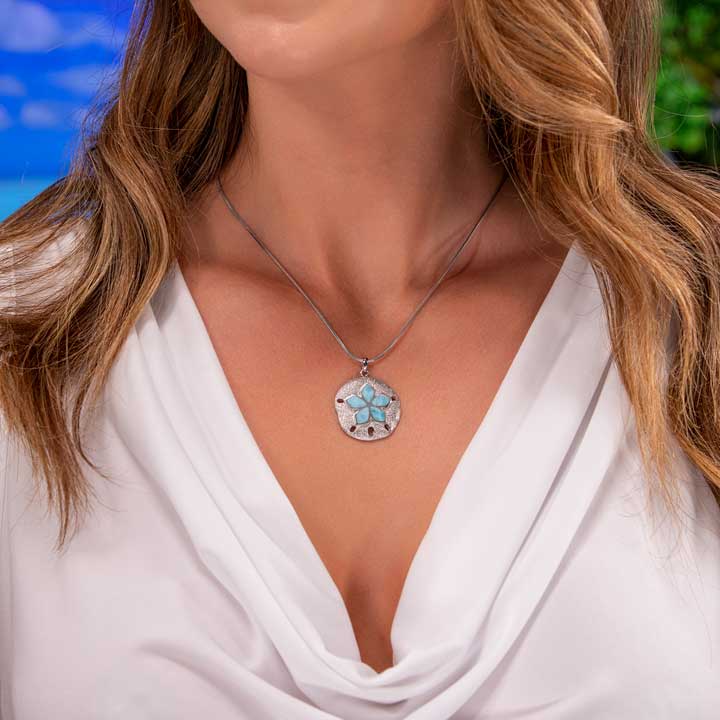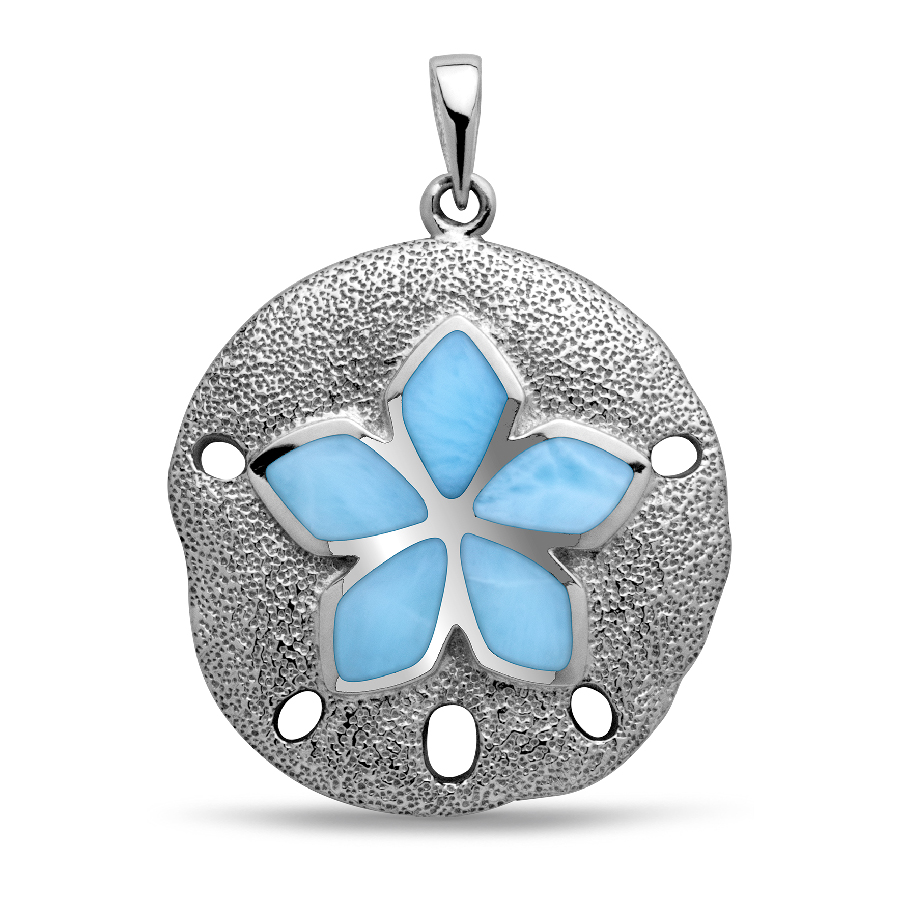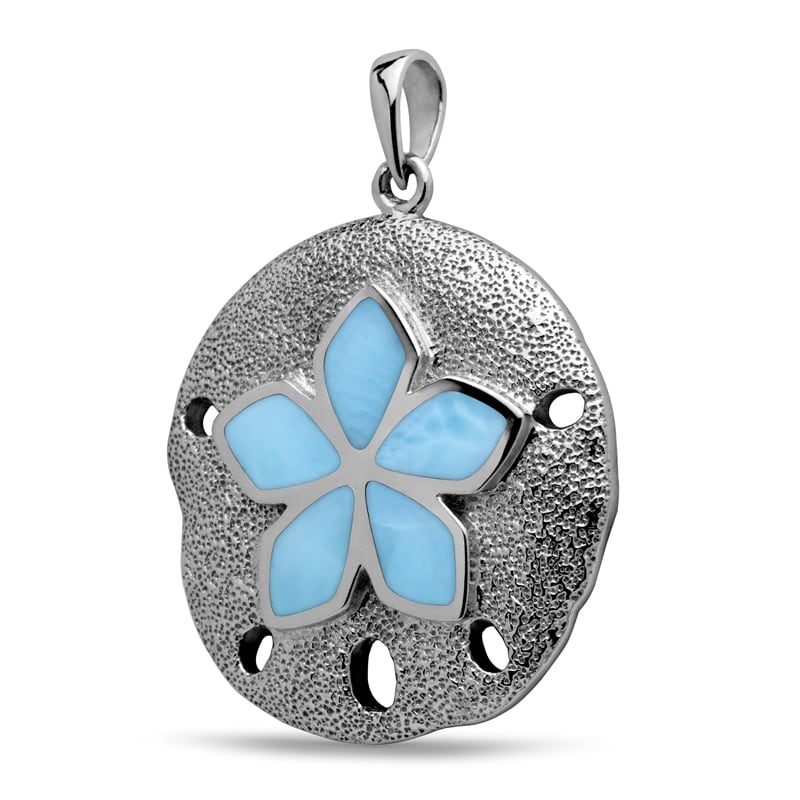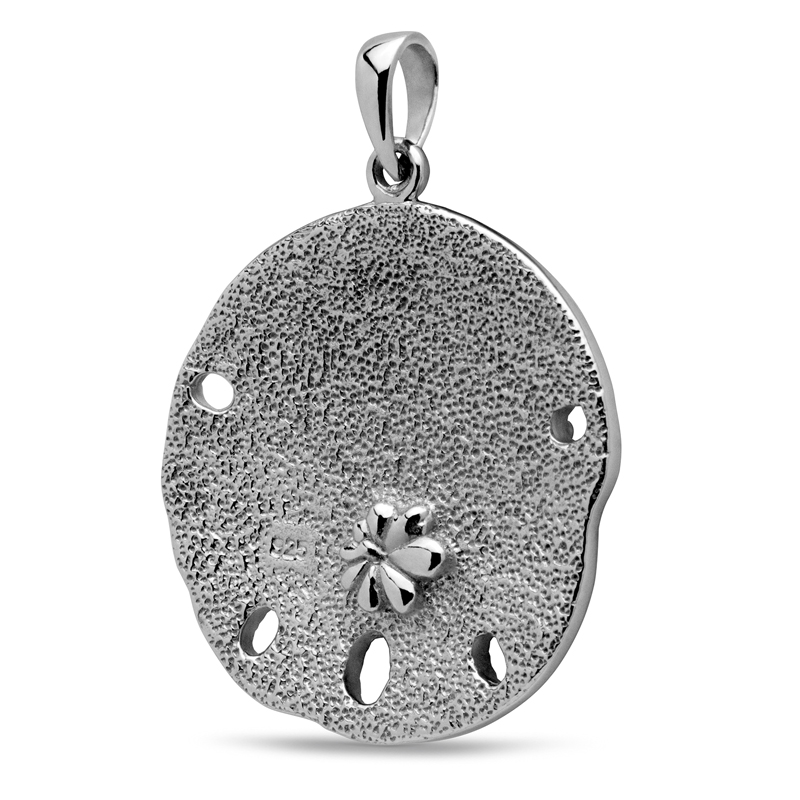 Sand Dollar Necklace
Sand Dollar Necklace
$299
or 4 equal Payments of $74.75
Free Expedited Delivery
Thursday, Sep 28
This pendant is very eye-catching and a great bold size pendant. I've received many compliments each time I've worn it. Very happy with this purchase.

- Diane C -

Love my new necklace. Received many compliments on how different it is.

- Diane P -

This is a lovely pendant and the silver accents the Larimar perfectly. It is a nice addition to my collection and one that is unusual.

- Valerie M -
Sand Dollar Necklace in sterling silver
Our extraordinary Sand Dollar necklace glows with authentic Larimar and brings the magic of the seashore wherever you go. The triangular wedges of Larimar and asymmetrical silver shape bring you back to the ocean life you so tenderly love. Each Sand Dollar Necklace comes with a sterling silver chain that adjusts up to 21"

Dimensions:
Five 3/16" x 5/16" Larimar Gemstones
Overall pendant size is 1 3/8"
Materials:
Includes:
Sterling silver chain adjustable up to 21"
Storage Pouch
Polishing Cloth
Gift Box
About marahlago sand dollar Jewelry
Marahlago Sand Dollar Jewelry brings the mesmerizing beauty of the ocean to life with its exquisite designs and captivating elegance. Crafted with meticulous attention to detail, each piece is a true testament to the timeless allure of the sand dollar.

The sand dollar, a delicate marine treasure found along pristine shorelines, serves as the muse for these enchanting creations. Marahlago embraces the natural allure of this sea-inspired motif, combining it with the lustrous beauty of Larimar gemstones.

Larimar, often referred to as the Carribean gemstone is a rare and ethereal gemstone found only in the Dominican Republic. Its soft blue hues mirror the tranquil depths of the Caribbean Sea, captivating the beholder with its unique and captivating charm.

Marahlago Sand Dollar Jewelry showcases the seamless fusion of the sand dollar's silhouette with the captivating Larimar gemstone. Each piece is carefully handcrafted, bringing to life the delicate details and intricate patterns found in nature.

Wearing Marahlago Sand Dollar Jewelry is like carrying a piece of the ocean's tranquility wherever you go. The subtle elegance and radiant energy of these pieces effortlessly elevate any ensemble, adding a touch of sophistication and natural beauty.

Indulge in the allure of Marahlago Sand Dollar Jewelry and experience the magic of the ocean's timeless charm. With its exquisite designs and captivating Larimar gemstones, this collection is a celebration of nature's artistry and a reminder of the eternal beauty that lies beneath the waves.
Adjustable Silver Chain
This necklace comes with a 21"adjustable chain that slides to adjust to your look.
To slide, simply pinch the silver ball with one hand and pull the silver chain to the desired length.
If you need a longer chain that will slide over your head or to see all chain options,
Click Here.
Free Shipping
Free Returns
If you don't love it or if you need a different size just let us know and we'll Email you a return label.
For more details, Click Here.
Warranty
We know that your Marahlago® jewelry is special to you, which is why we offer a 1 year warranty against manufacturing defects! Shop worry-free knowing we've got you covered. 👍