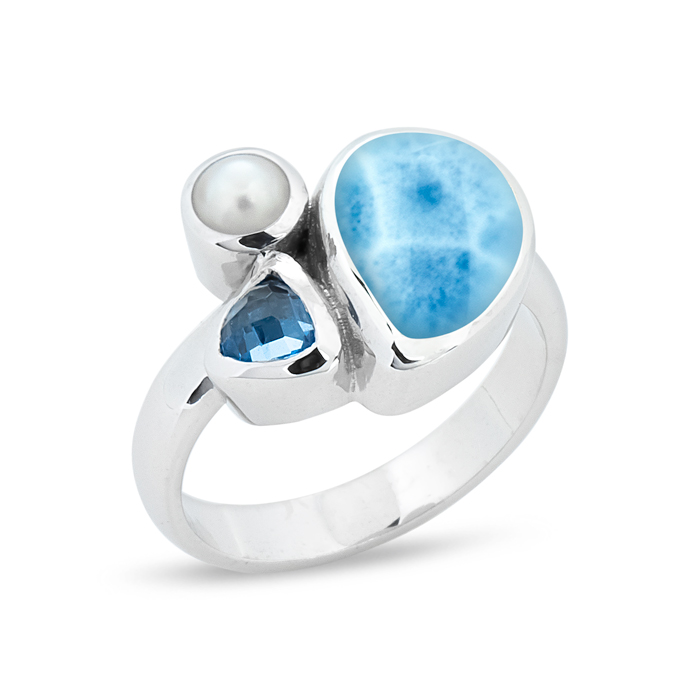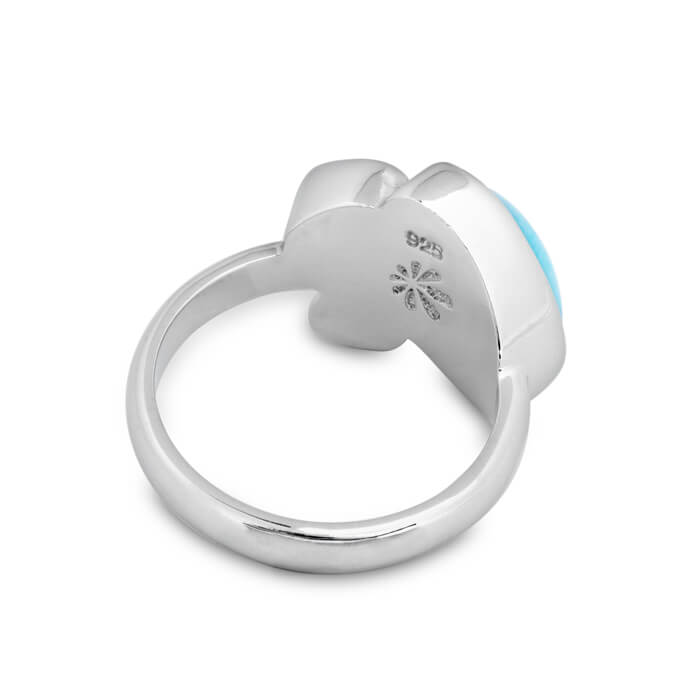 $220
or 4 equal Payments of $55.00
Free Expedited Delivery
Friday, Sep 29
If I had enough money I'd probably buy way too much of this beautiful jewelry!

- Kimberly G -
Pear Ring with larimar and pearl
Sterling silver wraps around each blue spinel, freshwater pearl and Teardrop-cut Larimar gemstone to form this unique design.

Dimensions:
5/16" x 3/8" Larimar Gemstone
Band is 1/8" wide
Materials:
Larimar Gemstone
Blue Spinel
Freshwater Pearl
Includes:
Storage Pouch
Polishing Cloth
Gift Box
About marahlago pearl Jewelry
Indulge in the captivating allure of Marahlago pearl jewelry, where timeless elegance meets contemporary design. Crafted with utmost precision and passion, our collection showcases the natural beauty of pearls, making every piece a true work of art.

At Marahlago, we believe that pearls are the epitome of sophistication and grace. Our expert craftsmen meticulously hand-select each pearl to ensure unparalleled quality and luster. Whether you're looking for classic pearl necklaces, stunning earrings, or exquisite bracelets, we offer a wide range of designs to suit every style and occasion.

What sets Marahlago pearl jewelry apart is our commitment to sustainability. We source our pearls from eco-friendly farms, promoting ethical practices and preserving the delicate marine ecosystem. With Marahlago, you can adorn yourself with stunning pearls while making a positive impact on the environment.

Our designs seamlessly blend the timeless appeal of pearls with modern aesthetics, creating pieces that are both versatile and distinctive. Whether you prefer delicate and understated elegance or bold and statement-making designs, Marahlago has something to cater to your unique taste.

With our exceptional attention to detail and commitment to craftsmanship, Marahlago pearl jewelry is designed to be cherished for a lifetime. Each piece undergoes rigorous quality checks to ensure that you receive nothing but the finest jewelry that will stand the test of time.

Elevate your style and embrace the enchanting allure of Marahlago pearl jewelry. Browse our exquisite collection today and experience the magic of pearls like never before. Discover the perfect piece to adorn yourself or find a truly special gift for someone you cherish.
Available rings are shown above, if your desired size is not shown, you can order it below as a custom size. When unsure of your size,we recommend either purchasing a 'ring sizer tool' (about $5 on Amazon) or if you have an existing ring, you can check the size by downloading our FREE Marahlago Ring Sizer App.
Order a custom size
HOW MADE-TO-ORDER RINGS WORK:
The Larimar in Marahlago our rings are securely set and cannot be resized without risking damage to the stone or setting. We offer the option to custom-make your ring in the specific size you need. Although this process can take up to 8 weeks, it helps prevent any potential issues in the future.
Once your new piece is ready to ship, we will reach out and provide you with the tracking information.
Free Shipping
Free Returns
If you don't love it or if you need a different size just let us know and we'll Email you a return label.
For more details, Click Here.
Warranty
We know that your Marahlago® jewelry is special to you, which is why we offer a 1 year warranty against manufacturing defects! Shop worry-free knowing we've got you covered. 👍