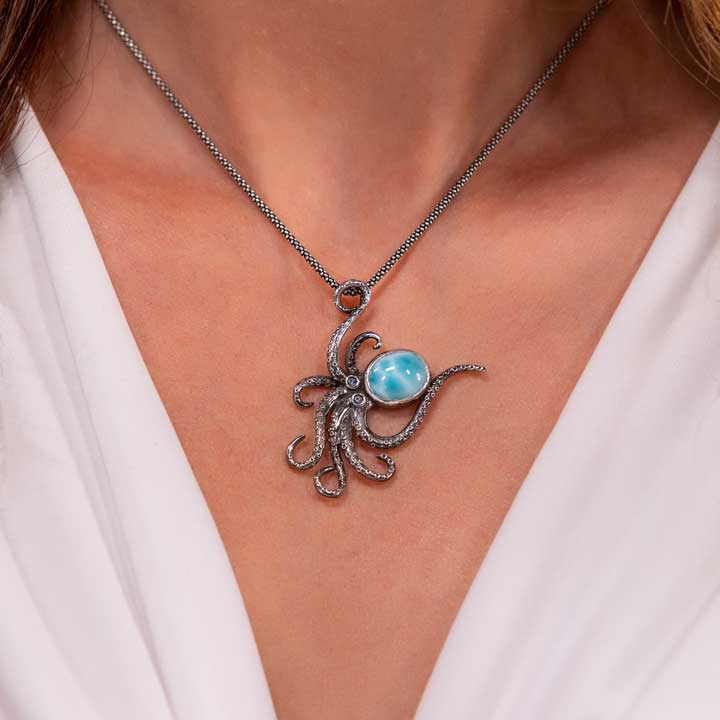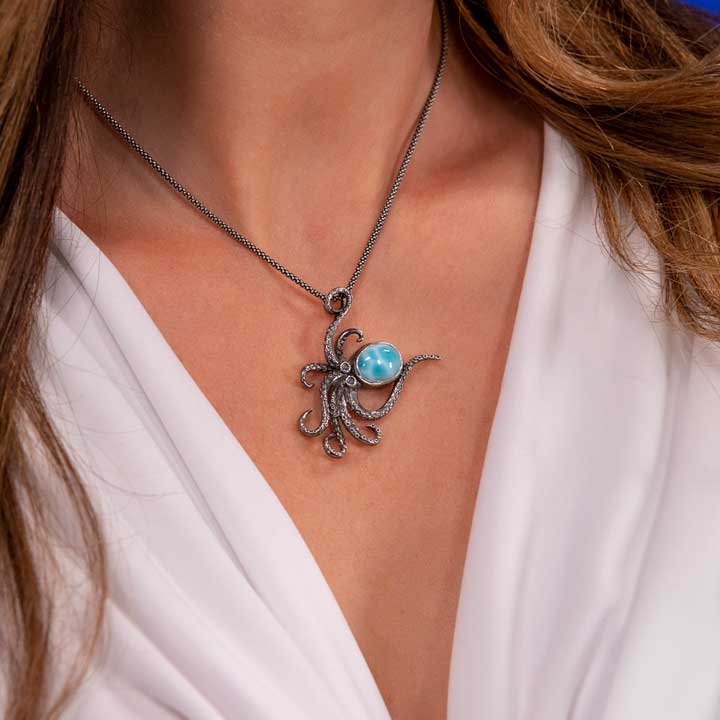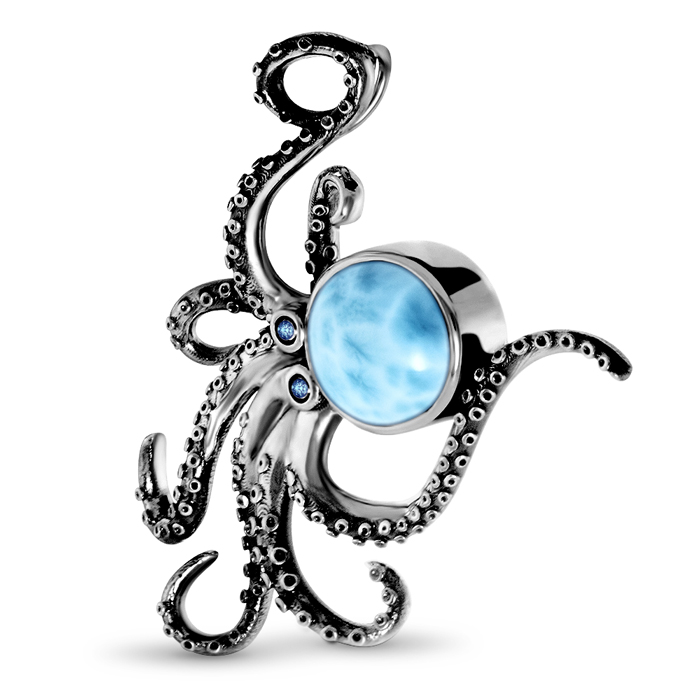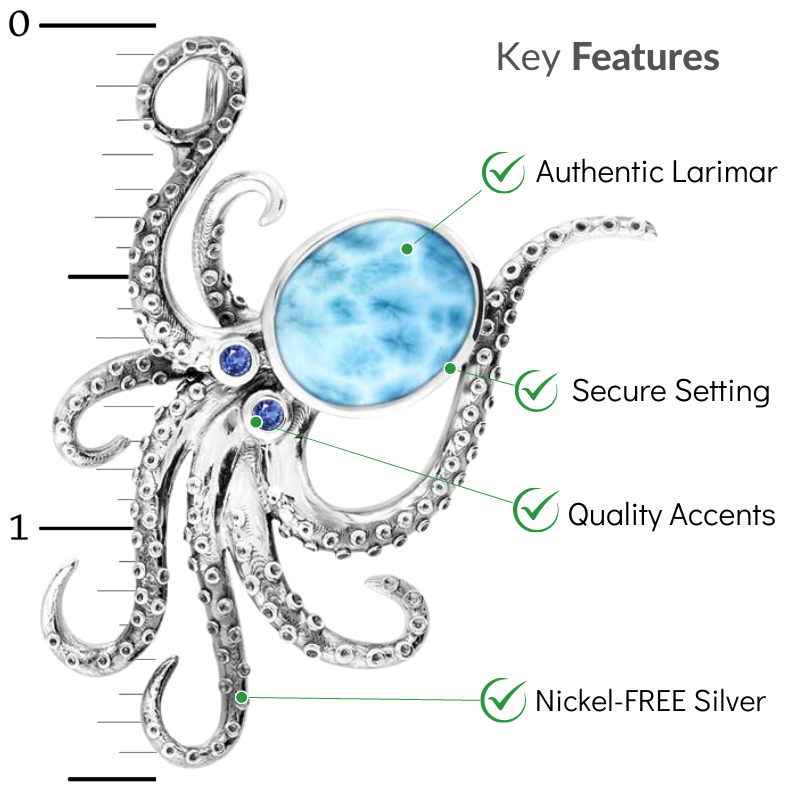 Octopus Pendant Oxidized
Octopus Pendant
$291
or 4 equal Payments of $72.75
Free Expedited Delivery
Thursday, Sep 28
I live and work near the ocean and love the octopus design. It is fun and casual so I can wear it every day. Beautiful!

- Joni J -

I bought this octopus necklace on vacation several years ago, I love the quality and design of Marahlago

- Lynne H -
Octopus Pendant in silver
Shop our award winning Octopus Pendant!
Delightful and charming, this gorgeous Octopus necklace has blue spinel for eyes and a playful attitude, with an oxidized finish to highlight the intricately detailed sterling silver. Each Octopus pendant comes with a sterling silver chain that adjusts up to 21"

Dimensions:
3/8" x 7/16" Larimar Gemstone
Overall pendant size is 1 1/2" x 1 3/4"
Materials:
Oxidized Sterling Silver
Larimar Gemstone
Blue Spinel
Includes:
Sterling silver chain adjustable up to 21"
Storage Pouch
Polishing Cloth
Gift Box
What is Blue Spinel?
Blue spinel is a captivating gemstone known for its exquisite blue hues, reminiscent of the serene depths of the ocean. Belonging to the spinel family, this gem has long captivated the hearts of gemstone enthusiasts and collectors alike. Revered for its brilliant color, impressive durability, and unique brilliance, blue spinel has cemented its place as a sought-after gemstone in the world of jewelry.

Unlike its more commonly recognized cousin, the ruby, which is also part of the spinel family, blue spinel's vibrant shades have often been compared to sapphires. Blue spinel has been cherished throughout various cultures and it was often mistaken for sapphire due to its close resemblance. One of the most famous spinel gems in history is the Black Prince's Ruby, set in the British Imperial State Crown, which is, in fact, a large red spinel.

Found in various parts of the world, including Myanmar, Sri Lanka, Tanzania, and Vietnam, blue spinel has a remarkable geological origin. It forms in the earth's crust through a combination of elements such as aluminum, oxygen, and magnesium. The presence of trace elements contributes to the gem's distinct blue coloration.

Aside from its allure and beauty, blue spinel is also valued for its exceptional durability. Ranking 8 on the Mohs scale of hardness, it is a gemstone well-suited for everyday wear in various types of jewelry, from rings to necklaces and earrings. Jewelers love working with blue spinel due to its excellent toughness, allowing them to create intricate and stunning designs that highlight the gem's brilliance and color.

The popularity of blue spinel in modern times has grown steadily, as more people become aware of its existence and extraordinary attributes. It has found its way into both high-end and artisanal jewelry pieces, appealing to those who seek a unique gemstone alternative to more traditional options.

In conclusion, blue spinel is a mesmerizing gemstone that combines breathtaking beauty, durability, and rarity. Its rich history, coupled with its vibrant blue color and impressive sparkle, makes it a treasure cherished by those who appreciate the allure of exceptional gemstones. Whether set in a regal ring, a graceful necklace, or an elegant pair of earrings, blue spinel is sure to continue captivating hearts and minds for generations to come.

About Marahlago Octopus Jewelry
Crafted with impeccable attention to detail, these exquisite pieces are inspired by the graceful and intelligent creature of the deep sea—the octopus.

Each Marahlago Octopus Jewelry creation is meticulously designed to reflect the intricate beauty and unique characteristics of this remarkable marine creature. The jewelry showcases the octopus' tentacles, swirling in delicate and artistic patterns, capturing the essence of its fluid movement and otherworldly presence.

Made from sterling silver and adorned with vibrant Larimar gemstones, Marahlago Octopus Jewelry exudes elegance and sophistication. Larimar is a rare blue gemstone found only in the Dominican Republic. Its serene blue hues mirror the colors of the Caribbean Sea, evoking a sense of tranquility and natural wonder.

Wearing Marahlago Octopus Jewelry allows you to carry a piece of the ocean's allure wherever you go. Whether it's a pendant or necklace, each piece is a testament to the mastery of craftsmanship and a celebration of the ocean's timeless beauty.

Marahlago Octopus Jewelry is not only a fashion statement but also a symbol of connection to the vast underwater world and the wonders it holds. It serves as a reminder of the importance of preserving our oceans and appreciating the awe-inspiring creatures that inhabit them.

With Marahlago Octopus Jewelry, you can embrace the elegance and mystique of the octopus, while adding a touch of sophistication and natural beauty to your personal style. These unique and captivating pieces are sure to become cherished heirlooms, treasured for their artistry and the memories they evoke.

What is oxidized silver?
Oxidized jewelry is a popular look that is created by dipping the silver in an antiquing solution to darken the sterling silver to an aged patina which results in a vintage style appearance. The vintage silver effect is often used to create contrast and highlight details in the silverwork that would otherwise go unnoticed. Once all of the silver is oxidized black, the raised surface is polished to remove the patina and leave the deeper areas black for contrast. The oxidation is just a surface treatment and does not change the properties of the metal. It is possible to intentionally or accidentally remove the effect by using silver cleaning solutions or a buffing wheel.
Adjustable Silver Chain
This necklace comes with a 21"adjustable chain that slides to adjust to your look.
To slide, simply pinch the silver ball with one hand and pull the silver chain to the desired length.
If you need a longer chain that will slide over your head or to see all chain options,
Click Here.
Free Shipping
Free Returns
If you don't love it or if you need a different size just let us know and we'll Email you a return label.
For more details, Click Here.
Warranty
We know that your Marahlago® jewelry is special to you, which is why we offer a 1 year warranty against manufacturing defects! Shop worry-free knowing we've got you covered. 👍