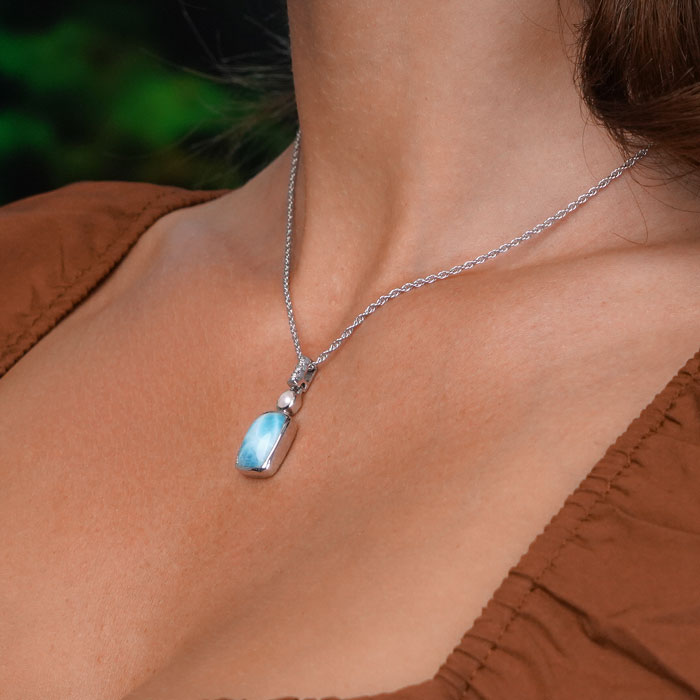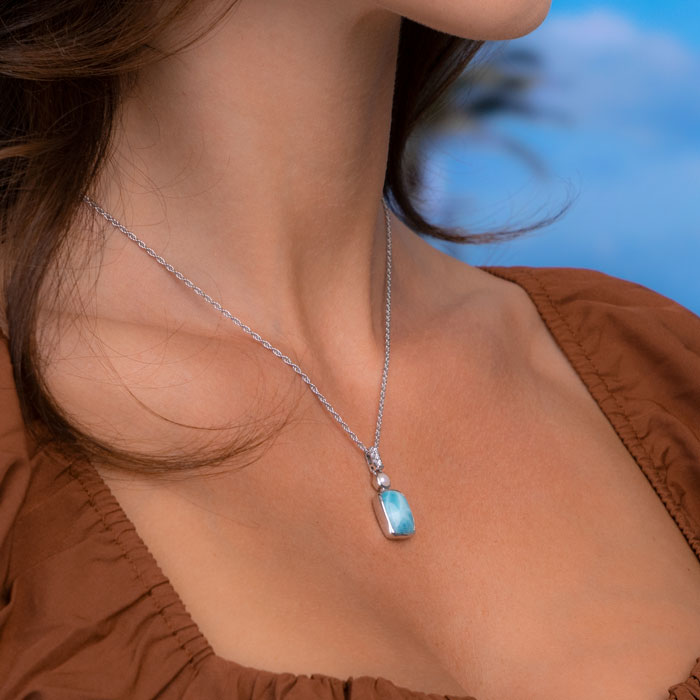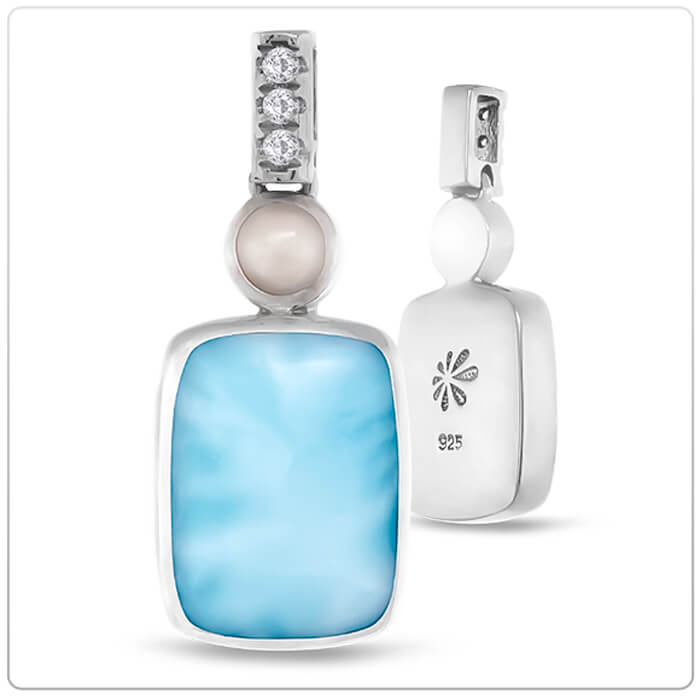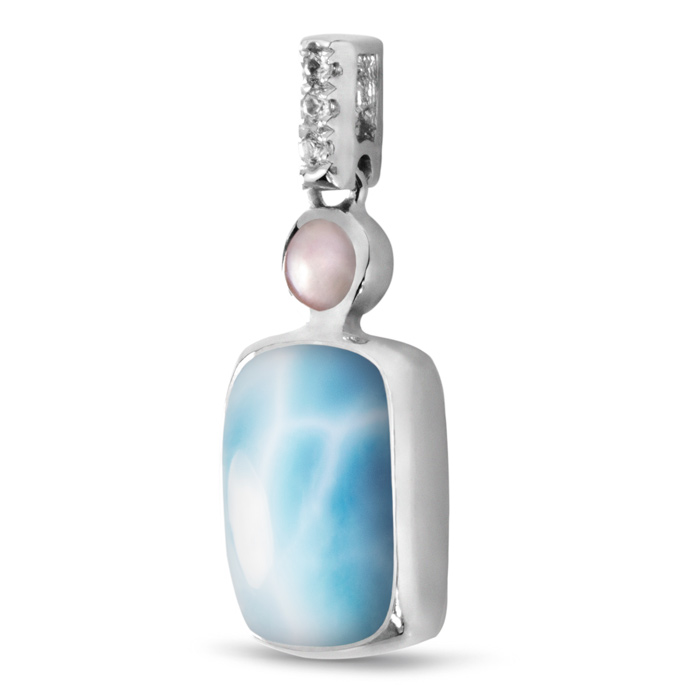 Mirage Pearl Necklace
Women's Pearl Necklace
$255
or 4 equal Payments of $63.75
Free Expedited Delivery
Friday, Sep 29
I bought this necklace and matching earrings. They are beautiful.

- Cecily W -

Nice quality and very good detail!! Impressed!

- Rod P -

A beautiful piece, just my style. I received it as a gift, and loved it!

- Samantha -
Women's Pearl Necklace in Sterling silver
The Marahlago Mirage Pearl Necklace is a stunning and elegant piece of jewelry that exudes timeless beauty and sophistication. This necklace is the result of exquisite craftsmanship combined with nature's remarkable artistry. At its heart lies a mesmerizing and rare Larimar gemstone, skillfully cut and polished to showcase its distinctive blue hues reminiscent of the Caribbean seas. Each pearl Necklace includes a sterling silver chain that adjusts upto 21".

Dimensions:
3/8" x 9/16" Larimar Gemstone
Overall pendant size is 1 1/8"
Materials:
Larimar Gemstone
White Sapphires
Freshwater Pearl
Includes:
Sterling silver chain adjustable up to 21"
Storage Pouch
Polishing Cloth
Gift Box
About marahlago Pearl Jewelry
Indulge in the captivating allure of Marahlago pearl jewelry, where timeless elegance meets contemporary design. Crafted with utmost precision and passion, our collection showcases the natural beauty of pearls, making every piece a true work of art.

At Marahlago, we believe that pearls are the epitome of sophistication and grace. Our expert craftsmen meticulously hand-select each pearl to ensure unparalleled quality and luster. Whether you're looking for classic pearl necklaces or stunning earrings, we offer a wide range of designs to suit every style and occasion.

What sets Marahlago pearl jewelry apart is our commitment to sustainability. We source our pearls from eco-friendly farms, promoting ethical practices and preserving the delicate marine ecosystem. With Marahlago, you can adorn yourself with stunning pearls while making a positive impact on the environment.

Our designs seamlessly blend the timeless appeal of pearls with modern aesthetics, creating pieces that are both versatile and distinctive. Whether you prefer delicate and understated elegance or bold and statement-making designs, Marahlago has something to cater to your unique taste.

With our exceptional attention to detail and commitment to craftsmanship, Marahlago pearl jewelry is designed to be cherished for a lifetime. Each piece undergoes rigorous quality checks to ensure that you receive nothing but the finest jewelry that will stand the test of time.

Elevate your style and embrace the enchanting allure of Marahlago pearl jewelry. Browse our exquisite collection today and experience the magic of pearls like never before. Discover the perfect piece to adorn yourself or find a truly special gift for someone you cherish.
Adjustable Silver Chain
This necklace comes with a 21"adjustable chain that slides to adjust to your look.
To slide, simply pinch the silver ball with one hand and pull the silver chain to the desired length.
If you need a longer chain that will slide over your head or to see all chain options,
Click Here.
Free Shipping
Free Returns
If you don't love it or if you need a different size just let us know and we'll Email you a return label.
For more details, Click Here.
Warranty
We know that your Marahlago® jewelry is special to you, which is why we offer a 1 year warranty against manufacturing defects! Shop worry-free knowing we've got you covered. 👍