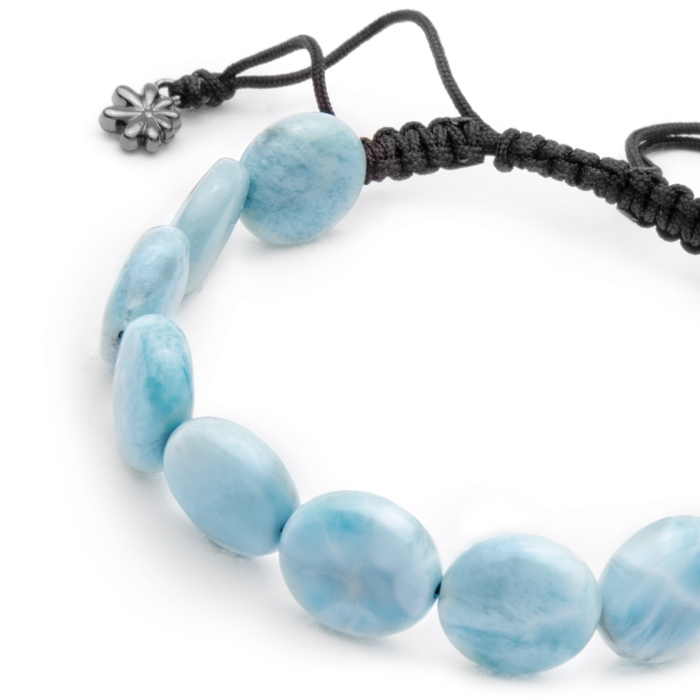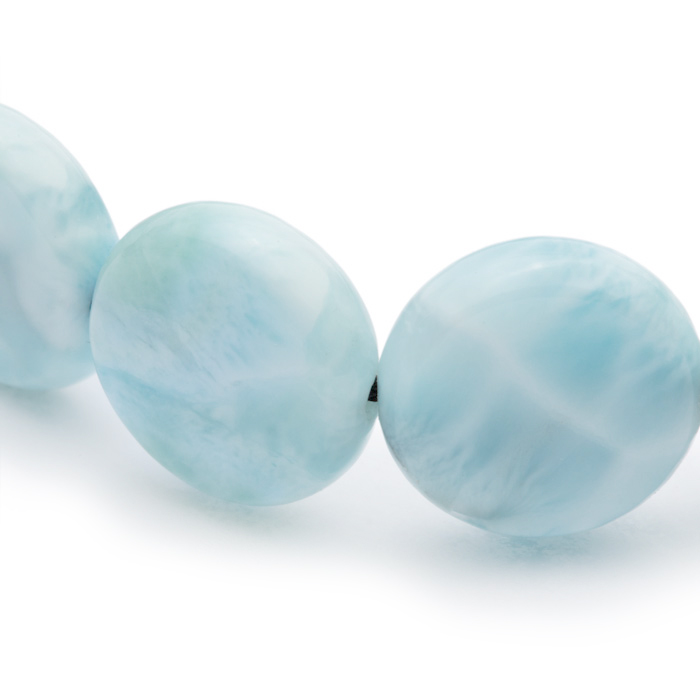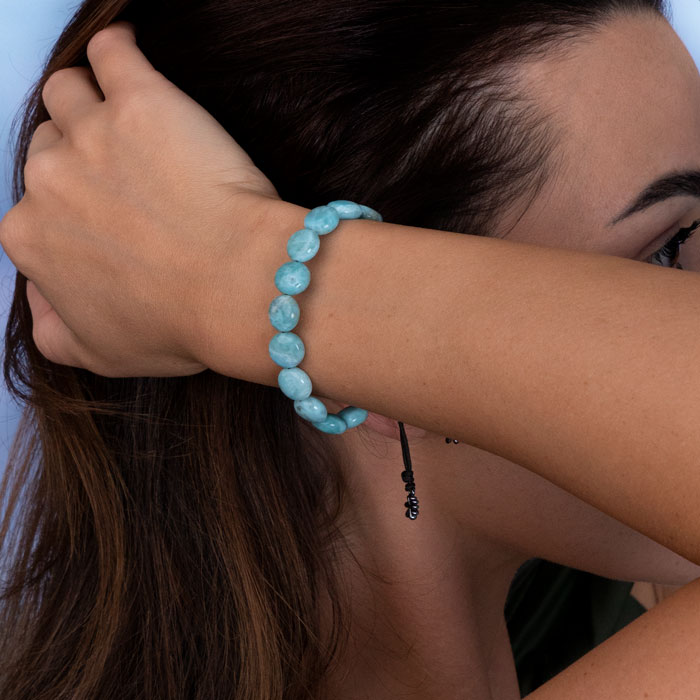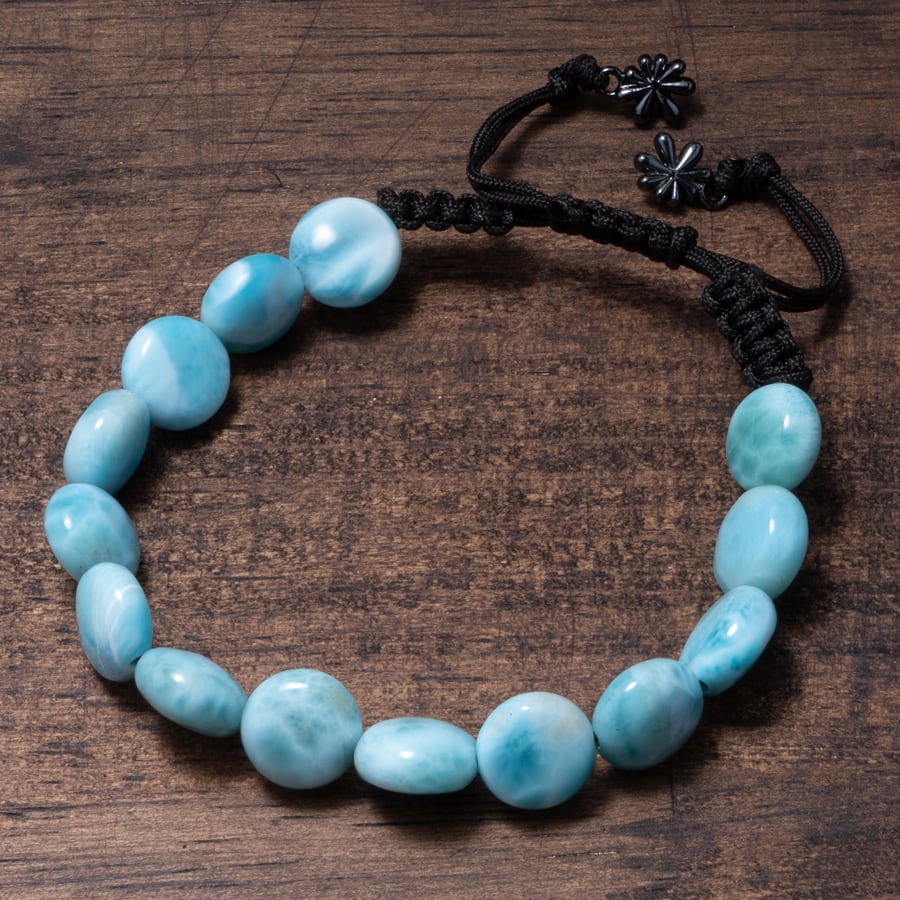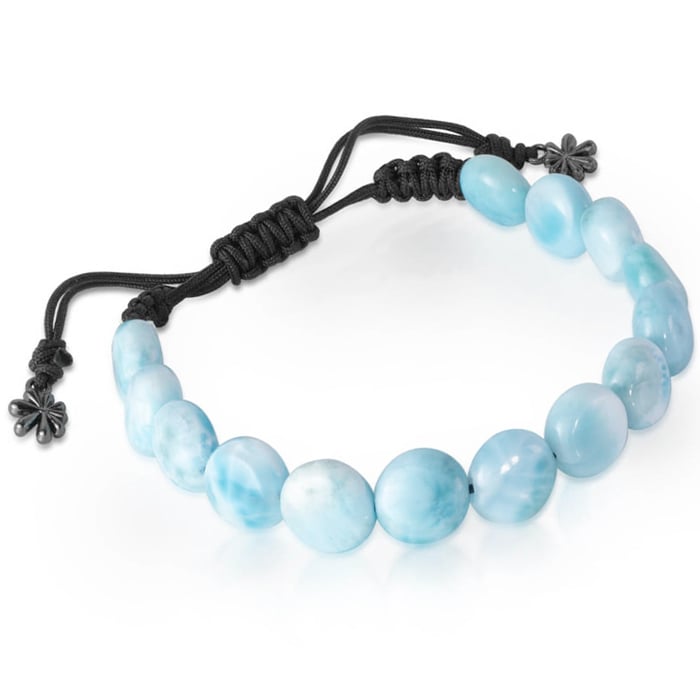 Larimar Bead Bracelet
Bead Bracelet
$59
or 4 equal Payments of $14.75
Expedited Delivery
Friday, Sep 29
It's such a classy bracelet that I can wear all the time & very well made… I love it so much that I bought another one!

- Brenda R -

The beautiful blue stones and roping. Would absolutely recommend this beautiful bracelet

- Diane D -

Very attractive and casual. I wear it almost everyday

- Janet H -
Bead Bracelet with Larimar
Enjoy the soothing calm of the Caribbean with a Marahlago Larimar Bead Bracelet and wear one of nature's most precious treasures. Larimar is a rare gemstone that is found in only one place on earth, a remote mountain in the Dominican Republic. A sliding knot closure is a popular and adjustable method for securing macrame bracelets, allowing the wearer to easily adjust the size to fit comfortably on their wrist.

Sizing:
A standard size Larimar Bracelet with a sliding knot closure fits a wrist measurement from 6" to 9".
This style is not available in custom sizes
Product Details:
Fourteen 10mm Larimar gemstones.
Opening and Closing a Sliding Macrame Bracelet
Step 1: Understanding the Sliding Knot
The adjustable sliding mechanism is created by two interlocking loops held in place by friction from the center knot. The smaller side knots can move along the cord, allowing you to adjust the size. One direction opens the bracelet, while the other allows you to close it.
Step 2: Opening the Bracelet
Locate the two sliding knots, they are the smaller knotted area's right next to the larimar beads. Between the sliding knots you will see the main knotted area that holds them in place. Pull apart on the two smaller knotted area's and as you pull, you'll notice the bracelet increasing in size. Keep pulling until the loop becomes large enough to easily slide over your hand. You have now successfully opened the sliding knot macrame bracelet.
Step 3: Closing the Bracelet
Slide the bracelet onto your wrist and then hold the ends of the cords (the flower logo charms) and pull them
away
from each other to tighten. As you pull, the loop will decrease in size, closing the bracelet around your wrist. Adjust the bracelet to your desired fit by gently pulling on both cords until it feels comfortable.
Tips:
When the bracelet is new, the knots are intentionally woven tightly and will take a little extra effort to open and close. Over time, the cord will stretch and wear slightly making it easier to adjust the bracelet's size. Practice opening and closing the sliding knot several times to get the hang of it before wearing the bracelet regularly.
What are Macrame Bracelets?
A macrame bracelet is a type of bracelet that is made using the art of macrame, which involves knotting cords or threads together to create decorative patterns. Macrame is a technique that has been used for centuries to create various types of textiles, including jewelry.

Macrame bracelets are often adjustable, allowing the wearer to easily resize them to fit their wrist. They can be worn as standalone accessories or stacked with other bracelets to create a layered look. Macrame bracelets are popular for their bohemian or boho-chic style and are commonly associated with casual and summer fashion.
To measure your wrist, use a measuring tape around your wrist, snug, without squeezing the skin or leaving extra space.
Most Bracelets have a clasp that allows for some size adjustment, but if you have to bend or stretch a bracelet in any way, it does not fit and you will damage the setting. If the bracelet isn't available or if you need a different size, you may be able to order it below as a custom size. In order for us to determine the perfect length of bracelet for you, we need your exact wrist measurement.
Free Shipping
Free Returns
If you don't love it or if you need a different size just let us know and we'll Email you a return label.
For more details, Click Here.
Warranty
We know that your Marahlago® jewelry is special to you, which is why we offer a 1 year warranty against manufacturing defects! Shop worry-free knowing we've got you covered. 👍