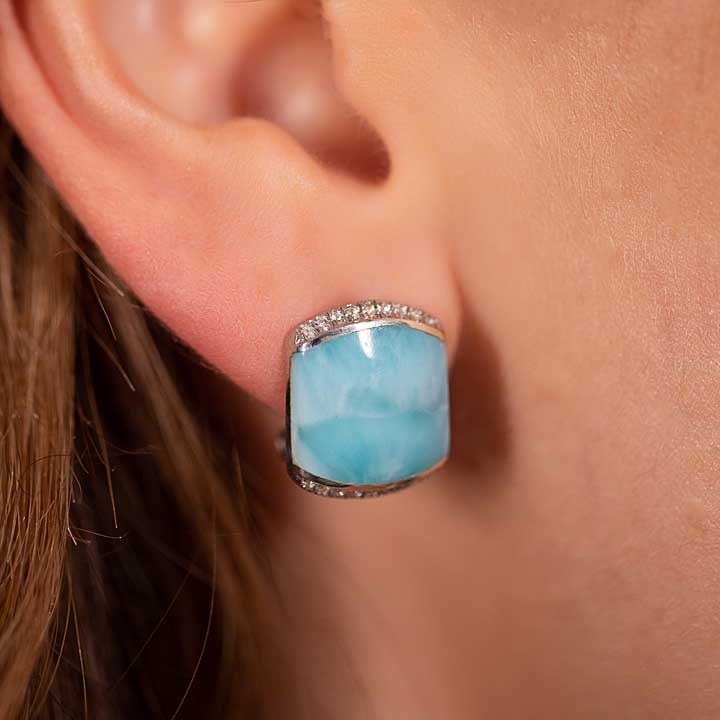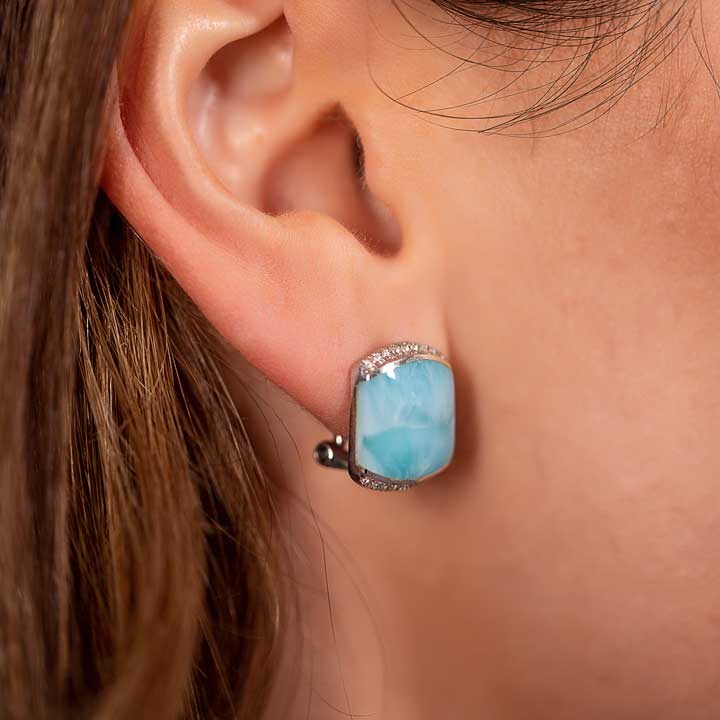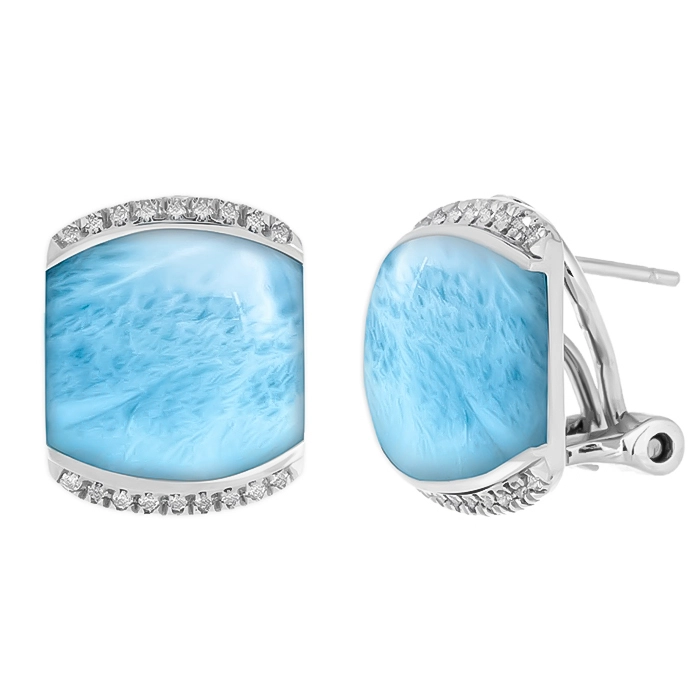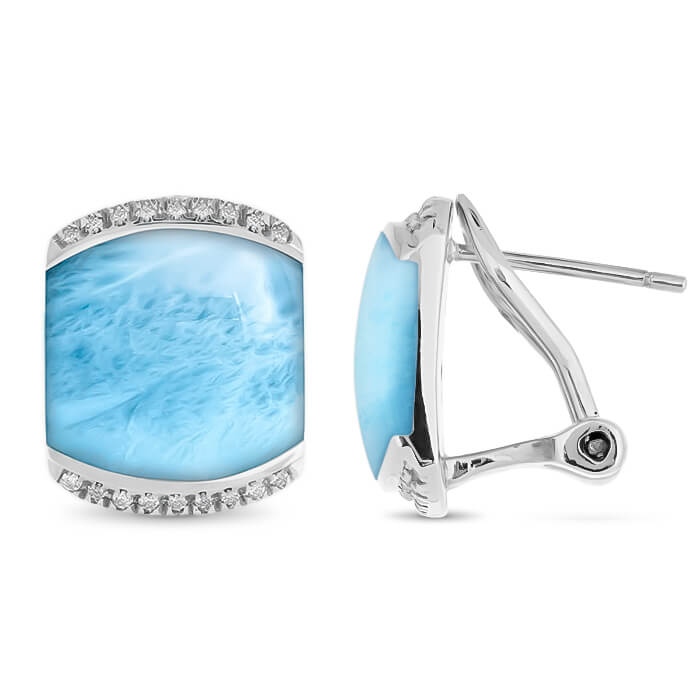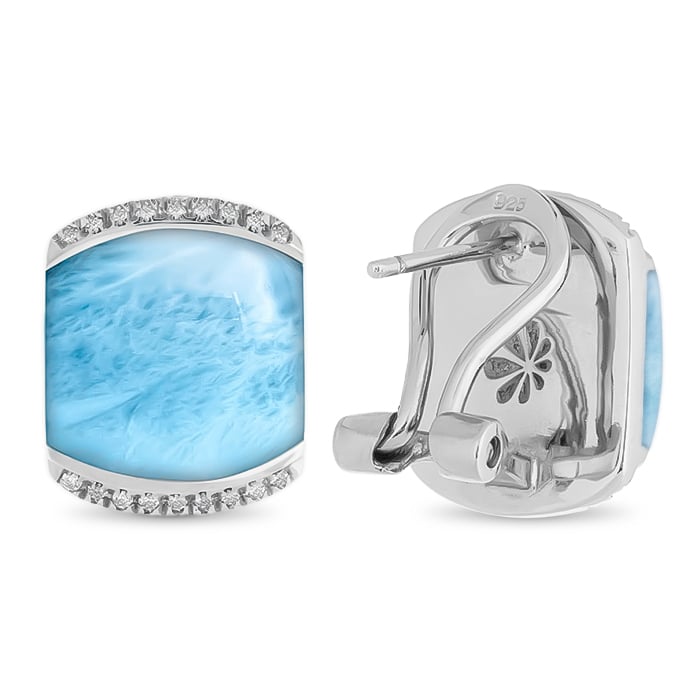 Joy Larimar Earrings
Large Earrings
$348
or 4 equal Payments of $87.00
absolutely perfect.

- Carolyn S -

The earnings are very beautiful when you put them on. Very happy with the purchase.

- Iris P -

Very nice. Quite comfortable

- Patricia B -
Large Earrings
A pool of larimar awaits you, descending from a sterling silver omega post. The larimar stone is hugged by white sapphires and secured in a bezel of sterling silver, swaying light and free from your ears as you breeze through the day.

Dimensions:
Two 1/2" x 7/16" Larimar Gemstone
Overall length is 5/8"
Materials:
Includes:
Storage Pouch
Polishing Cloth
Gift Box
What is White Sapphire?
White sapphire, also known as colorless sapphire, is a captivating gemstone renowned for its enchanting beauty and unparalleled brilliance. It is a variety of the mineral corundum, which is composed of aluminum oxide with trace elements that give it a distinct color. Unlike its blue counterpart, white sapphire stands out for its colorless appearance, resembling the ethereal allure of a flawless diamond. Its captivating charm has made it a popular choice for various jewelry pieces, including engagement rings, earrings, necklaces, and bracelets.

Colorless sapphires owe their brilliance to the gem's remarkable physical properties. With a hardness of 9 on the Mohs scale, second only to diamonds, white sapphires exhibit exceptional durability, making them a practical and long-lasting option for everyday wear. Their remarkable hardness also ensures that the gem retains its brilliance and sparkle over time, providing a lasting testament to the enduring love and commitment they symbolize in engagement rings.

The allure of white sapphire extends beyond its captivating appearance. It holds a special place in various cultures and traditions, believed to bring wisdom, strength, and good fortune to its wearer. For centuries, this precious gem has adorned the crowns, tiaras, and jewelry of royalty and aristocrats, embodying a symbol of purity and sophistication.

As with any gemstone, the value of a white sapphire is influenced by factors such as size, cut, clarity, and overall quality. While they are generally more affordable than diamonds, the most exceptional white sapphires with exceptional clarity and brilliant cuts can still command a premium price.

In conclusion, white sapphire is a timeless gemstone that exudes elegance and grace. Its colorless allure, combined with its durability and symbolism, makes it a cherished choice for jewelry that will stand the test of time and be cherished for generations to come. Whether adorning an engagement ring or any other jewelry piece, white sapphire will continue to enchant and captivate admirers with its pure brilliance.

What are omega back earrings?
Omega back earrings are a popular style of earrings that offer both comfort and security. They are named after the Greek letter "omega" (Ω) due to their distinct horseshoe or "U" shape, which resembles the appearance of the letter.

Unlike traditional earrings that use a post and butterfly backing, omega back earrings feature a unique mechanism that allows the earring to be worn without the need for an earring back. The omega back consists of a curved, hinged clip that holds the earring in place against the earlobe. This design not only provides a stylish and elegant look but also ensures a comfortable fit without the pinching sensation that sometimes accompanies traditional earring backs.

Omega back earrings are a popular choice for those with sensitive earlobes or for individuals who have had trouble keeping regular earrings secure. The secure clasp of the omega back helps to prevent accidental loss of the earrings, making them a suitable option for daily wear or special occasions. Additionally, their secure fastening makes them an excellent choice for valuable or cherished earrings that you want to ensure will not slip off.
Free Shipping
Free Returns
If you don't love it or if you need a different size just let us know and we'll Email you a return label.
For more details, Click Here.
Warranty
We know that your Marahlago® jewelry is special to you, which is why we offer a 1 year warranty against manufacturing defects! Shop worry-free knowing we've got you covered. 👍