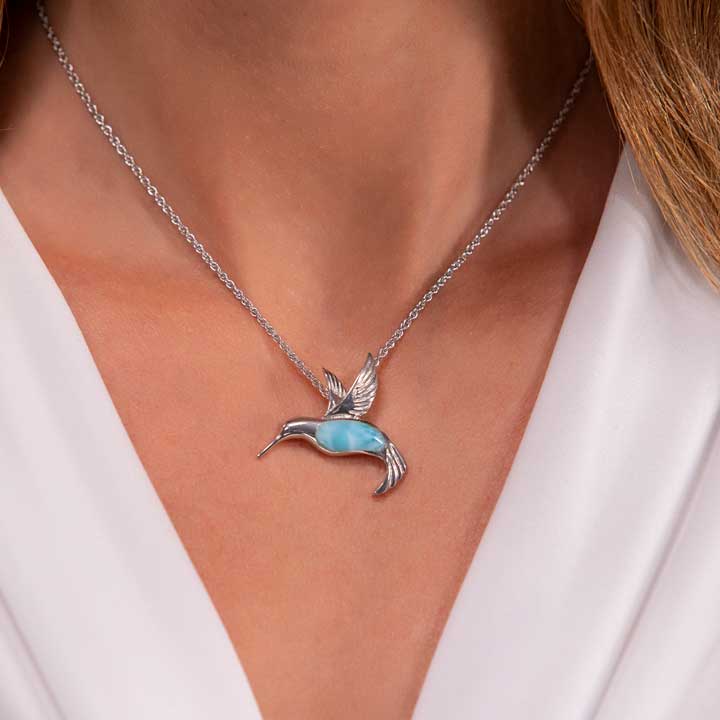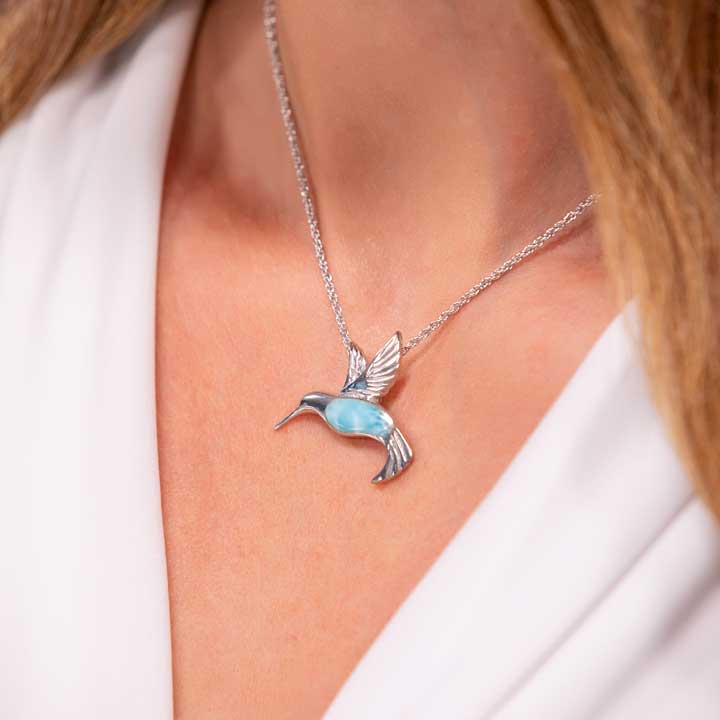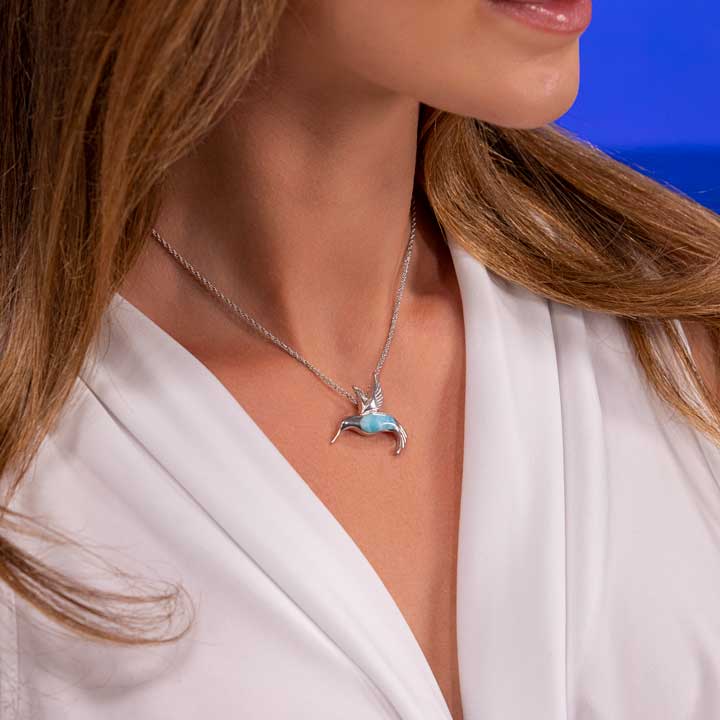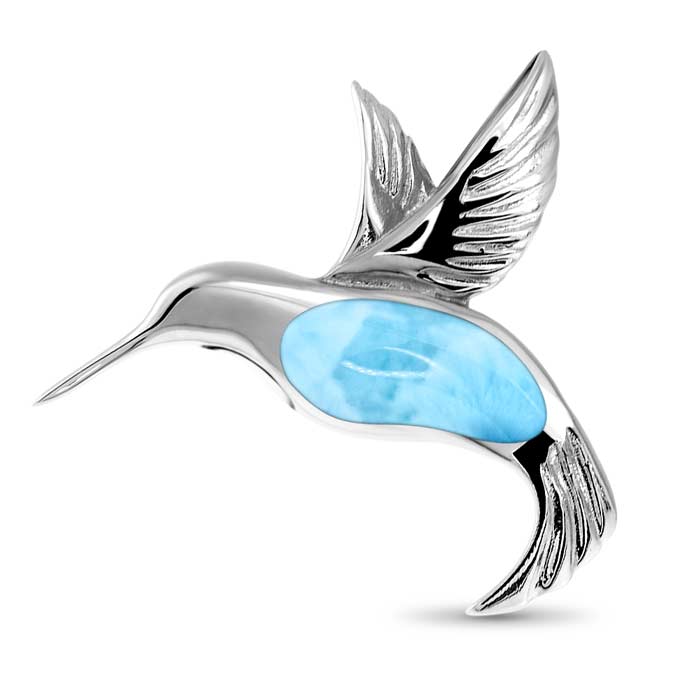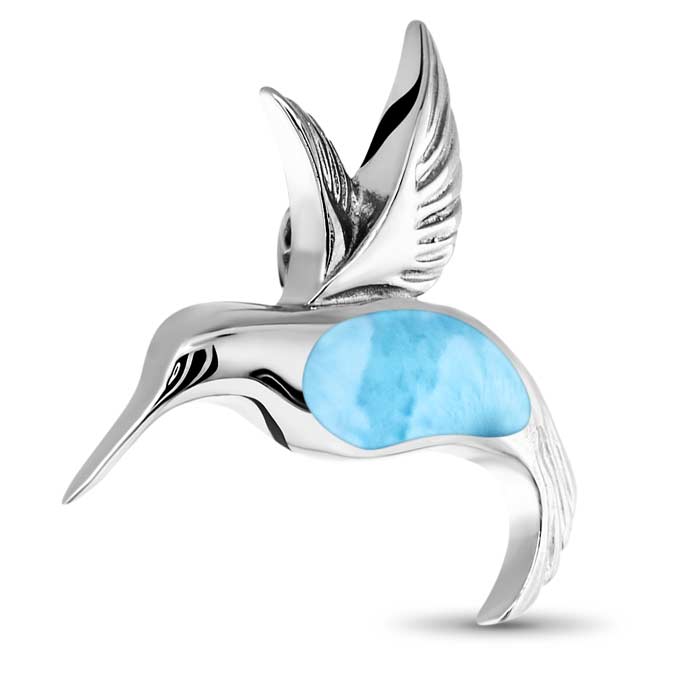 Hummingbird Necklace
Hummingbird Necklace
$198
or 4 equal Payments of $49.50
Free Expedited Delivery
Thursday, Sep 28
I just love my new Hummingbird necklace!

- Cindy A -

Beautiful color and elegant design. My mom was overwhelmed with her gift! Very nice quality and packaging.

- Kristyn R -

A very beautiful piece of jewelry for anyone, especially someone who loves hummingbirds like I do.

- Wendy R -
Hummingbird Necklace in Sterling Silver
The Marahlago Hummingbird Larimar Necklace is a breathtaking piece of jewelry that celebrates the beauty of nature through its intricate design. The centerpiece of the necklace is a stunning larimar gemstone, expertly cut to showcase its natural blue and white tones, and set in sterling silver shaped like a graceful hummingbird. The marahlago Hummingbird Necklace comes with a sterling silver chains that adjusts up to 21"

Dimensions:
3/16" x 1/2" Larimar Gemstone
Overall pendant size is 1 1/8"
Materials:
Includes:
Sterling silver chain adjustable up to 21"
Storage Pouch
Polishing Cloth
Gift Box



The Marahlago Hummingbird Necklace is a captivating piece of jewelry that beautifully captures the grace and vibrancy of the beloved hummingbird. Created by the renowned brand Marahlago, known for its exceptional Larimar jewelry, this necklace features a pendant intricately designed in the shape of a hummingbird, showcasing exquisite craftsmanship and attention to detail.

At the heart of the pendant lies a Larimar gemstone, chosen for its stunning blue hues reminiscent of the Caribbean Sea. Larimar adds a touch of enchantment and elegance to the Hummingbird Necklace, with each gemstone displaying its own unique patterns and colors, making every necklace truly distinctive.

The pendant of the Marahlago Hummingbird Necklace is expertly sculpted to capture the delicate form and swift movements of the hummingbird. The intricate details bring the pendant to life, showcasing the bird's tiny feathers, elongated beak, and graceful wings. The pendant may also incorporate textured or engraved elements, adding depth and realism to the design.

Crafted with exceptional artistry, the Marahlago Hummingbird Necklace is available in sterling silver ensuring durability and timeless beauty. The pendant is elegantly suspended from a chain, allowing it to rest gracefully on the wearer's neckline.

The hummingbird holds symbolic significance, representing joy, energy, and the pursuit of sweetness in life. Wearing the Marahlago Hummingbird Necklace not only adds a touch of elegance and whimsy to your attire but also serves as a reminder to embrace the beauty of nature and seek joy in the smallest moments.

Whether worn as a cherished everyday accessory or as a special statement piece, the Marahlago Hummingbird Necklace is sure to captivate attention and spark admiration. Its exquisite design, combined with the mesmerizing beauty of Larimar, makes it a timeless treasure that celebrates the grace and vitality of the hummingbird, bringing a touch of nature's wonder and a sense of joy to your style.
Adjustable Silver Chain
This necklace comes with a 21"adjustable chain that slides to adjust to your look.
To slide, simply pinch the silver ball with one hand and pull the silver chain to the desired length.
If you need a longer chain that will slide over your head or to see all chain options,
Click Here.
Free Shipping
Free Returns
If you don't love it or if you need a different size just let us know and we'll Email you a return label.
For more details, Click Here.
Warranty
We know that your Marahlago® jewelry is special to you, which is why we offer a 1 year warranty against manufacturing defects! Shop worry-free knowing we've got you covered. 👍