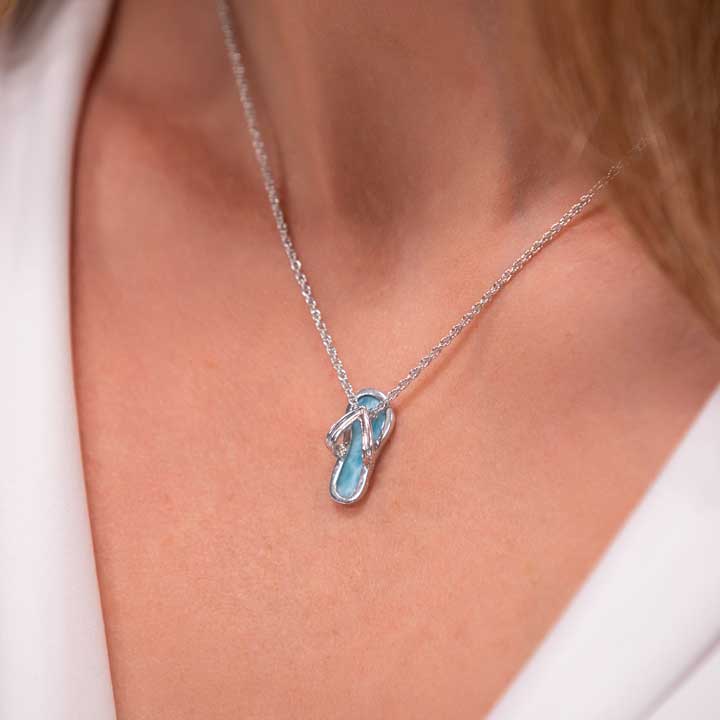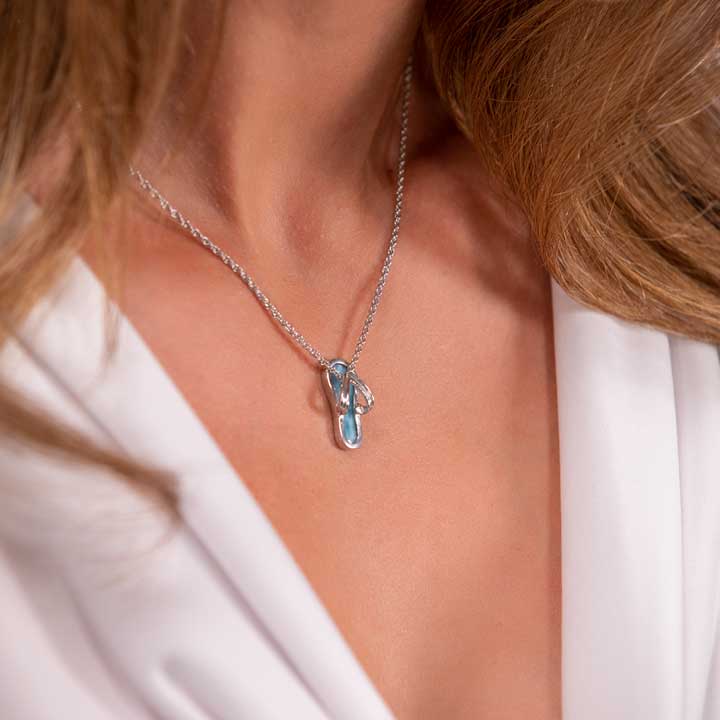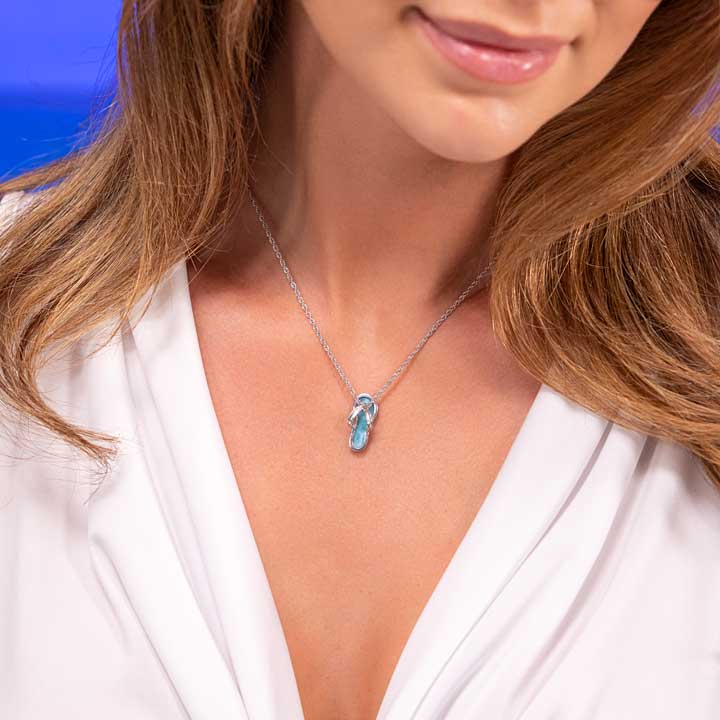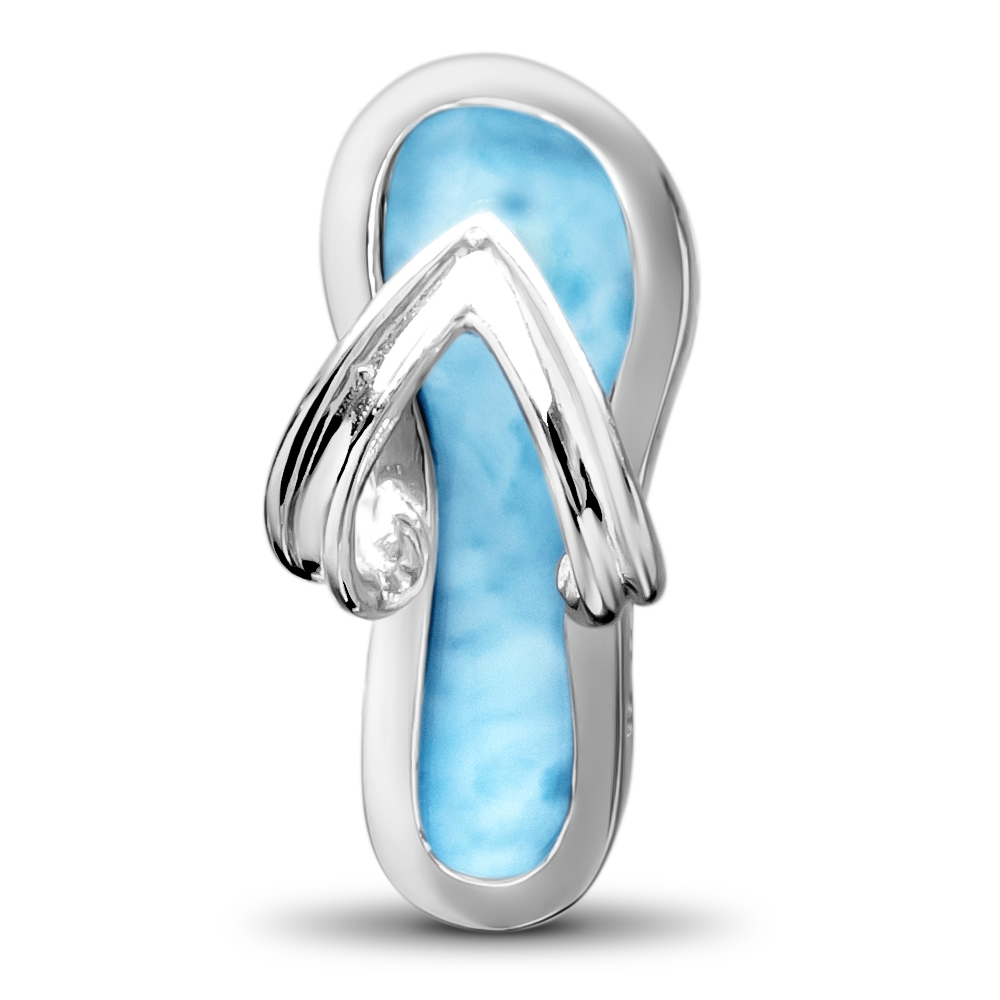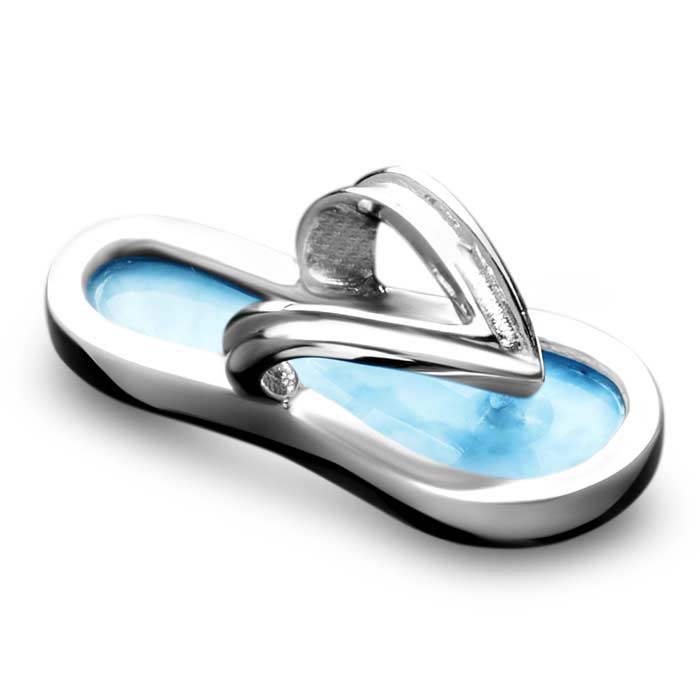 Flip Flop Necklace
Flip Flop Necklace
$180
or 4 equal Payments of $45.00
Free Expedited Delivery
Thursday, Sep 28
The piece is of good quality and I made a good decision in purchasing it. My wife loves and wears it often

- Anthony E -

Great product that made my wife very happy. Excellent service and price..

- Charles T -

My wife lives for the beach. The flip flop necklace was the perfect gift! She absolutely loved it!

- James M -
Flip Flop Necklace in sterling silver
The Marahlago Flip Flop Necklace is a stunning piece of jewelry that exudes elegance and charm. Larimar, known for its serene blue hues reminiscent of the Caribbean Sea, adds a touch of natural beauty to the necklace. The Necklace dangles gracefully from a delicate sterling silver chain, providing a subtle and refined look. Whether you're heading to a beachside getaway or simply want to embrace a tropical vibe, the Marahlago Flip Flop Necklace is the perfect accessory to elevate your style and capture the essence of laid-back luxury. Each Flip Flop necklace comes with a sterling silver chain that adjusts in length up to 21".

Dimensions:
3/16" x 11/16" Larimar gemstone
Overall length is 3/4"
Materials:
Includes:
Sterling silver chain adjustable up to 21"
Storage Pouch
Polishing Cloth
Gift Box
More about Flip Flop Jewelry
Marahlago Flip Flop Jewelry is a unique and exquisite collection that combines the beauty of sterling silver with the captivating allure of Larimar gemstones. Larimar, also known as the "Atlantis Stone," is a rare and stunning gem found exclusively in the Dominican Republic.

These flip flop-inspired jewelry pieces from Marahlago showcase the vibrant blue hues and mesmerizing patterns inherent in Larimar. The collection features finely crafted flip flop pendants, earrings and neckalces each meticulously designed to evoke a sense of tropical paradise and casual elegance.

Marahlago takes pride in sourcing the highest quality Larimar stones, known for their calming energy and connection to the ocean. The gem's enchanting blue tones range from pale sky blues to deeper ocean blues, reminiscent of the Caribbean waters. Paired with lustrous sterling silver, the jewelry pieces exude a sense of sophistication and playfulness.

Whether you're strolling along the beach, attending a summer party, or simply yearning to embrace the spirit of island life, Marahlago Flip Flop Jewelry offers a refreshing and fashionable way to incorporate the natural beauty of Larimar into your style. Each piece is a testament to the brand's commitment to exceptional craftsmanship and their desire to celebrate the unique allure of this extraordinary gemstone.
Adjustable Silver Chain
This necklace comes with a 21"adjustable chain that slides to adjust to your look.
To slide, simply pinch the silver ball with one hand and pull the silver chain to the desired length.
If you need a longer chain that will slide over your head or to see all chain options,
Click Here.
Free Shipping
Free Returns
If you don't love it or if you need a different size just let us know and we'll Email you a return label.
For more details, Click Here.
Warranty
We know that your Marahlago® jewelry is special to you, which is why we offer a 1 year warranty against manufacturing defects! Shop worry-free knowing we've got you covered. 👍