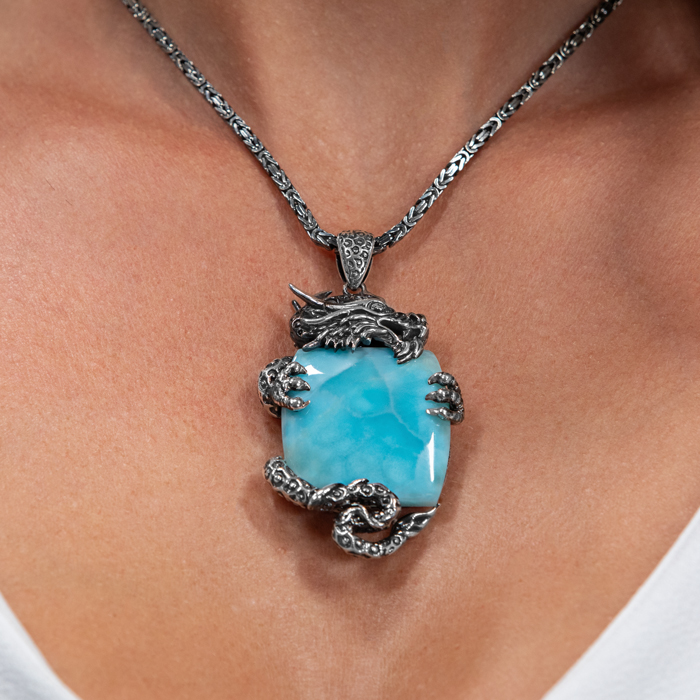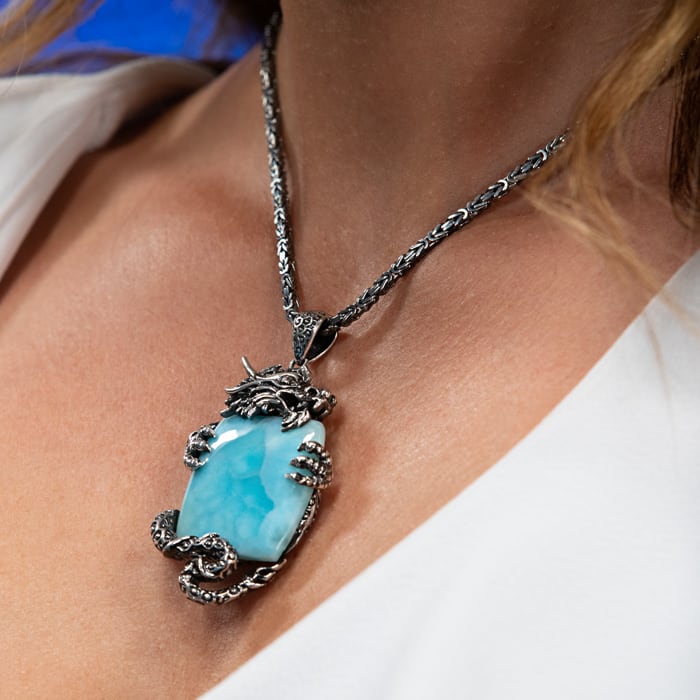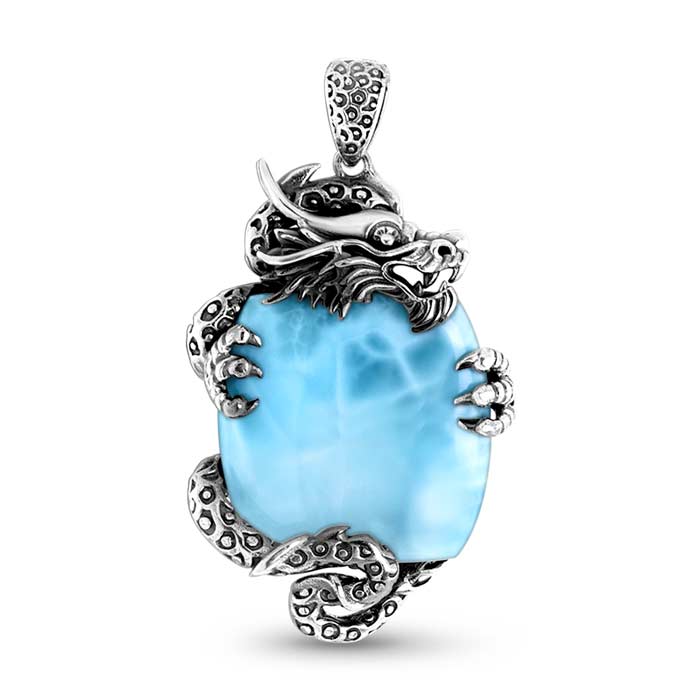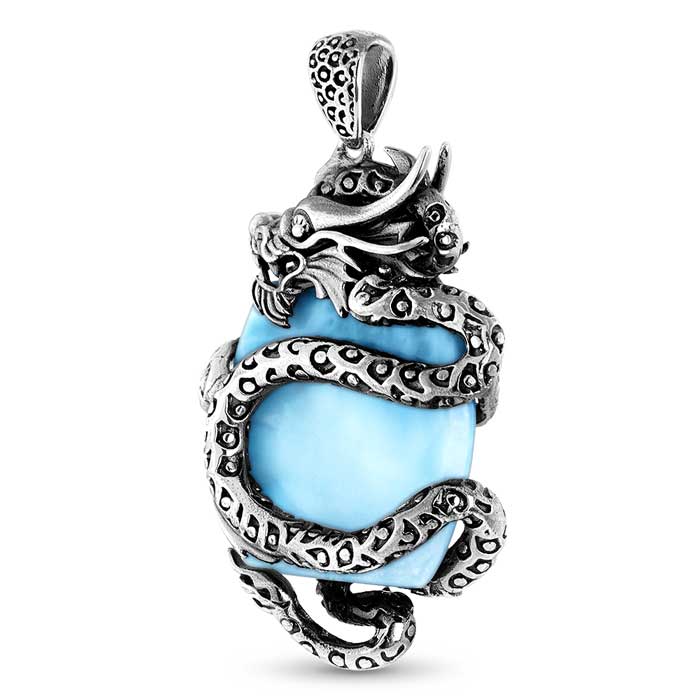 Dragon Necklace
Dragon Necklace
$696
or 4 equal Payments of $174.00
Free Expedited Delivery
Thursday, Sep 28
Really striking design and size.

- Gary D -

This is a gorgeous and very substantial necklace. Beautiful silver work on the dragon, beautiful stone, and beautiful chain.

- Lidia H -

I was surprised when I opened the box. It is quite substantial in size. It was more than I thought it would be.

- Rosalyn B -
Dragon Necklace in sterling silver
This fierce dragon necklace may be a powerful amulet, but this necklace is full of exquisite details. The Dragon necklace comes with an oxidized finish to highlight the intricately detailed sterling silver.

Dimensions:
1 3/16" Larimar Gemstone
Overall pendant size is 1 1/2" x 2 3/4"
Materials:
Includes:
Sterling silver chain adjustable up to 25"
Storage Pouch
Polishing Cloth
Gift Box
What is oxidized silver?
Oxidized jewelry is a popular look that is created by dipping the silver in an antiquing solution to darken the sterling silver to an aged patina which results in a vintage style appearance. The vintage silver effect is often used to create contrast and highlight details in the silverwork that would otherwise go unnoticed. Once all of the silver is oxidized black, the raised surface is polished to remove the patina and leave the deeper areas black for contrast. The oxidation is just a surface treatment and does not change the properties of the metal. It is possible to intentionally or accidentally remove the effect by using silver cleaning solutions or a buffing wheel.

More about Dragon Jewelry
The Marahlago Dragon Necklace is an extraordinary piece of jewelry that embodies power, mystique, and ancient mythology. Crafted by the renowned brand Marahlago, known for its exceptional Larimar jewelry, this necklace features a pendant in the shape of a majestic dragon, exquisitely designed with intricate details and craftsmanship.

At the heart of the necklace lies a Larimar stone, which serves as the centerpiece of this enchanting piece. Larimar, with its captivating blue hues reminiscent of the Caribbean Sea, adds a touch of ethereal beauty and elegance to the dragon necklace. Each Larimar stone is carefully selected to showcase its unique patterns and colors, making each necklace truly one-of-a-kind.

The dragon necklace is skillfully sculpted to capture the mythical creature's awe-inspiring features. From its scaled body to its intricately designed wings and claws, every detail reflects the legendary strength and wisdom associated with dragons throughout history and folklore. The pendant may also feature textured or engraved elements, further enhancing the dragon's dynamic presence.

Crafted with meticulous attention to detail, the Marahlago Dragon Necklace is available in sterling silver ensuring exceptional quality and durability. The necklace is elegantly suspended from a chain, allowing it to rest gracefully on the wearer's chest.

The dragon holds rich symbolism, representing power, protection, and wisdom. Wearing the Marahlago Dragon Necklace not only adds a touch of fantasy and allure to your ensemble but also serves as a reminder of your own inner strength and resilience.

Whether worn as a statement piece for a special occasion or as a cherished accessory every day, the Marahlago Dragon Necklace is sure to captivate attention and spark conversations. Its exquisite design, combined with the mesmerizing beauty of Larimar, makes it a timeless treasure that embodies the mysticism and allure of the legendary dragon.
Free Shipping
Free Returns
If you don't love it or if you need a different size just let us know and we'll Email you a return label.
For more details, Click Here.
Warranty
We know that your Marahlago® jewelry is special to you, which is why we offer a 1 year warranty against manufacturing defects! Shop worry-free knowing we've got you covered. 👍