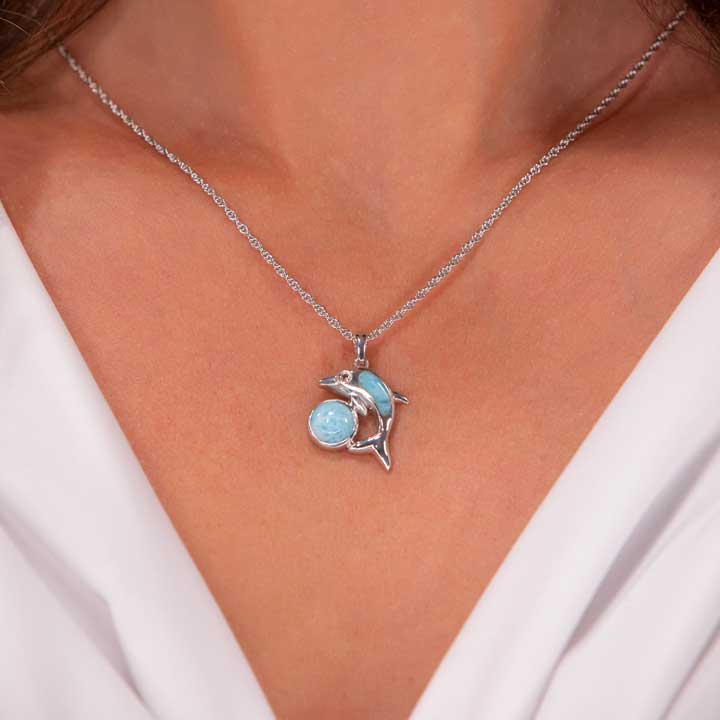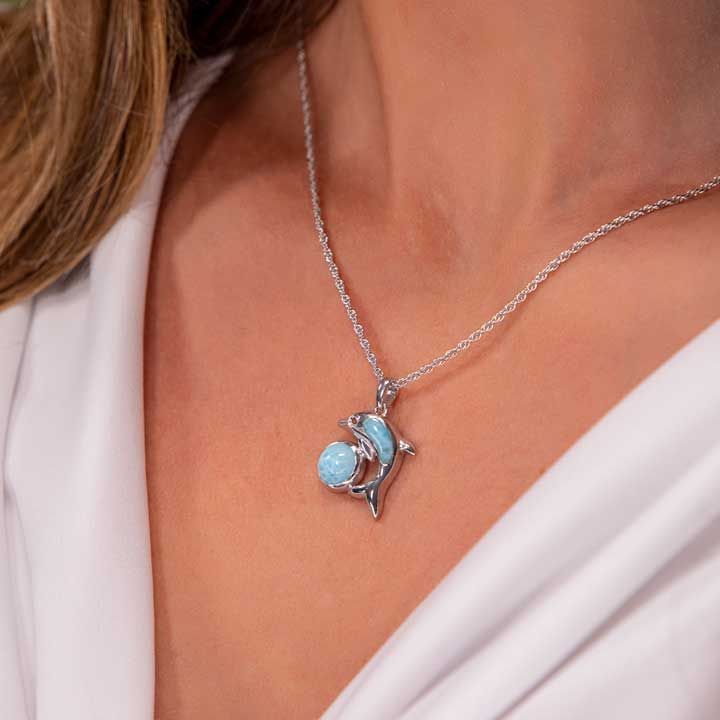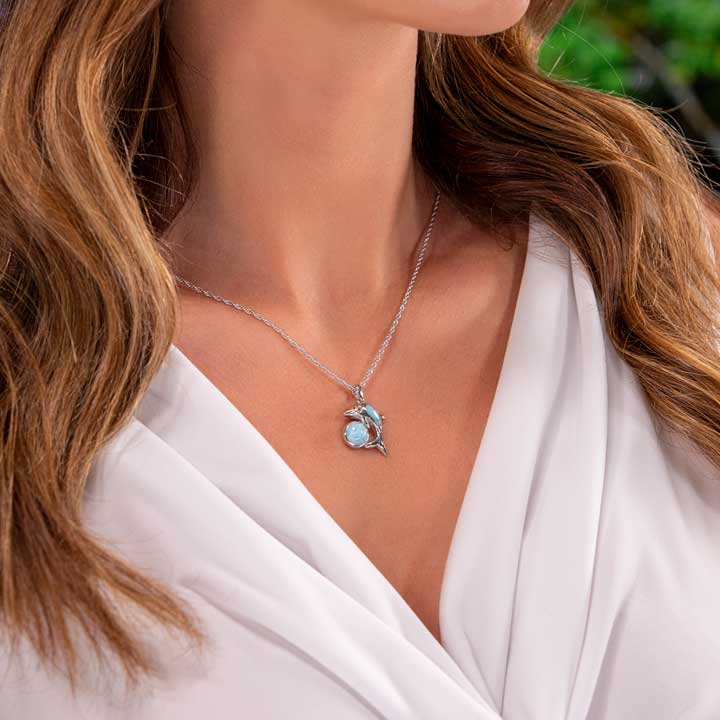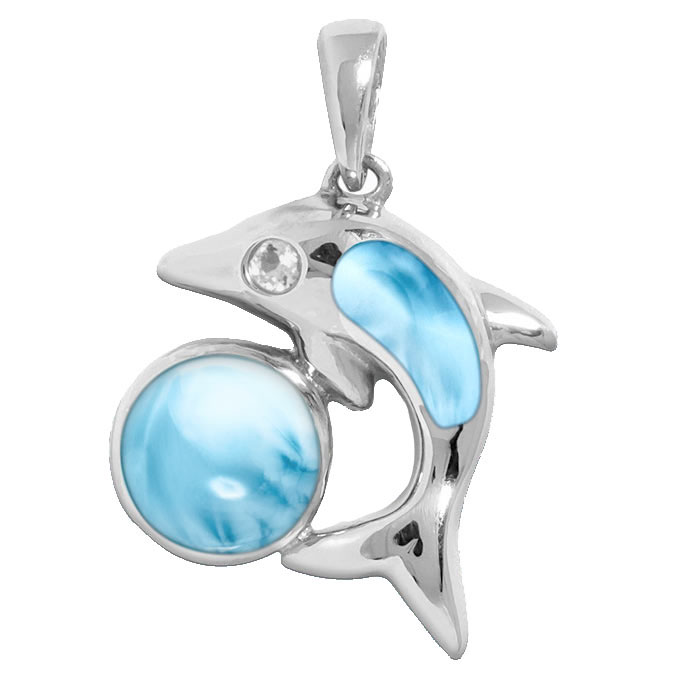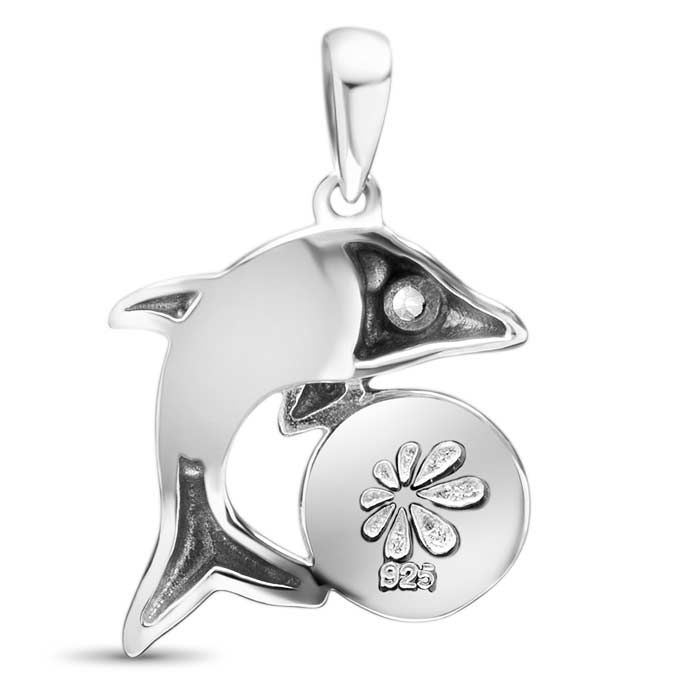 Dolphin Necklace
Dolphin Necklace
$168
or 4 equal Payments of $42.00
Free Expedited Delivery
Thursday, Sep 28
I collect dolphin jewelry and by far this is the best piece I ever bought!!!

- Betty K -

My Dolphin necklace arrived quickly, is such a beautiful stone, especially for summer, is very high quality, and, beautifully packaged.

- Rhonda F -

I love the dolphin! Beautiful and unique piece of jewelry.

- Sandra S -
Larimar, Sterling Silver, White Topaz
The Marahalgo Dolphin Necklace is a stunning piece of jewelry inspired by the elegance and grace of dolphins. Handcrafted with precision, it features a mesmerizing larimar dolphin symbolizing the beauty of marine life and serves as a reminder to protect and cherish our oceans. Each dolphin necklace comes with a sterling silver chain that adjusts up to 21"

Dimensions:
One 1/8" x 5/16" & One 5/16" Larimar Gemstone
Overall pendant size is just over 1"
Materials:
Includes:
Sterling silver chain adjustable up to 21"
Storage Pouch
Polishing Cloth
Gift Box
What is White Topaz?
White topaz is a captivating gemstone that has been admired and valued for its beauty and versatility. It is a variety of the mineral topaz, which belongs to the silicate family. Unlike its more well-known counterpart blue topaz, white topaz has a pure, transparent appearance that closely resembles a diamond. This clear and colorless nature makes white topaz a popular alternative to more expensive gemstones like diamonds, as it provides an affordable and elegant option for various jewelry pieces.

Formation and Occurrence: Topaz typically forms in igneous rocks, such as volcanic deposits and crystallizes when mineral-rich fluids interact with the surrounding rocks, gradually forming the characteristic prismatic crystals that topaz is known for.

Properties and Characteristics: White topaz possesses a brilliant luster, which enhances its inherent sparkle. It ranks 8 on the Mohs scale of hardness, making it relatively durable and suitable for everyday wear in jewelry, such as rings, necklaces, earrings, and bracelets.

Uses in Jewelry: One of the most popular uses of white topaz is as a diamond substitute. Jewelers often use white topaz as an accent stone in engagement rings and other pieces of fine jewelry. It complements various metals, including white gold and sterling silver, allowing for versatile and striking designs. Additionally, it can be combined with other colored gemstones to create vibrant and aesthetically pleasing jewelry compositions.

Metaphysical and Healing Properties: In metaphysical and spiritual realms, white topaz is believed to have various healing properties. It is thought to promote clarity of thought, enhance intuition, and stimulate creativity. Some practitioners also associate white topaz with cleansing energies, helping individuals let go of negative emotions and promoting feelings of peace and positivity.

In conclusion, white topaz is a stunning gemstone admired for its diamond-like appearance and affordability. Its clear, colorless beauty, combined with its respectable hardness, makes it a popular choice in the world of jewelry, appealing to those seeking an elegant and budget-friendly alternative to diamonds. Whether used as a standalone gem or paired with other stones, white topaz continues to captivate jewelry enthusiasts with its timeless charm and versatility.

More about dolphin jewelry
Dive into a sea of elegance and grace with our exquisite collection of dolphin-inspired necklaces, earrings, and more. Each piece is meticulously crafted to capture the playful spirit and beauty of these magnificent creatures.

Our dolphin jewelry is made with sterling silver, dazzling white sapphires, natural larimar gemstones, and intricate detailing. Whether you're a dolphin lover or looking for a unique gift, our dolphin jewelry is sure to make a splash. Express your love for the ocean and its inhabitants with a stunning dolphin pendant or adorn your ears with sparkling dolphin earrings that shimmer like the sun on the waves.

Not only are our dolphin jewelry pieces visually stunning, but they also carry a deeper meaning. Dolphins symbolize harmony, intelligence, and freedom, and wearing these beautiful pieces can evoke a sense of joy and connection with nature. With their graceful designs and symbolic significance, our dolphin jewelry is perfect for any occasion, whether it's a casual day out or an elegant evening affair.

Shop our collection of dolphin jewelry today and make a stylish statement that celebrates the ocean's most beloved creatures. With our affordable prices and secure online shopping owning a piece of dolphin jewelry has never been easier. Dive in and explore our selection to find the perfect dolphin jewelry piece that will add a touch of elegance and charm to your personal style."
Adjustable Silver Chain
This necklace comes with a 21"adjustable chain that slides to adjust to your look.
To slide, simply pinch the silver ball with one hand and pull the silver chain to the desired length.
If you need a longer chain that will slide over your head or to see all chain options,
Click Here.
Free Shipping
Free Returns
If you don't love it or if you need a different size just let us know and we'll Email you a return label.
For more details, Click Here.
Warranty
We know that your Marahlago® jewelry is special to you, which is why we offer a 1 year warranty against manufacturing defects! Shop worry-free knowing we've got you covered. 👍