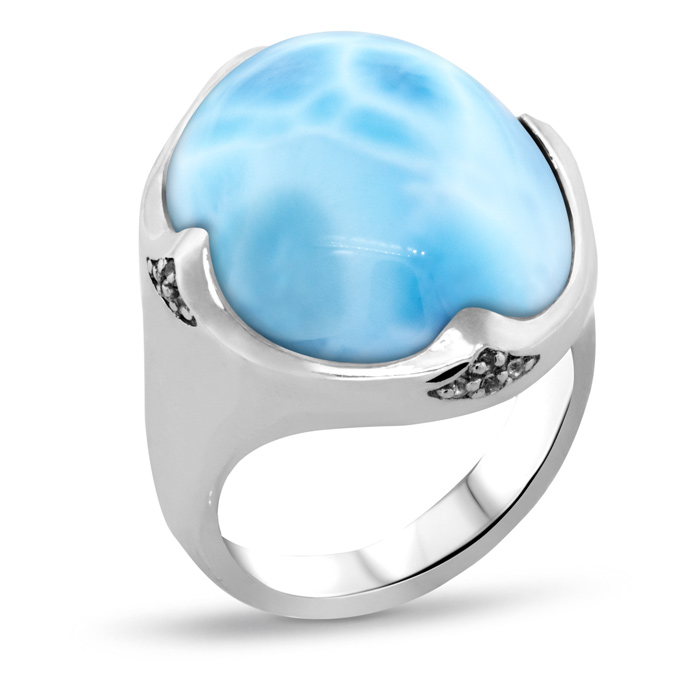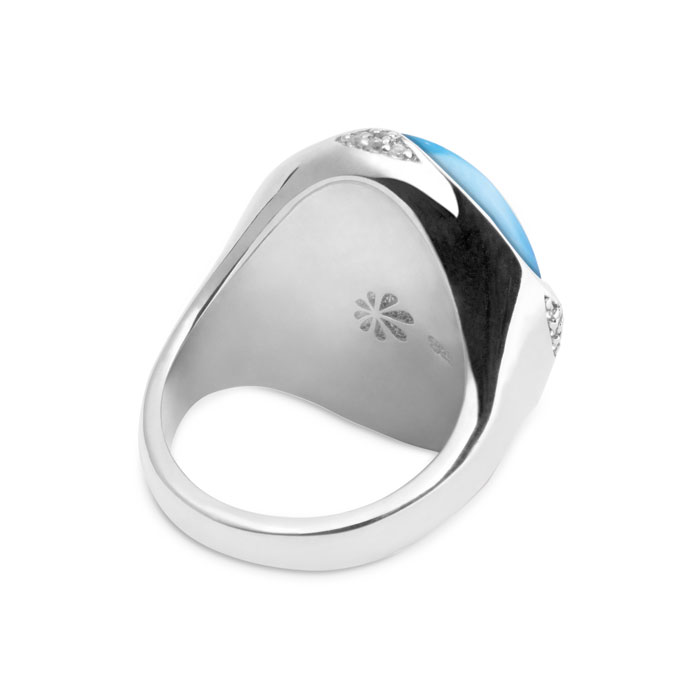 Cocktail Ring
Cocktail ring
$399
or 4 equal Payments of $99.75
Free Expedited Delivery
Thursday, Sep 28
A nice size piece of larimar and the silver band is substantial.

- Janean E -

Wonderful gems. Heavy silver.

- Jenny S -

It is a wonderful size, my favorite piece so far.

- Merrily L -
Cocktail Ring in Sterling Silver
Introducing the mesmerizing Marahlago cocktail ring, where natural beauty meets contemporary elegance. Crafted with unparalleled artistry, this exquisite statement piece showcases a brilliant Larimar gemstone, believed to be born from the Caribbean Sea's ancient volcanic fires.

The ethereal Larimar gem takes center stage, flaunting its alluring mix of turquoise hues and delicate white patterns, reminiscent of tranquil tropical waters caressing the shores. This rare gem is carefully set in lustrous sterling silver, adding a touch of sophistication to its radiant allure.

Designed to captivate attention and spark conversations, the Marahlago cocktail ring is a fusion of timeless design and island-inspired charm. Indulge in the beauty of the Marahlago cocktail ring and carry a piece of paradise with you, wherever you go. Embrace the allure of the Caribbean's mystique and let this remarkable statement ring be a symbol of your unique style and appreciation for the wonders of the natural world.

Dimensions:
9/16" x 3/4" Larimar Gemstone
Band is 1/8" wide
Materials:
Includes:
Storage Pouch
Polishing Cloth
Gift Box
What is a Cocktail Ring?
A cocktail ring is a bold and eye-catching piece of jewelry, typically worn by women to add a touch of glamour and sophistication to their outfit. This type of ring is characterized by its larger-than-average size and striking design, often featuring an extravagant gemstone or a combination of gemstones set in an ornate and elaborate setting.

The term "cocktail ring" became popular during the Prohibition era in the United States (1920s-1930s), a time when cocktail parties were in vogue. The ring's purpose was to make a bold statement and be a conversation starter at these social gatherings. Since then, cocktail rings have become a timeless fashion accessory, loved by many for their ability to elevate any look, from casual to formal.

These rings can showcase a wide variety of gemstones, such as diamonds, sapphires or other colorful stones, often accented by smaller diamonds or precious gems. The designs can be diverse, ranging from Art Deco-inspired geometric patterns to more modern and abstract arrangements.

Cocktail rings are typically worn on the index finger or the ring finger of the right hand. However, there are no strict rules regarding their placement, and they can be worn on any finger that fits comfortably.

Overall, the cocktail ring remains a symbol of elegance, extravagance, and individuality, making it a coveted and versatile accessory for those looking to make a dazzling statement with their style.
Available rings are shown above, if your desired size is not shown, you can order it below as a custom size. When unsure of your size,we recommend either purchasing a 'ring sizer tool' (about $5 on Amazon) or if you have an existing ring, you can check the size by downloading our FREE Marahlago Ring Sizer App.
Order a custom size
HOW MADE-TO-ORDER RINGS WORK:
The Larimar in Marahlago our rings are securely set and cannot be resized without risking damage to the stone or setting. We offer the option to custom-make your ring in the specific size you need. Although this process can take up to 8 weeks, it helps prevent any potential issues in the future.
Once your new piece is ready to ship, we will reach out and provide you with the tracking information.
Free Shipping
Free Returns
If you don't love it or if you need a different size just let us know and we'll Email you a return label.
For more details, Click Here.
Warranty
We know that your Marahlago® jewelry is special to you, which is why we offer a 1 year warranty against manufacturing defects! Shop worry-free knowing we've got you covered. 👍