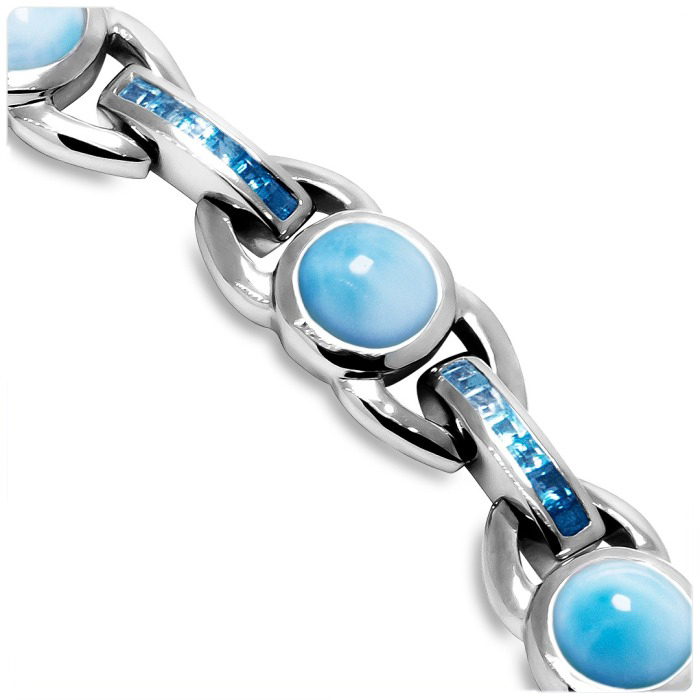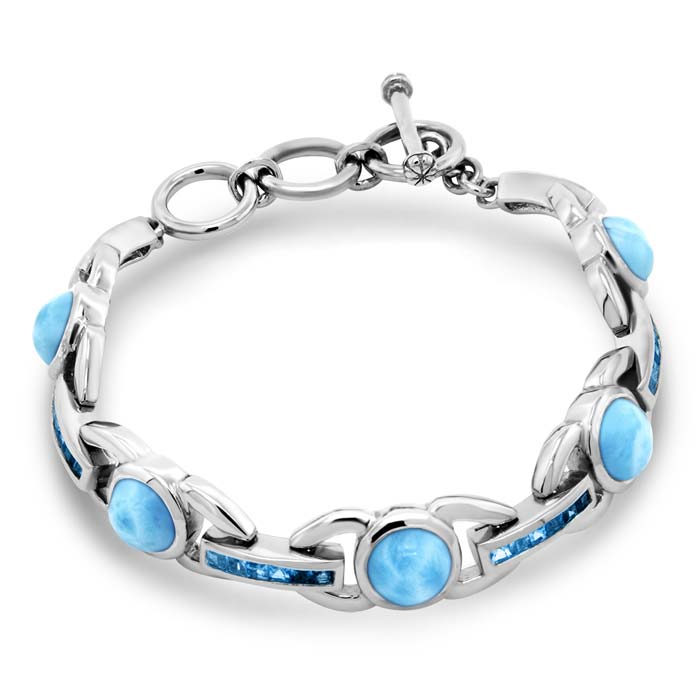 Aqua Larimar Bracelet
Aqua Bracelet
$825
or 4 equal Payments of $206.25
Free Expedited Delivery
Friday, Sep 29
The bracelet is comfortable to wear and the clasp lets you wear it loose or tight.

- Janice C -

This bracelet is just the right size for everyday use but so elegant you can wear to a ball.

- Marisol Q -

The weight is perfect on my wrist. I love the stones and the blue topaz gives it a little extra bling!

- Sandy C -
Aqua Bracelet in Sterling Silver
Stunning Larimar gemstones alternate with links of 3 different types of sparkling channel-set blue topaz. The blue topaz color graduates from Sky blue, to Swiss blue to London blue. This modern bracelet can be worn as a stand-alone or in conjunction with the rest of the Aqua Collection.

Sizing:
A standard stock size Aqua Bracelet fits a wrist measurement from 6" to 7".
For other sizes, order "custom size" below
Dimensions:
Materials:
Includes:
Storage Pouch
Polishing Cloth
Gift Box
What is Blue Topaz?
Blue topaz is a captivating gemstone that has been treasured for its enchanting blue hues and remarkable clarity. Belonging to the family of silicate minerals, topaz occurs in a range of colors. The most sought-after variety, however, is the serene blue topaz, known for its calming and soothing properties.

Origin and Formation: Topaz is formed deep within the Earth's crust through the slow cooling of igneous rocks and volcanic activity. Over millions of years, the right combination of minerals and heat transforms raw topaz crystals into the dazzling gemstone we know today. The presence of trace elements, particularly iron and chromium, is responsible for the gem's blue shades.

Stunning Blue Variations: The blue topaz comes in an assortment of captivating shades, from pale Sky Blue and Swiss Blue to deeper London Blue. Each variation is prized for its unique allure, and the stone's value is often influenced by its intensity and saturation of color.

Meaning and Symbolism: Throughout history, topaz has been associated with various meanings and beliefs. Blue topaz, in particular, is connected to calmness, tranquility, and emotional balance. Many believe that wearing or carrying this gemstone can help reduce stress, anxiety, and feelings of restlessness. It is often considered a stone of communication and self-expression, encouraging honest and heartfelt communication.

Uses in Jewelry: Blue topaz's captivating color and excellent clarity make it a popular choice for jewelry and it is commonly set in rings, necklaces, earrings, and bracelets, either as a standalone centerpiece or as an accent to other complementary gemstones.
To measure your wrist, use a measuring tape around your wrist, snug, without squeezing the skin or leaving extra space.
Most Bracelets have a clasp that allows for some size adjustment, but if you have to bend or stretch a bracelet in any way, it does not fit and you will damage the setting. If the bracelet isn't available or if you need a different size, you may be able to order it below as a custom size. In order for us to determine the perfect length of bracelet for you, we need your exact wrist measurement.
Order a custom size
HOW MADE-TO-ORDER BRACELETS WORK:
The Larimar in Marahlago our bracelets are securely set and cannot be resized without risking damage to the stone or setting. We offer the option to custom-make your bracelet in the specific size you need. Although this process can take up to 8 weeks, it helps prevent any potential issues in the future.
Once your new piece is ready to ship, we will reach out and provide you with the tracking information.
Free Shipping
Free Returns
If you don't love it or if you need a different size just let us know and we'll Email you a return label.
For more details, Click Here.
Warranty
We know that your Marahlago® jewelry is special to you, which is why we offer a 1 year warranty against manufacturing defects! Shop worry-free knowing we've got you covered. 👍