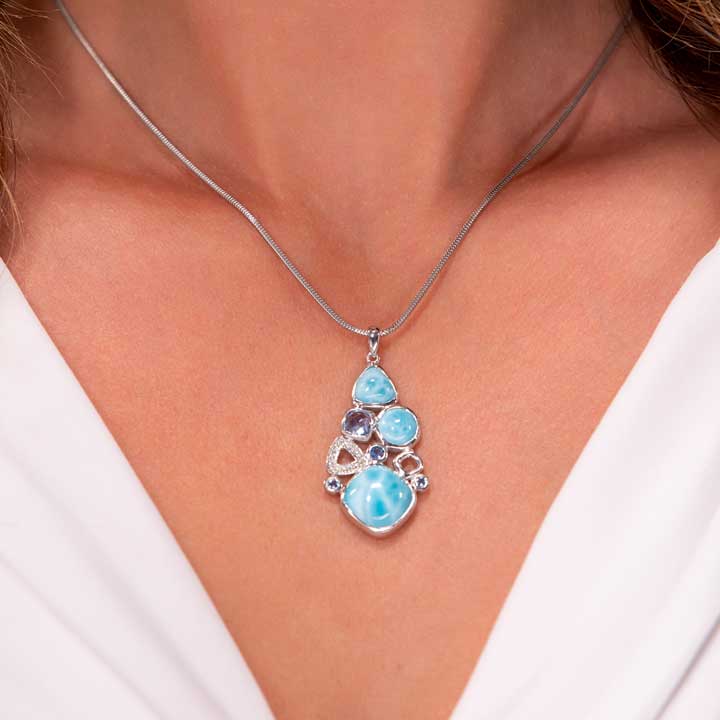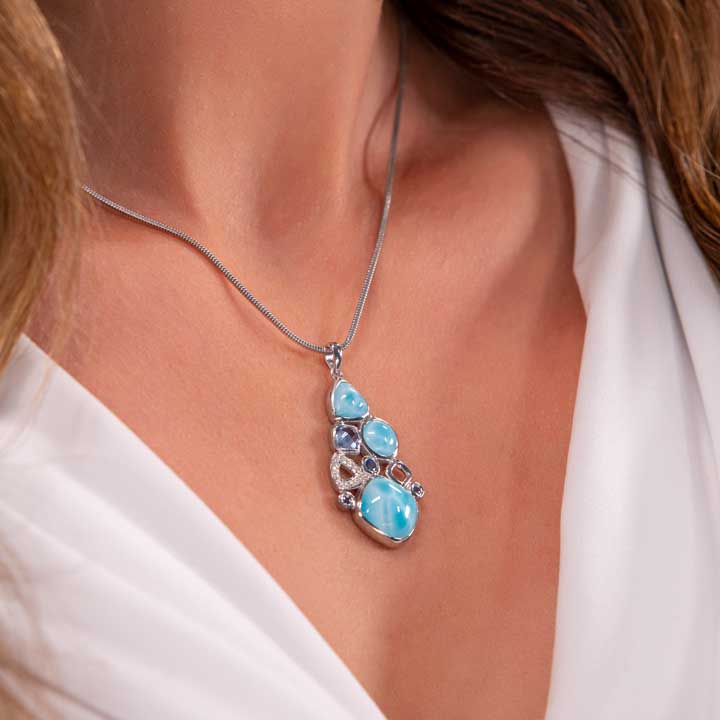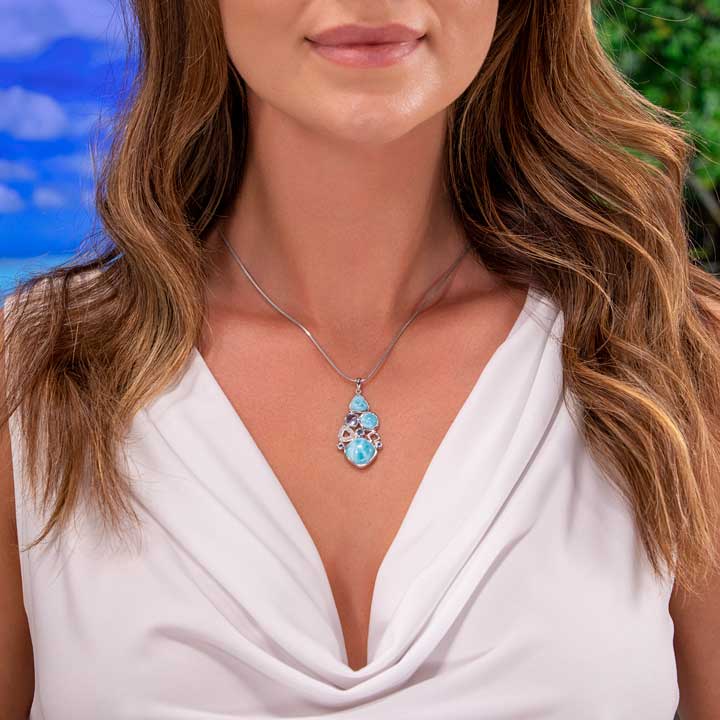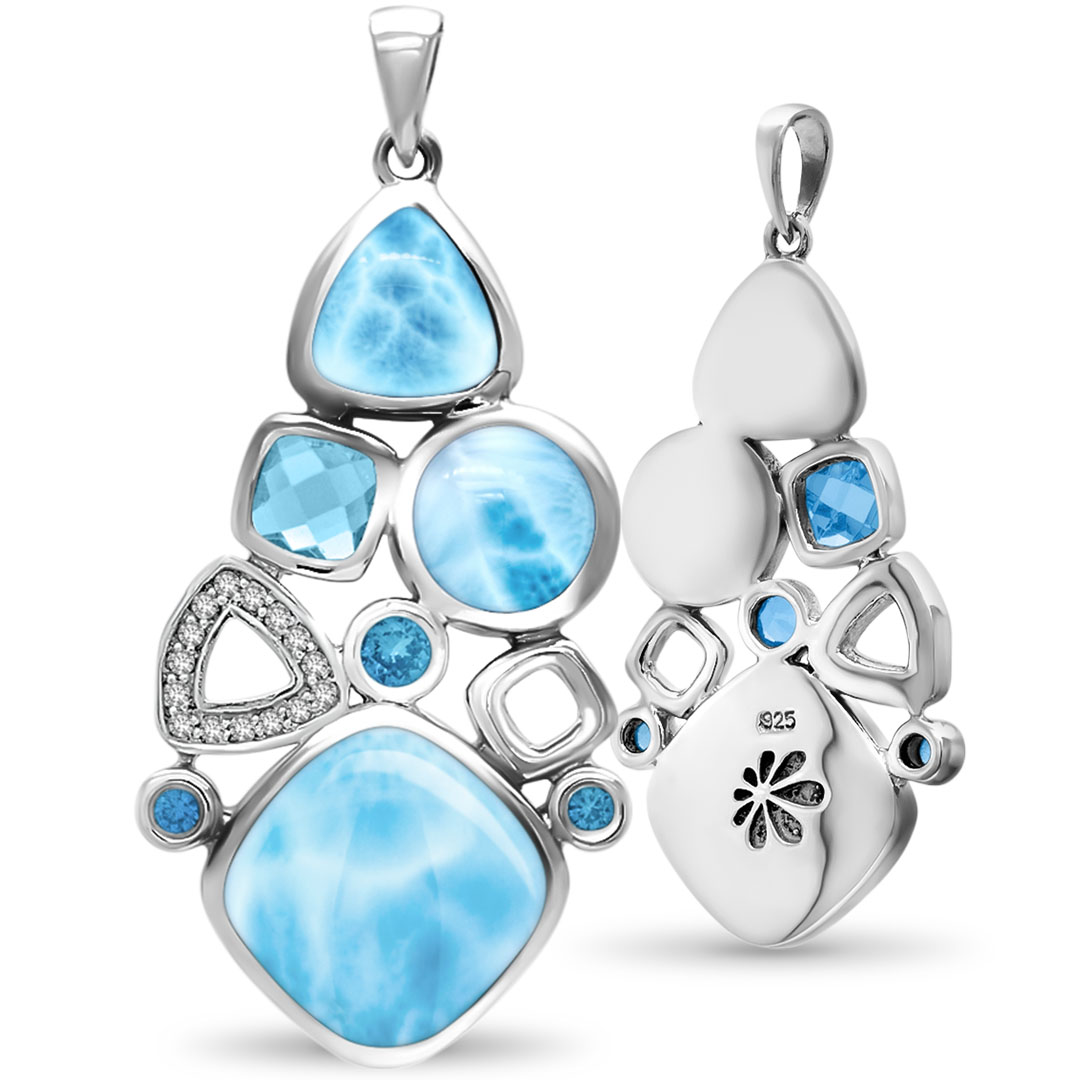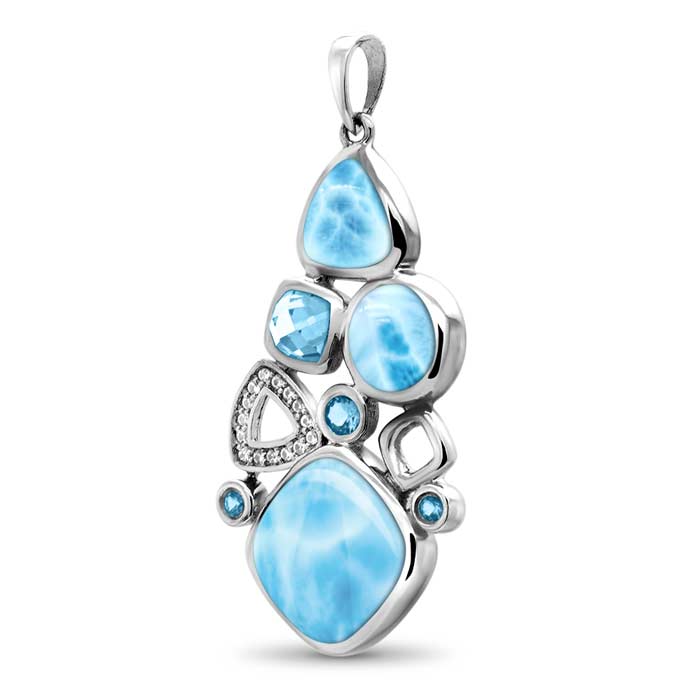 Alexandria Pendant
Fashionable Necklace
$330
or 4 equal Payments of $82.50
Free Expedited Delivery
Friday, Sep 29
The Alexandria necklace is eye catching and flattering to wear.

- Diana K -

This simple and elegant design allow me to wear this piece dressed up or dressed casually.

- Linda Y -

I love my pendant! It is the perfect size and the color of the larimar is spectacular as are the sapphires!

- Robin C -
Fashionable Necklace with larimar
Modern and classic at the same time, this Fashionable Necklace from the Alexandria collection combines unique geometric shapes with checkerboard cut blue topaz, blue spinel, and sparkling white sapphires that delights and compliments the color and beauty of the larimar gemstone. Each Alexandria pendant comes with a sterling silver chain that will adjust in length upto 21"

Dimensions:
One 1/2" Larimar gemstone and two 5/16"
Overall pendant size is 1 3/8"
Materials:
Larimar Gemstone
Blue Topaz
Blue Spinel
White Sapphires
Includes:
Sterling silver chain adjustable up to 21"
Storage Pouch
Polishing Cloth
Gift Box
What is Blue Spinel?
Blue spinel is a captivating gemstone known for its exquisite blue hues, reminiscent of the serene depths of the ocean. Belonging to the spinel family, this gem has long captivated the hearts of gemstone enthusiasts and collectors alike. Revered for its brilliant color, impressive durability, and unique brilliance, blue spinel has cemented its place as a sought-after gemstone in the world of jewelry.

Unlike its more commonly recognized cousin, the ruby, which is also part of the spinel family, blue spinel's vibrant shades have often been compared to sapphires. Blue spinel has been cherished throughout various cultures and it was often mistaken for sapphire due to its close resemblance. One of the most famous spinel gems in history is the Black Prince's Ruby, set in the British Imperial State Crown, which is, in fact, a large red spinel.

Found in various parts of the world, including Myanmar, Sri Lanka, Tanzania, and Vietnam, blue spinel has a remarkable geological origin. It forms in the earth's crust through a combination of elements such as aluminum, oxygen, and magnesium. The presence of trace elements contributes to the gem's distinct blue coloration.

Aside from its allure and beauty, blue spinel is also valued for its exceptional durability. Ranking 8 on the Mohs scale of hardness, it is a gemstone well-suited for everyday wear in various types of jewelry, from rings to necklaces and earrings. Jewelers love working with blue spinel due to its excellent toughness, allowing them to create intricate and stunning designs that highlight the gem's brilliance and color.

The popularity of blue spinel in modern times has grown steadily, as more people become aware of its existence and extraordinary attributes. It has found its way into both high-end and artisanal jewelry pieces, appealing to those who seek a unique gemstone alternative to more traditional options.

In conclusion, blue spinel is a mesmerizing gemstone that combines breathtaking beauty, durability, and rarity. Its rich history, coupled with its vibrant blue color and impressive sparkle, makes it a treasure cherished by those who appreciate the allure of exceptional gemstones. Whether set in a regal ring, a graceful necklace, or an elegant pair of earrings, blue spinel is sure to continue captivating hearts and minds for generations to come.

What is blue topaz?
Blue topaz is a captivating gemstone that has been treasured for its enchanting blue hues and remarkable clarity. Belonging to the family of silicate minerals, topaz occurs in a range of colors. The most sought-after variety, however, is the serene blue topaz, known for its calming and soothing properties.

Origin and Formation: Topaz is formed deep within the Earth's crust through the slow cooling of igneous rocks and volcanic activity. Over millions of years, the right combination of minerals and heat transforms raw topaz crystals into the dazzling gemstone we know today. The presence of trace elements, particularly iron and chromium, is responsible for the gem's blue shades.

Stunning Blue Variations: The blue topaz comes in an assortment of captivating shades, from pale Sky Blue and Swiss Blue to deeper London Blue. Each variation is prized for its unique allure, and the stone's value is often influenced by its intensity and saturation of color.

Meaning and Symbolism: Throughout history, topaz has been associated with various meanings and beliefs. Blue topaz, in particular, is connected to calmness, tranquility, and emotional balance. Many believe that wearing or carrying this gemstone can help reduce stress, anxiety, and feelings of restlessness. It is often considered a stone of communication and self-expression, encouraging honest and heartfelt communication.

Uses in Jewelry: Blue topaz's captivating color and excellent clarity make it a popular choice for jewelry and it is commonly set in rings, necklaces, earrings, and bracelets, either as a standalone centerpiece or as an accent to other complementary gemstones.

What is White Sapphire?
White sapphire, also known as colorless sapphire, is a captivating gemstone renowned for its enchanting beauty and unparalleled brilliance. It is a variety of the mineral corundum, which is composed of aluminum oxide with trace elements that give it a distinct color. Unlike its blue counterpart, white sapphire stands out for its colorless appearance, resembling the ethereal allure of a flawless diamond. Its captivating charm has made it a popular choice for various jewelry pieces, including engagement rings, earrings, necklaces, and bracelets.

Colorless sapphires owe their brilliance to the gem's remarkable physical properties. With a hardness of 9 on the Mohs scale, second only to diamonds, white sapphires exhibit exceptional durability, making them a practical and long-lasting option for everyday wear. Their remarkable hardness also ensures that the gem retains its brilliance and sparkle over time, providing a lasting testament to the enduring love and commitment they symbolize in engagement rings.


Free Shipping
Free Returns
If you don't love it or if you need a different size just let us know and we'll Email you a return label.
For more details, Click Here.
Warranty
We know that your Marahlago® jewelry is special to you, which is why we offer a 1 year warranty against manufacturing defects! Shop worry-free knowing we've got you covered. 👍