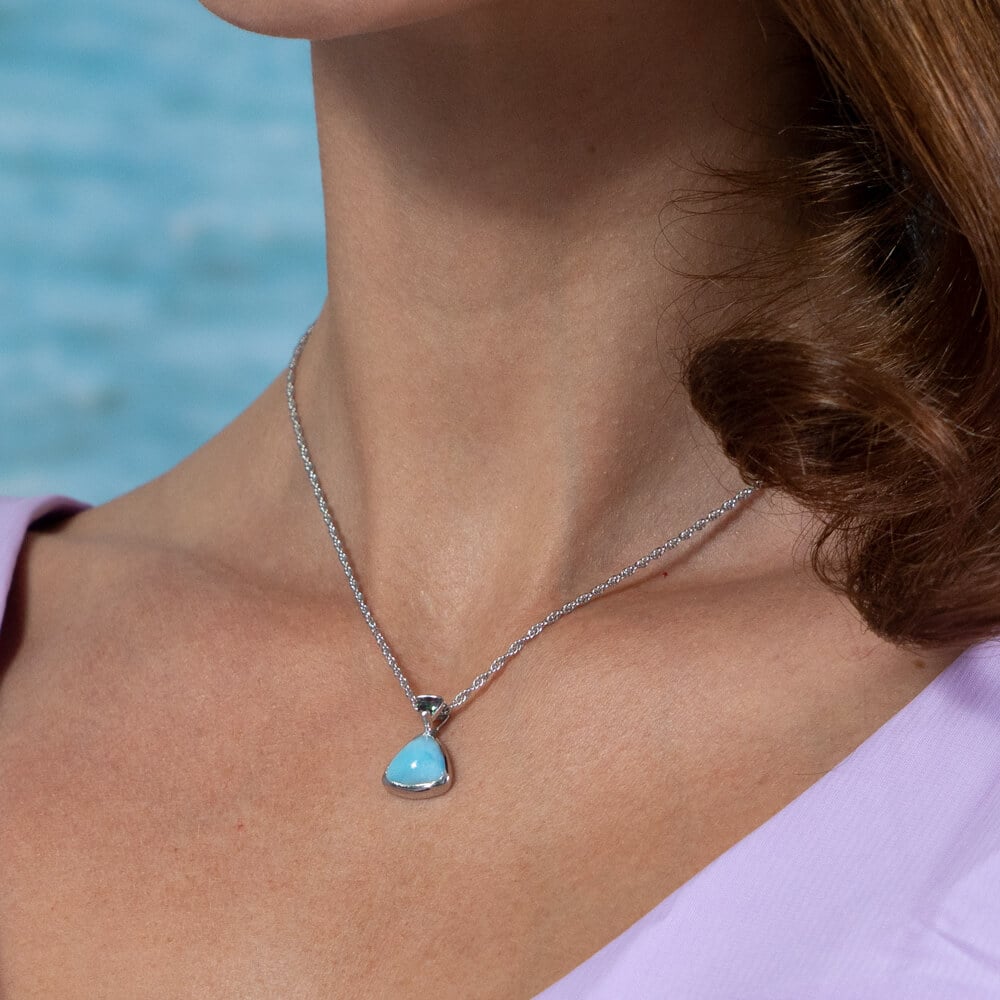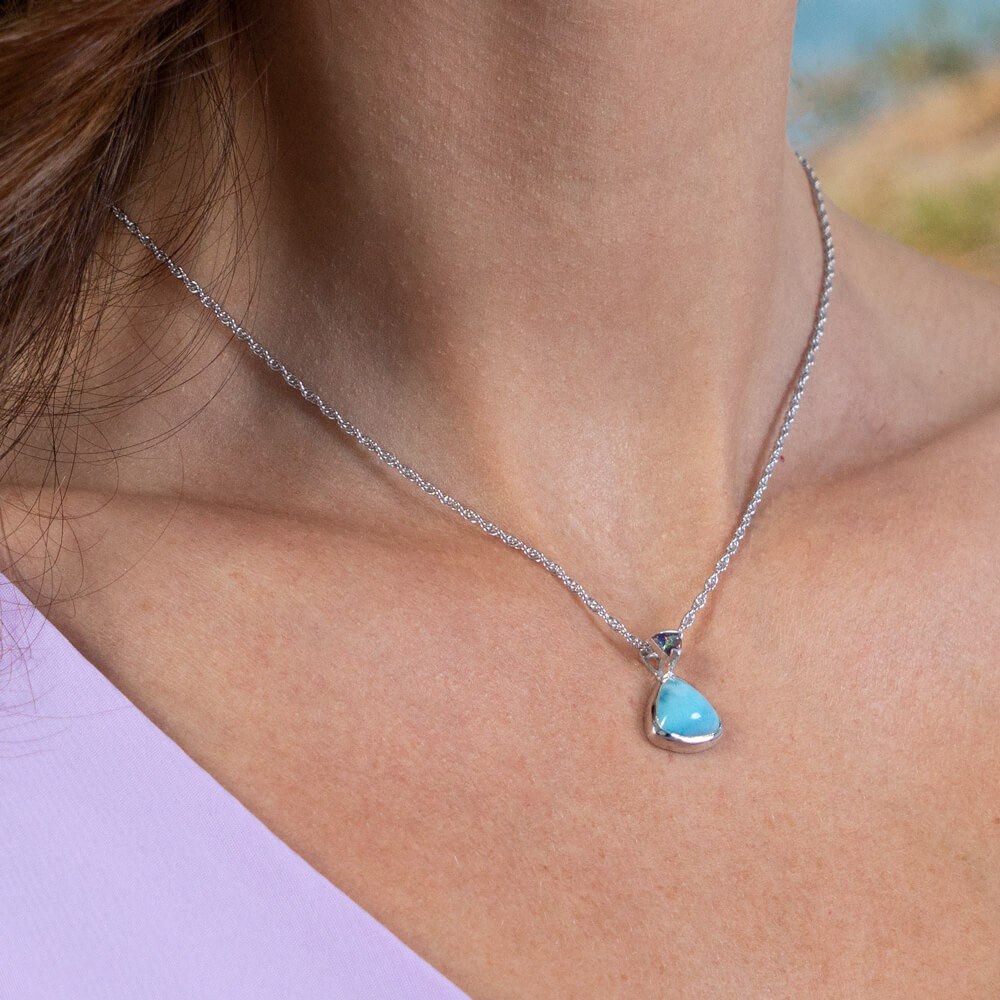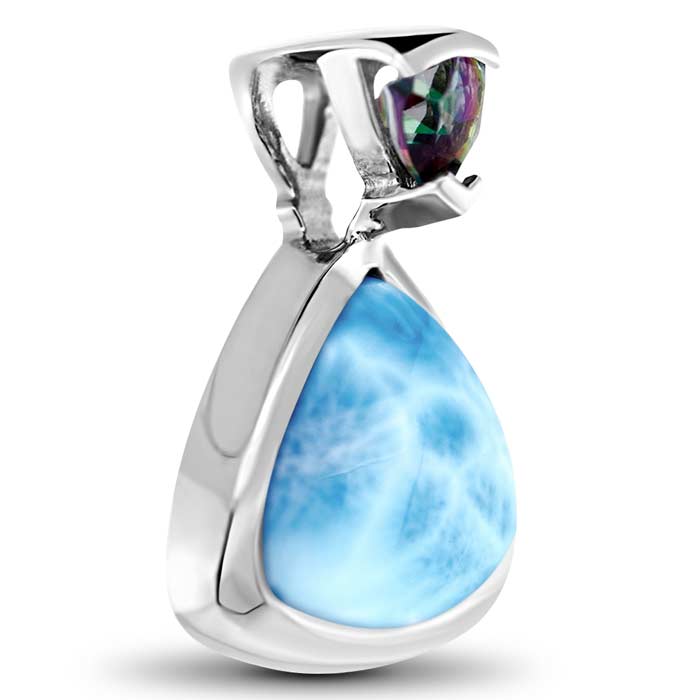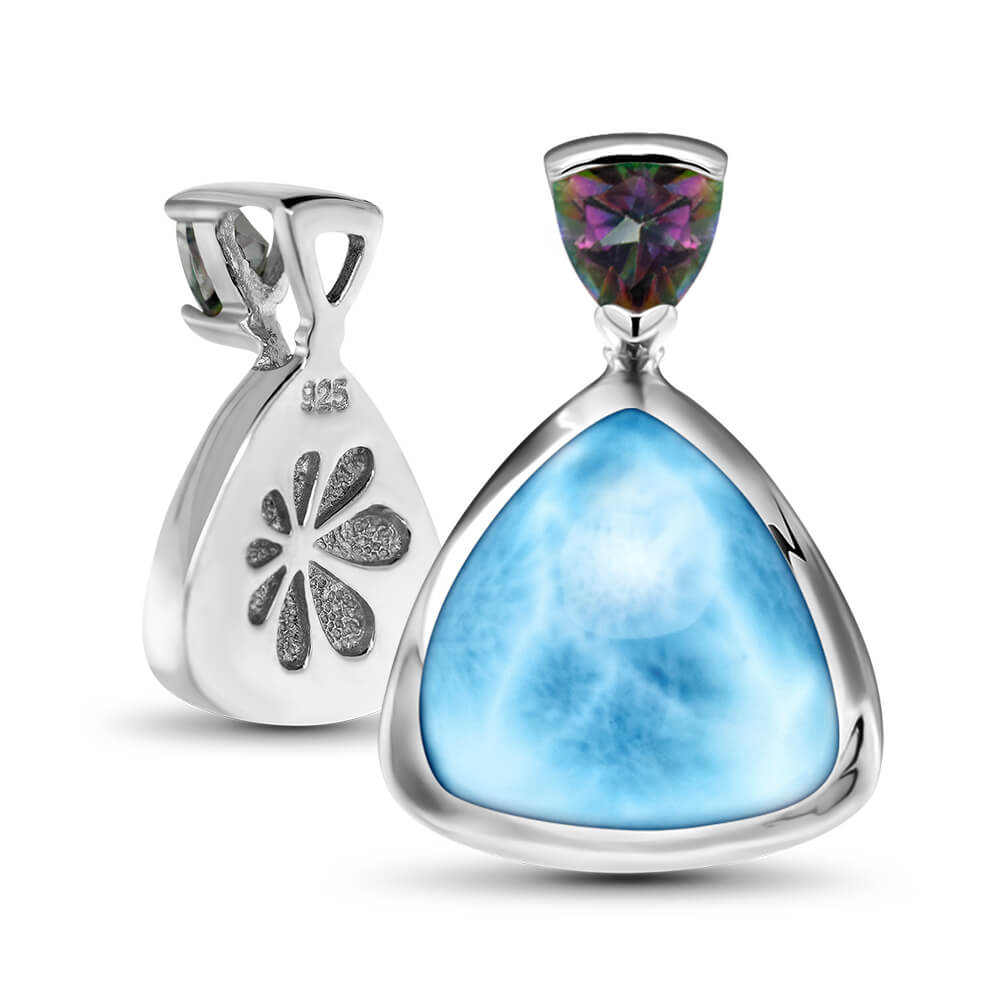 Mystic Topaz Necklace
Mystic Topaz Necklace
$198
or 4 equal Payments of $49.50
Free Expedited Delivery
Friday, Sep 29
Perfect size and color. Lots of compliments given when worn.

- Kim -

Beauty and clarity of the stone. small but just the correct size to wear with anything.

- Linda L -

I love the shape and the multicolor. I was so happy to have found this piece to match the earrings that I have. I like the adjustable chain.

- Teresa B -
Mystic Topaz Necklace with Larimar
The Mystic Topaz Necklace displays quality work, vibrancy, and gorgeous colors. A Mystic topaz sits atop a richly domed trillion of exquisite Larimar in this elegant design. Each Mystic Topaz Necklace includes a sterling silver chain that adjusts upto 21"

Dimensions:
3/8" Larimar Gemstone
Overall pendant size is 5/8"
Materials:
Includes:
Sterling silver chain adjustable up to 21"
Storage Pouch
Polishing Cloth
Gift Box


What is Mystic Topaz?

Mystic Topaz is a captivating gemstone that enchants with its mesmerizing play of colors. Also known as Rainbow Topaz, this gemstone possesses a unique allure that sets it apart from other gems. Its vibrant hues flicker and dance, ranging from deep blues and purples to fiery yellows, oranges, and greens. The play of colors is a result of a specialized coating applied to the stone's surface, creating an iridescent effect that is nothing short of magical.

With its ever-changing colors, Mystic Topaz is believed to possess mystical properties that promote balance and harmony. It is said to stimulate creativity, enhance intuition, and inspire spiritual growth. As a gemstone associated with the crown chakra, it is thought to facilitate a connection with higher realms, encouraging clarity of thought and expanding one's consciousness.

Mystic Topaz is not only cherished for its enchanting aesthetics but also for its durability. It has a hardness rating of 8 on the Mohs scale, making it suitable for a variety of jewelry designs. Whether set in rings, earrings, pendants, or bracelets, this gemstone adds a touch of elegance and mystery to any piece.
Adjustable Silver Chain
This necklace comes with a 21"adjustable chain that slides to adjust to your look.
To slide, simply pinch the silver ball with one hand and pull the silver chain to the desired length.
If you need a longer chain that will slide over your head or to see all chain options,
Click Here.
Free Shipping
Free Returns
If you don't love it or if you need a different size just let us know and we'll Email you a return label.
For more details, Click Here.
Warranty
We know that your Marahlago® jewelry is special to you, which is why we offer a 1 year warranty against manufacturing defects! Shop worry-free knowing we've got you covered. 👍