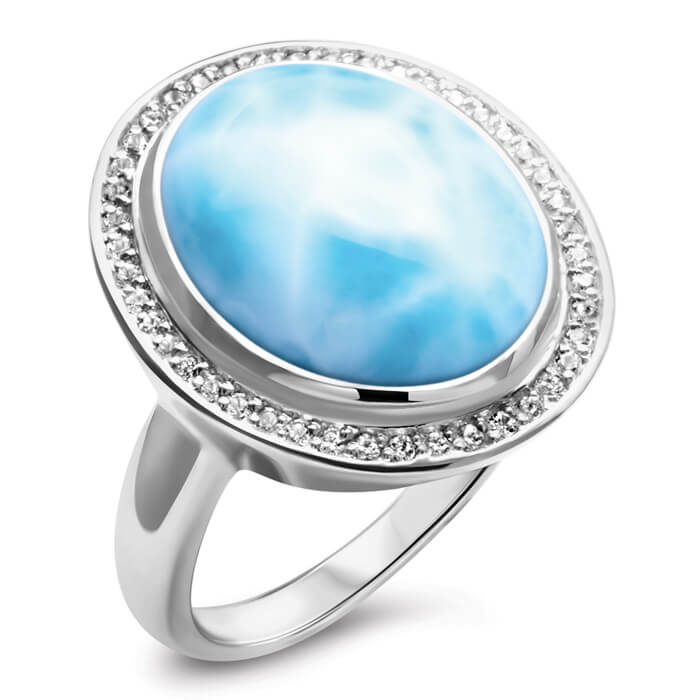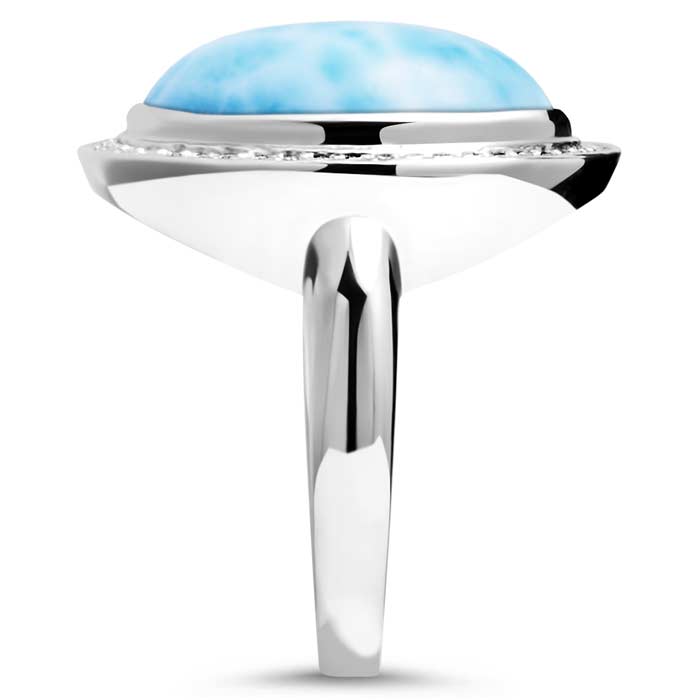 $279
or 4 equal Payments of $69.75
Free Expedited Delivery
Thursday, Sep 28
I was very happy to be able to order my ring in the size I needed and it is a beautiful piece with a large, nicely colored stone.

- Carita L -

Absolutely beautiful & elegant style . . Love it ! !

- Diane L -

I love the beautiful shade of blue Larimar stone, surrounded by the white sapphires. It is comfortable and you can wear it casual or more formal wear.

- Patsy M -
Halo ring in sterling silver
Indulge in pure elegance with our sterling silver halo ring, with larimar and white sapphires. Discover the allure of this captivating piece featuring a dazzling halo of shimmering white sapphires that are the perfect frame for a luminescent natural Larimar gemstone.

Dimensions:
1/2" x 5/8" Larimar Gemstone
Band is 7/64" wide
Materials:
Includes:
Storage Pouch
Polishing Cloth
Gift Box
What is White Sapphire?
White sapphire, also known as colorless sapphire, is a captivating gemstone renowned for its enchanting beauty and unparalleled brilliance. It is a variety of the mineral corundum, which is composed of aluminum oxide with trace elements that give it a distinct color. Unlike its blue counterpart, white sapphire stands out for its colorless appearance, resembling the ethereal allure of a flawless diamond. Its captivating charm has made it a popular choice for various jewelry pieces, including engagement rings, earrings, necklaces, and bracelets.

Colorless sapphires owe their brilliance to the gem's remarkable physical properties. With a hardness of 9 on the Mohs scale, second only to diamonds, white sapphires exhibit exceptional durability, making them a practical and long-lasting option for everyday wear. Their remarkable hardness also ensures that the gem retains its brilliance and sparkle over time, providing a lasting testament to the enduring love and commitment they symbolize in engagement rings.

The allure of white sapphire extends beyond its captivating appearance. It holds a special place in various cultures and traditions, believed to bring wisdom, strength, and good fortune to its wearer. For centuries, this precious gem has adorned the crowns, tiaras, and jewelry of royalty and aristocrats, embodying a symbol of purity and sophistication.

As with any gemstone, the value of a white sapphire is influenced by factors such as size, cut, clarity, and overall quality. While they are generally more affordable than diamonds, the most exceptional white sapphires with exceptional clarity and brilliant cuts can still command a premium price.

In conclusion, white sapphire is a timeless gemstone that exudes elegance and grace. Its colorless allure, combined with its durability and symbolism, makes it a cherished choice for jewelry that will stand the test of time and be cherished for generations to come. Whether adorning an engagement ring or any other jewelry piece, white sapphire will continue to enchant and captivate admirers with its pure brilliance.

What is a Halo Ring?
A halo ring is a type of jewelry setting that is popular for engagement rings and other fine jewelry pieces. It features a central gemstone surrounded by a circle or halo of smaller, usually pavé-set diamonds or other precious gemstones. The smaller stones add brilliance and accentuate the beauty of the center stone, creating a dazzling and luxurious look.

The halo setting enhances the overall appearance of the ring and makes the center stone more prominent. This design has gained immense popularity in recent times due to its timeless and glamorous appeal, making it a popular choice for those seeking an elegant and sophisticated ring.

Halo rings come in various styles and designs, allowing individuals to customize according to personal preferences. The versatility of the halo setting also allows for the use of various gemstone shapes, such as round, oval, pear, cushion, and more, providing ample opportunities for creativity and uniqueness in each piece. Whether chosen for its brilliance, style, or symbolic significance, a halo ring remains a cherished and stunning symbol of love and commitment.
Available rings are shown above, if your desired size is not shown, you can order it below as a custom size. When unsure of your size,we recommend either purchasing a 'ring sizer tool' (about $5 on Amazon) or if you have an existing ring, you can check the size by downloading our FREE Marahlago Ring Sizer App.
Order a custom size
HOW MADE-TO-ORDER RINGS WORK:
The Larimar in Marahlago our rings are securely set and cannot be resized without risking damage to the stone or setting. We offer the option to custom-make your ring in the specific size you need. Although this process can take up to 8 weeks, it helps prevent any potential issues in the future.
Once your new piece is ready to ship, we will reach out and provide you with the tracking information.
Free Shipping
Free Returns
If you don't love it or if you need a different size just let us know and we'll Email you a return label.
For more details, Click Here.
Warranty
We know that your Marahlago® jewelry is special to you, which is why we offer a 1 year warranty against manufacturing defects! Shop worry-free knowing we've got you covered. 👍