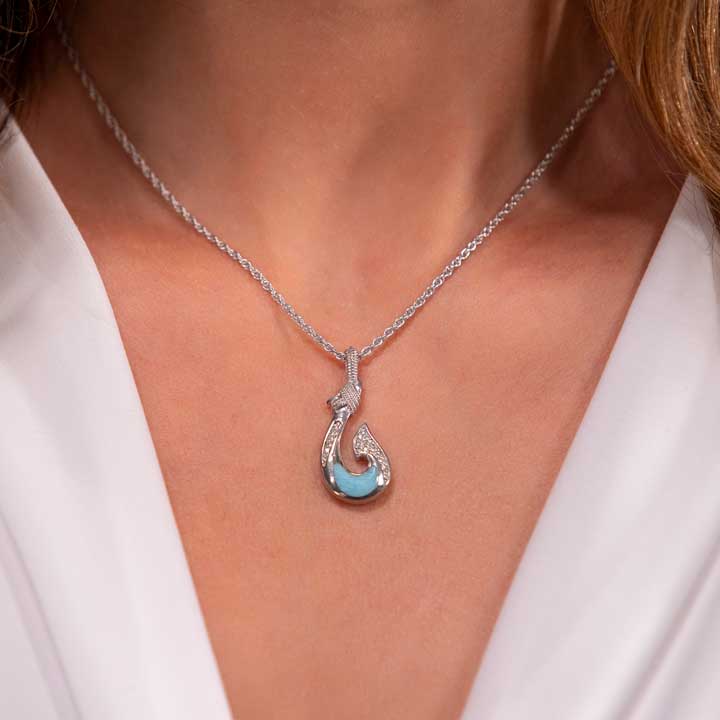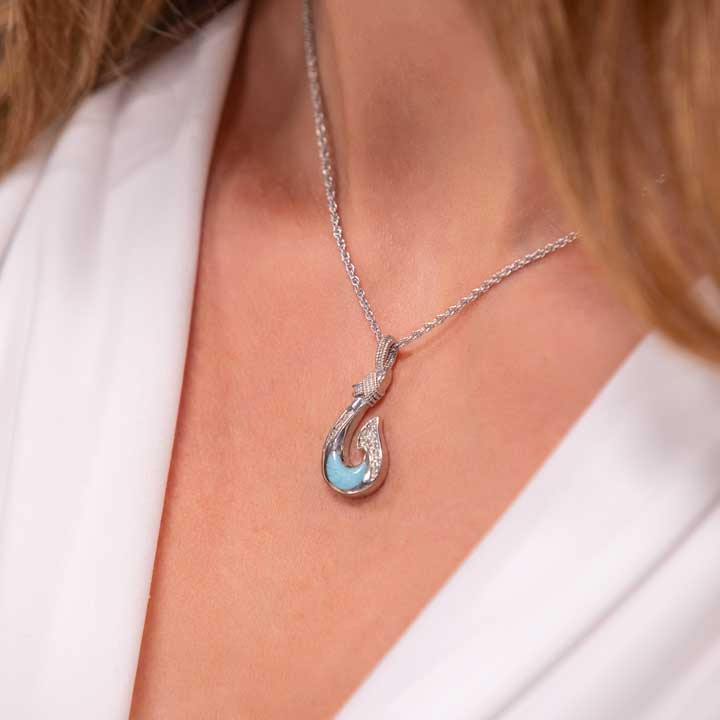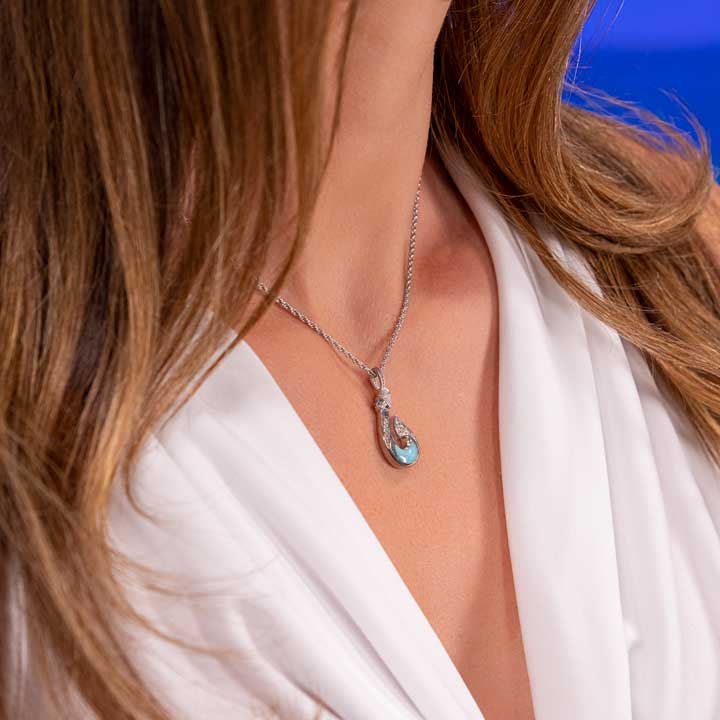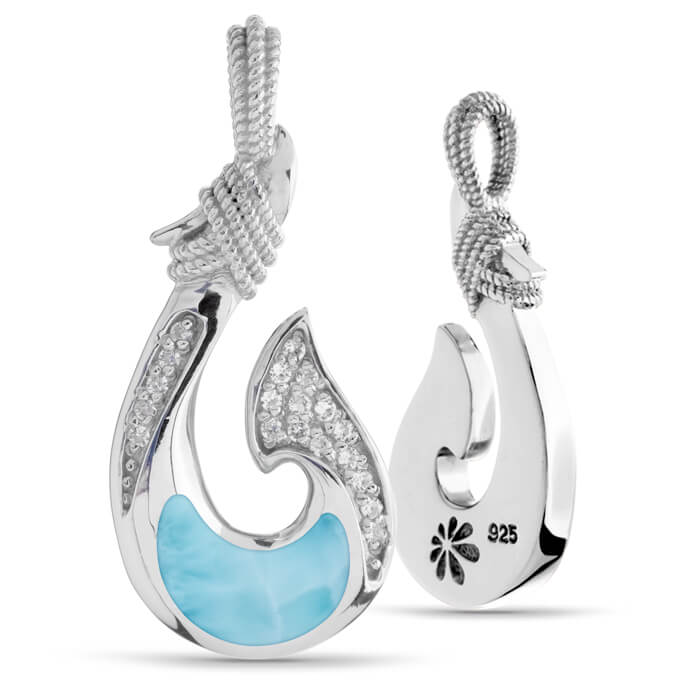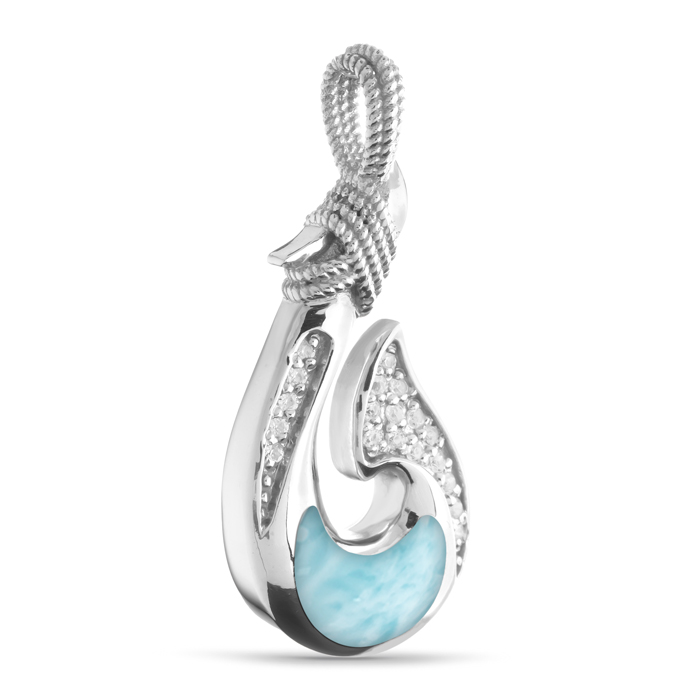 Fish Hook Pendant
Fish Hook Pendant
$249
or 4 equal Payments of $62.25
Free Expedited Delivery
Thursday, Sep 28
it's as unique and beautiful as the picture. I love it

- Heidimarie M -

The silver styling of the pendant is very detailed

- Kelli R -

Beautiful gift for my wife who loves to fish.

- Patrick D -
Fish Hook pendant in sterling silver
The Fish Hook Pendant, with its beautiful larimar stone, accents of white sapphires and whimsical design adds a touch of playful charm and evokes the feeling of being by the ocean, making it a perfect accessory for any beach lover This necklace is both elegant and durable, making it a beautiful and timeless addition to any jewelry collection. Each fish hook pendant comes with an adjustable sterling silver chain up to 21" long

Dimensions:
1/4" x 5/16" Larimar Gemstone
Overall pendant size is 1 3/16"
Materials:
Includes:
Sterling silver chain adjustable up to 21"
Storage Pouch
Polishing Cloth
Gift Box
What is White Sapphire?
White sapphire, also known as colorless sapphire, is a captivating gemstone renowned for its enchanting beauty and unparalleled brilliance. It is a variety of the mineral corundum, which is composed of aluminum oxide with trace elements that give it a distinct color. Unlike its blue counterpart, white sapphire stands out for its colorless appearance, resembling the ethereal allure of a flawless diamond. Its captivating charm has made it a popular choice for various jewelry pieces, including engagement rings, earrings, necklaces, and bracelets.

Colorless sapphires owe their brilliance to the gem's remarkable physical properties. With a hardness of 9 on the Mohs scale, second only to diamonds, white sapphires exhibit exceptional durability, making them a practical and long-lasting option for everyday wear. Their remarkable hardness also ensures that the gem retains its brilliance and sparkle over time, providing a lasting testament to the enduring love and commitment they symbolize in engagement rings.

The allure of white sapphire extends beyond its captivating appearance. It holds a special place in various cultures and traditions, believed to bring wisdom, strength, and good fortune to its wearer. For centuries, this precious gem has adorned the crowns, tiaras, and jewelry of royalty and aristocrats, embodying a symbol of purity and sophistication.

As with any gemstone, the value of a white sapphire is influenced by factors such as size, cut, clarity, and overall quality. While they are generally more affordable than diamonds, the most exceptional white sapphires with exceptional clarity and brilliant cuts can still command a premium price.

In conclusion, white sapphire is a timeless gemstone that exudes elegance and grace. Its colorless allure, combined with its durability and symbolism, makes it a cherished choice for jewelry that will stand the test of time and be cherished for generations to come. Whether adorning an engagement ring or any other jewelry piece, white sapphire will continue to enchant and captivate admirers with its pure brilliance.

More about marahlago Fish Hook Jewelry
The Marahlago Fish Hook Pendant is a stunning piece of jewelry that effortlessly combines elegance with a touch of nautical charm. Handcrafted with meticulous attention to detail, this necklace is a symbol of both style and adventure.

The focal point of the Pendant is a beautifully crafted fish hook pendant made from sterling silver, capturing the essence of the sea and its captivating creatures. The pendant features exquisite curves and intricate textures, creating a sense of movement and life.

What makes the Marahlago Fish Hook Pendant truly unique is the mesmerizing gemstone at its center. Each necklace showcases a genuine larimar stone, renowned for its captivating hues reminiscent of the Caribbean waters. Larimar is a rare gem found only in the Dominican Republic, and its soothing blue tones evoke a sense of tranquility and serenity.

The pendant is designed to be versatile and can effortlessly complement both casual and formal attire. It comes with an adjustable chain, allowing you to customize the length to suit your preference. Whether worn as a personal talisman or a fashion statement, the Marahlago Fish Hook Pendant is sure to catch the eye and spark conversations wherever you go.

Experience the allure of the ocean with the Marahlago Fish Hook Pendant and let its timeless beauty and natural elegance add a touch of maritime enchantment to your jewelry collection.
Free Shipping
Free Returns
If you don't love it or if you need a different size just let us know and we'll Email you a return label.
For more details, Click Here.
Warranty
We know that your Marahlago® jewelry is special to you, which is why we offer a 1 year warranty against manufacturing defects! Shop worry-free knowing we've got you covered. 👍