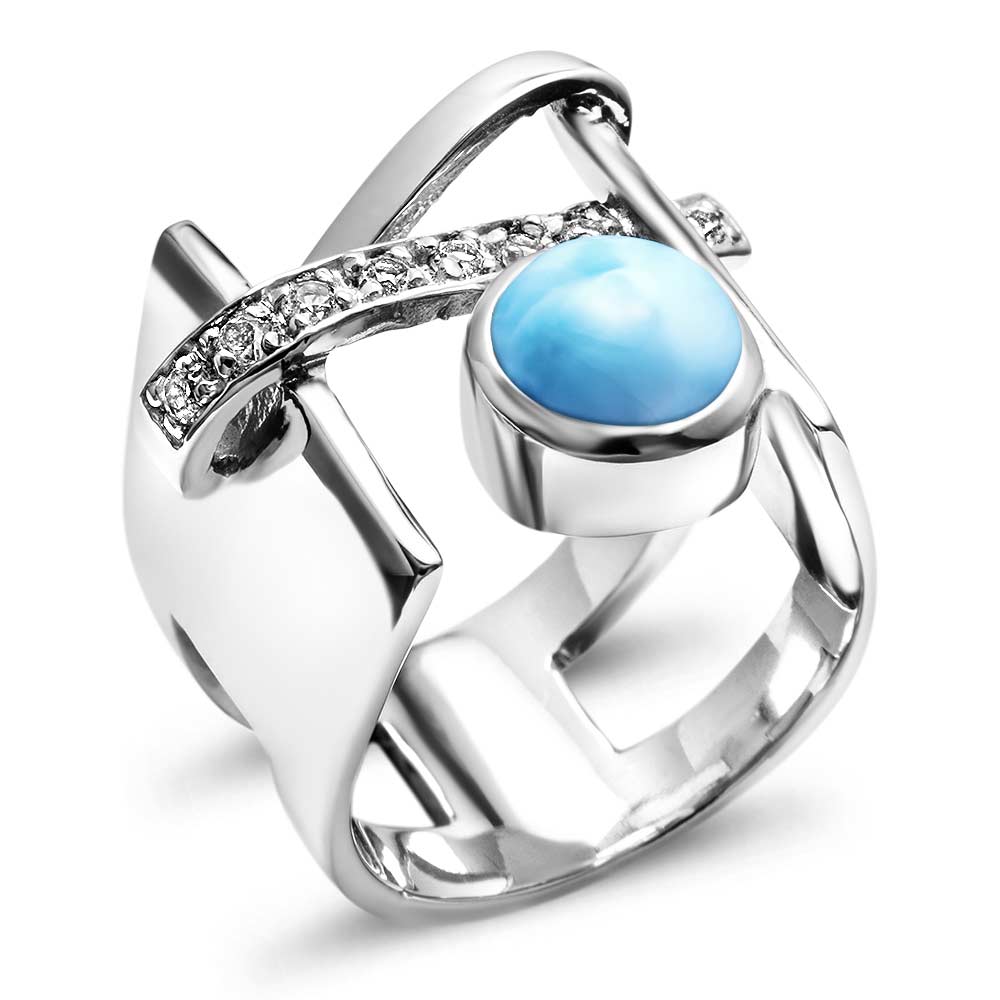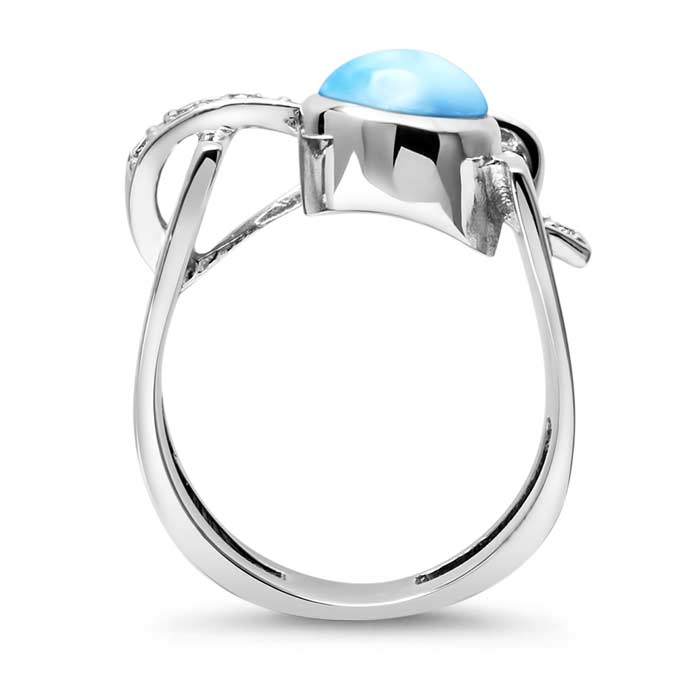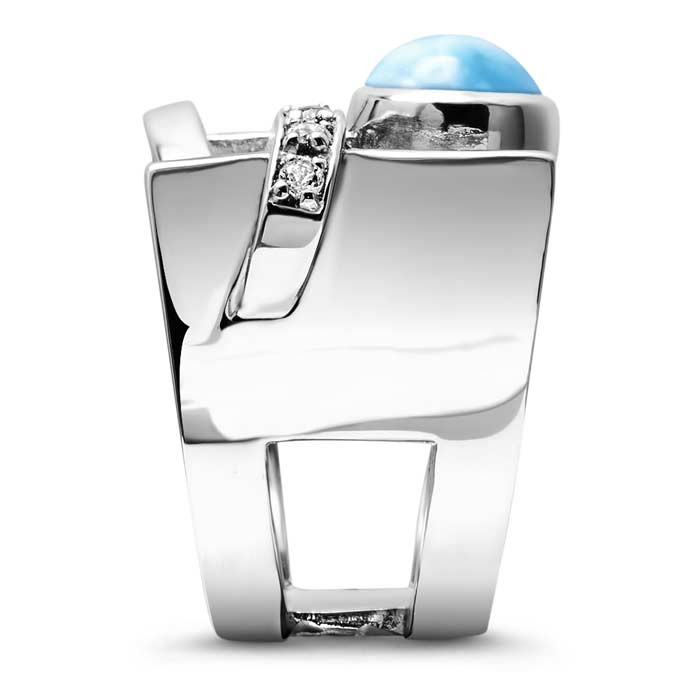 Dante Statement Ring
Statement ring
$240
or 4 equal Payments of $60.00
Select Size
6
7
8
9
10
11
Free Expedited Delivery
Friday, Sep 29
It's a substantial ring but oh so comfortable. Also very versatile, dressy or more casual depending on the rest of your attire. I did go up a size as the band is relatively wide and thick.

- Barbara T -

I love my new ring. Fits perfect and looks beautiful. Just as it is described.

- Barbara W -

Absolutely beautiful. Ring is wide so if in doubt, size up.

- Ingrid B -
Statement Ring in Sterling Silver
The Marahlago Statement Ring is an exquisite piece of jewelry that effortlessly combines elegance with a touch of natural wonder. Crafted with meticulous attention to detail, this stunning ring features a mesmerizing Larimar gemstone wrapped by a ribbon of white topaz.

An exceptional work of art and a symbol of serenity nestled in a carefully sculpted sterling silver setting, the Marahlago Statement Ring is designed for those who appreciate the allure of natural gemstones and desire to make a bold and unforgettable fashion statement. Whether worn for a special occasion or to elevate everyday ensembles, this ring effortlessly adds a touch of elegance and luxury to any outfit.

The shank on this ring is wider than normal so the ring will run a little tighter. We recommend sizing up at least 1/2" size larger than normal.

Dimensions:
5/16" Larimar Gemstone
Band is 1/2" Wide
Materials:
Includes:
Storage Pouch
Polishing Cloth
Gift Box
What is White Topaz
White topaz is a captivating gemstone that has been admired and valued for its beauty and versatility. It is a variety of the mineral topaz, which belongs to the silicate family. Unlike its more well-known counterpart blue topaz, white topaz has a pure, transparent appearance that closely resembles a diamond. This clear and colorless nature makes white topaz a popular alternative to more expensive gemstones like diamonds, as it provides an affordable and elegant option for various jewelry pieces.

Formation and Occurrence: Topaz typically forms in igneous rocks, such as volcanic deposits and crystallizes when mineral-rich fluids interact with the surrounding rocks, gradually forming the characteristic prismatic crystals that topaz is known for.

Properties and Characteristics: White topaz possesses a brilliant luster, which enhances its inherent sparkle. It ranks 8 on the Mohs scale of hardness, making it relatively durable and suitable for everyday wear in jewelry, such as rings, necklaces, earrings, and bracelets.

Uses in Jewelry: One of the most popular uses of white topaz is as a diamond substitute. Jewelers often use white topaz as an accent stone in engagement rings and other pieces of fine jewelry. It complements various metals, including white gold and sterling silver, allowing for versatile and striking designs. Additionally, it can be combined with other colored gemstones to create vibrant and aesthetically pleasing jewelry compositions.

Metaphysical and Healing Properties: In metaphysical and spiritual realms, white topaz is believed to have various healing properties. It is thought to promote clarity of thought, enhance intuition, and stimulate creativity. Some practitioners also associate white topaz with cleansing energies, helping individuals let go of negative emotions and promoting feelings of peace and positivity.

In conclusion, white topaz is a stunning gemstone admired for its diamond-like appearance and affordability. Its clear, colorless beauty, combined with its respectable hardness, makes it a popular choice in the world of jewelry, appealing to those seeking an elegant and budget-friendly alternative to diamonds. Whether used as a standalone gem or paired with other stones, white topaz continues to captivate jewelry enthusiasts with its timeless charm and versatility.

What is a Statement Ring
A statement ring is a bold and eye-catching piece of jewelry that is designed to make a powerful fashion statement. Unlike delicate or subtle rings, statement rings are characterized by their large size, intricate designs, and unique features, all of which combine to create a visually striking accessory.

These rings often feature gemstones, elaborate metalwork, or creative designs that draw attention to the wearer's hand. They can be crafted from various materials, such as precious metals like gold or silver, and adorned with gemstones like diamonds, sapphires, or colorful semi-precious stones.

Statement rings are intended to be worn as a focal point, making them perfect for special occasions, parties, or events where you want to stand out and showcase your personal style. They have the ability to elevate a simple outfit, adding a touch of elegance, glamour, or edginess.

The beauty of a statement ring lies in its ability to express individuality and personality. Whether you prefer vintage-inspired designs, contemporary artistry, or nature-inspired motifs, there is a statement ring out there that can reflect your taste and make a bold impact. So, if you're looking to make a striking impression and add a touch of flair to your ensemble, a statement ring is the perfect accessory to achieve that effect.
Available rings are shown above, if your desired size is not shown, you can order it below as a custom size. When unsure of your size,we recommend either purchasing a 'ring sizer tool' (about $5 on Amazon) or if you have an existing ring, you can check the size by downloading our FREE Marahlago Ring Sizer App.
Order a custom size
HOW MADE-TO-ORDER RINGS WORK:
The Larimar in Marahlago our rings are securely set and cannot be resized without risking damage to the stone or setting. We offer the option to custom-make your ring in the specific size you need. Although this process can take up to 8 weeks, it helps prevent any potential issues in the future.
Once your new piece is ready to ship, we will reach out and provide you with the tracking information.
Free Shipping
Free Returns
If you don't love it or if you need a different size just let us know and we'll Email you a return label.
For more details, Click Here.
Warranty
We know that your Marahlago® jewelry is special to you, which is why we offer a 1 year warranty against manufacturing defects! Shop worry-free knowing we've got you covered. 👍