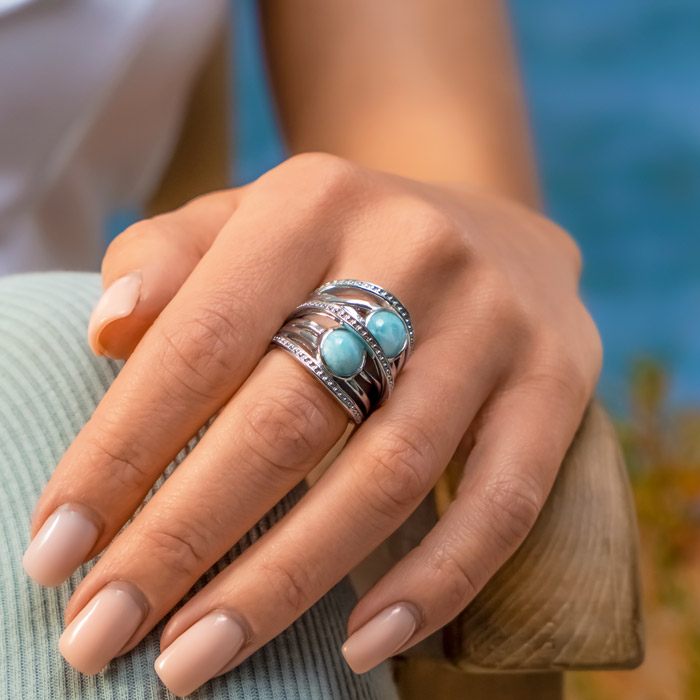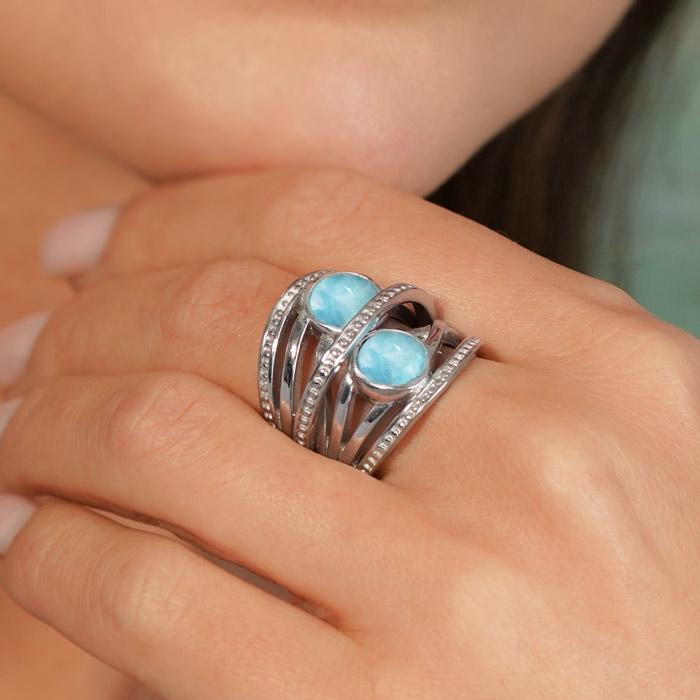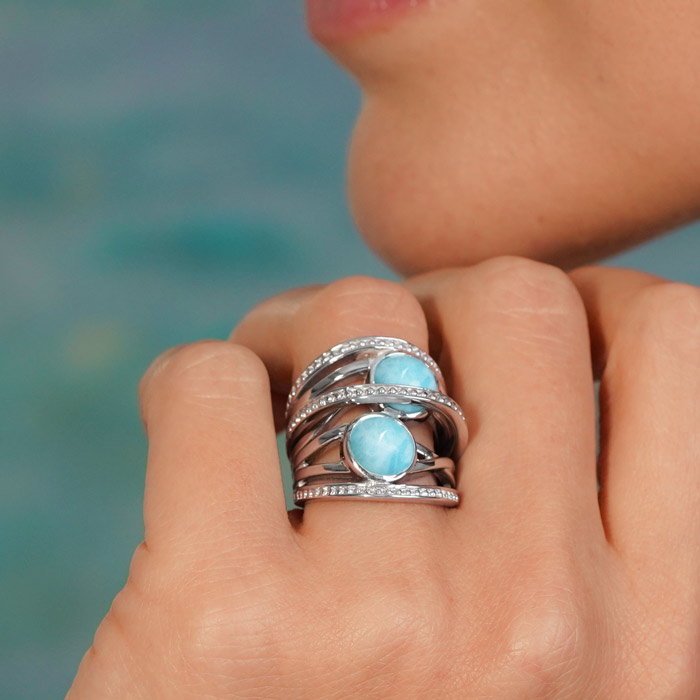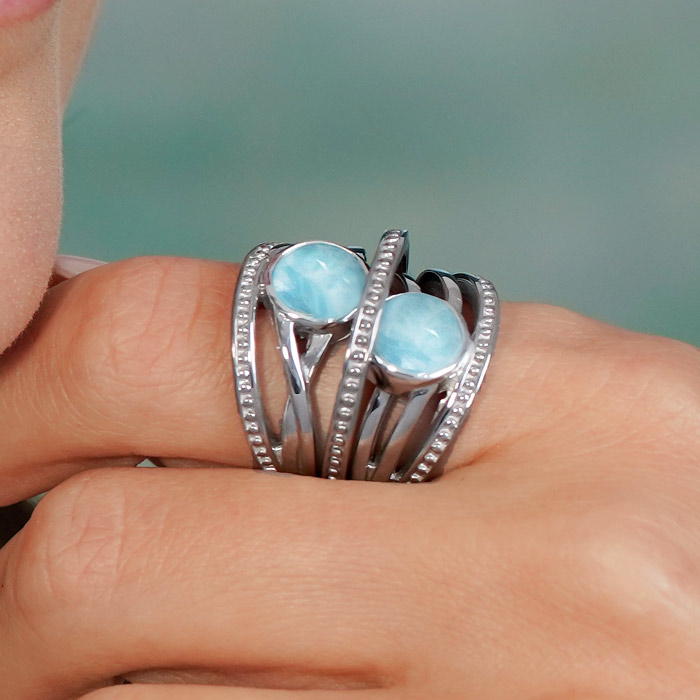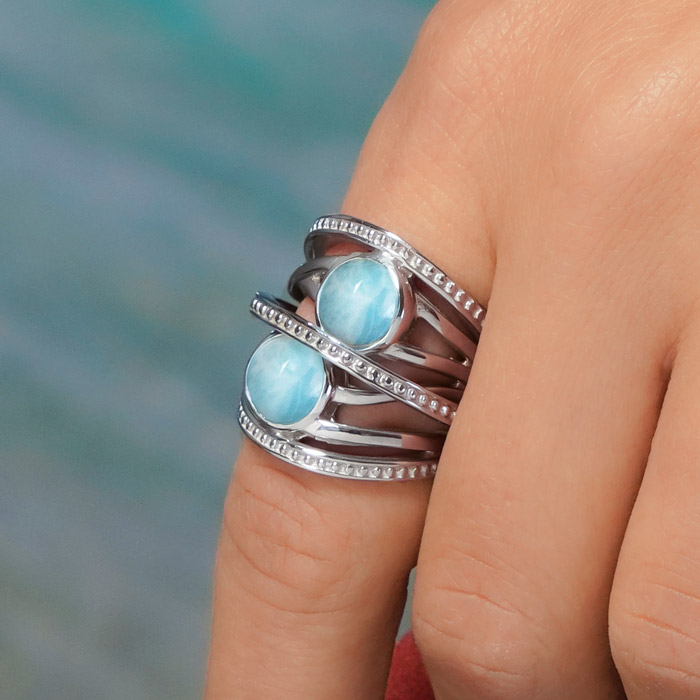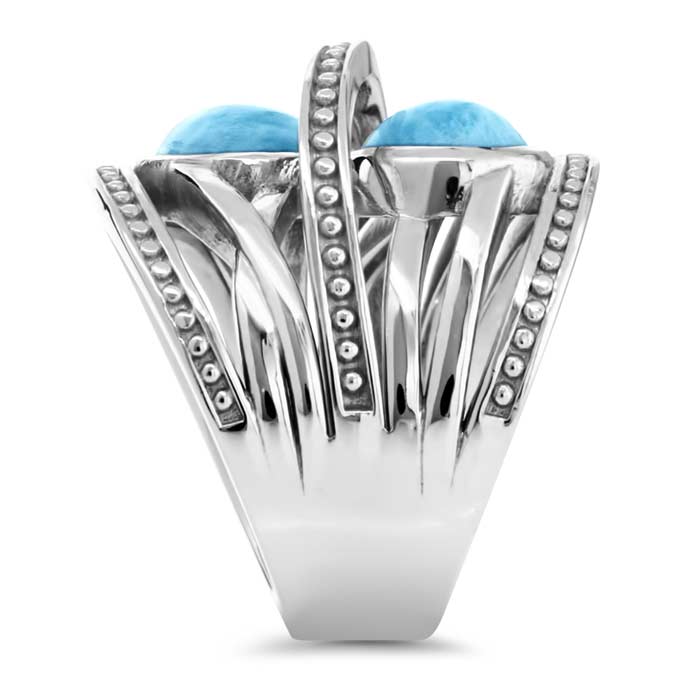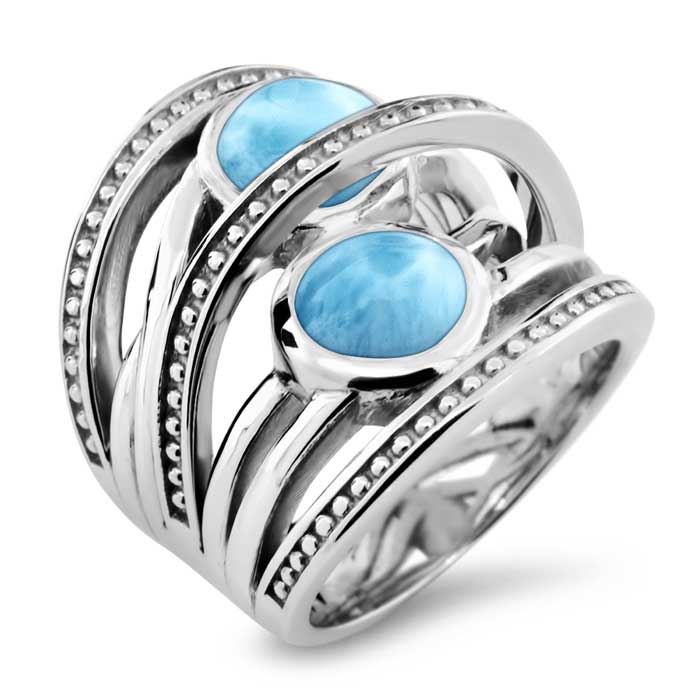 Crossover Ring
Crossover ring
$279
or 4 equal Payments of $69.75
Select Size
6
7
8
9
10
11
Free Expedited Delivery
Thursday, Sep 28
The piece is really pretty. Large, not to Gaudy. Unique. I love it.

- Carlsen K -

It is well made with substantial sterling & good sized pieces of larimar that have beautiful color.

- Robin S -

I like the weight and feel of the ring as well as how pretty it was in appearance.

- Steven K -
Crossover ring in Sterling Silver
The Marahlago Crossover Ring is a captivating piece of jewelry that blends timeless elegance and modern allure. Handcrafted with exceptional attention to detail, at its heart lies the breathtaking Larimar gemstone, renowned for its ethereal beauty and rare origin from the Caribbean's Dominican Republic.

The crossover setting gracefully intertwines bands of sterling silver to accentuate the natural beauty of the Larimar stone, creating a striking visual contrast that complements any style.

Whether worn as an everyday statement piece or for special occasions, the Marahlago Crossover Ring is a symbol of individuality and refined taste. Its versatile and sophisticated design makes it a cherished addition to any jewelry collection, while the awe-inspiring Larimar gemstone ensures that it remains a conversation piece that garners admiration wherever it is worn.

The shank on this ring is wider than normal so the ring will run a little tighter. We recommend sizing up at least 1/2" size larger than normal.

Dimensions:
5/16" Larimar Gemstone
Band is 1/2" wide
Materials:
Includes:
Storage Pouch
Polishing Cloth
Gift Box
What is a Crossover ring?
A crossover ring is an elegant and distinctive style of jewelry that features gracefully intertwining bands that cross over the top. This design creates a visually striking and modern look, often enhancing the overall appearance of the wearer's hand. The bands can be smooth and polished, adorned with gemstones, or embellished with intricate patterns, allowing for a wide range of artistic interpretations.

Crossover rings can be crafted from various materials and often incorporate gemstones like diamonds, sapphires, or other colorful stones, adding a touch of luxury and individuality to the piece.

The symbolism of the crossover ring varies, making it a meaningful gift for different occasions. It can represent the coming together of two paths in life, making it a popular choice for engagements, weddings, or anniversaries. Additionally, the intertwined bands can symbolize the unbreakable bond between loved ones, friendship, or family.

Due to its versatile design and sentimental value, the crossover ring has become a sought-after choice for those seeking a sophisticated and meaningful piece of jewelry that celebrates both style and emotion.
Available rings are shown above, if your desired size is not shown, you can order it below as a custom size. When unsure of your size,we recommend either purchasing a 'ring sizer tool' (about $5 on Amazon) or if you have an existing ring, you can check the size by downloading our FREE Marahlago Ring Sizer App.
Order a custom size
HOW MADE-TO-ORDER RINGS WORK:
The Larimar in Marahlago our rings are securely set and cannot be resized without risking damage to the stone or setting. We offer the option to custom-make your ring in the specific size you need. Although this process can take up to 8 weeks, it helps prevent any potential issues in the future.
Once your new piece is ready to ship, we will reach out and provide you with the tracking information.
Free Shipping
Free Returns
If you don't love it or if you need a different size just let us know and we'll Email you a return label.
For more details, Click Here.
Warranty
We know that your Marahlago® jewelry is special to you, which is why we offer a 1 year warranty against manufacturing defects! Shop worry-free knowing we've got you covered. 👍