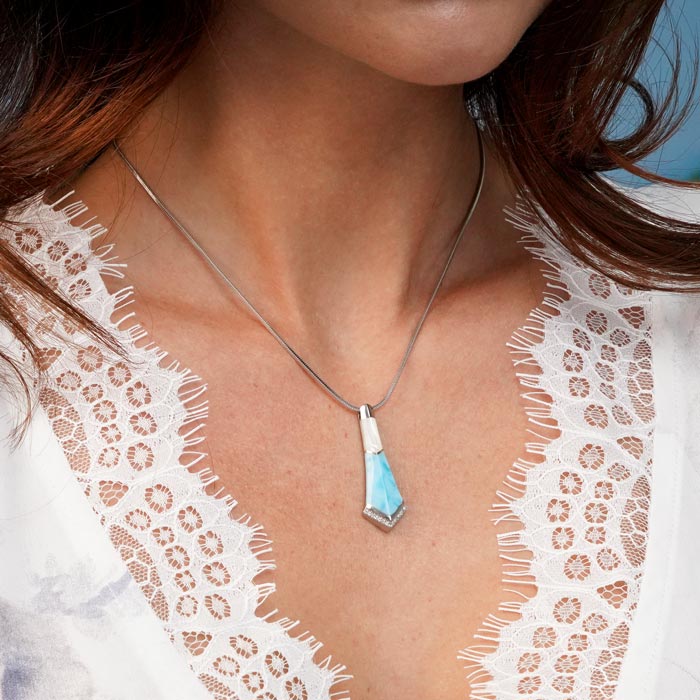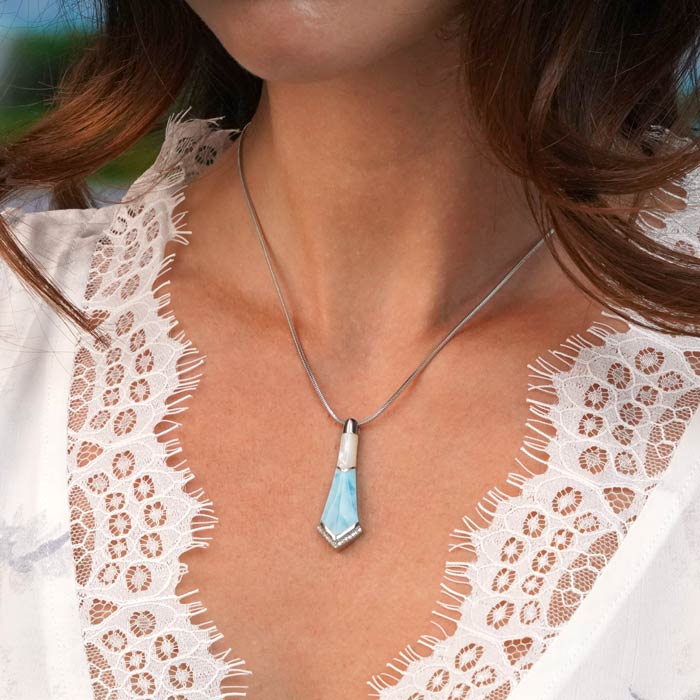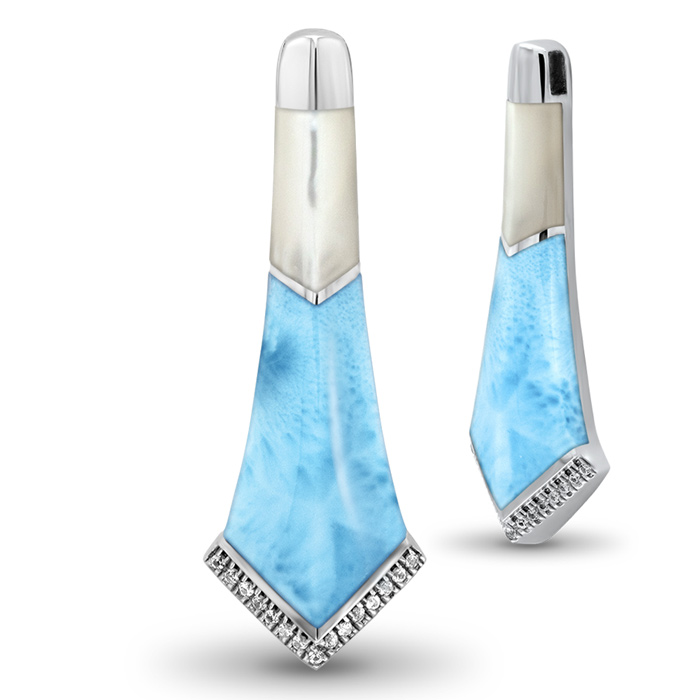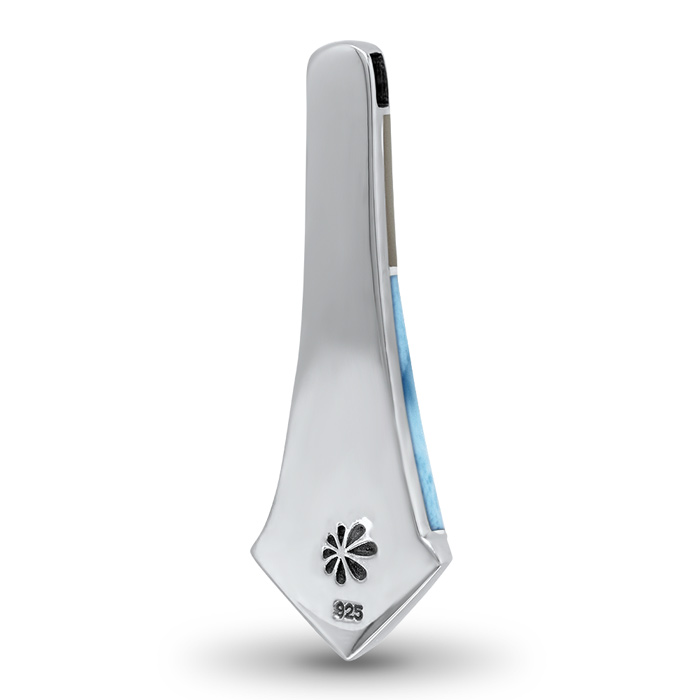 Calder Necklace
Marahlago Calder Necklace
$306
or 4 equal Payments of $76.50
Free Expedited Delivery
Friday, Sep 29
Unique setting.The Larimar and mother of pearl give the necklace a classy look.

- Brenda L -

Beautiful eye catching necklace.

- Suzanne B -

Beautiful piece, very well made -love the mother of pearl!

- Wendy R -
Larimar, Sterling Silver, Mother of Pearl, White Sapphire
The Calder necklace showcases the natural luminescence of Larimar with matching geometrics of gleaming white mother of pearl in a gorgeous design that brings out the best in every wardrobe.

Dimensions:
3/8" x 3/4" Larimar Gemstone
Overall pendant size is 1 1/2"
Materials:
Larimar Gemstone
White Sapphire
Mother of Pearl
Includes:
Sterling silver chain adjustable up to 21"
Storage Pouch
Polishing Cloth
Gift Box
What is Mother of Pearl?
Mother-of-pearl is the iridescent inside lining of a mollusk shell. To protect the inside of their shells from parasites and foreign irritants, the mollusk coats it with nacre—an organic substance that builds up over many years to give the mother-of-pearl its iridescent effect and distinct beauty. This multicolored iridescence is caused by the way light reflects on the layers of nacre on the shell.

How is Mother of Pearl Different from Pearls? Both are made in the same way from the same material, but mother of pearl refers specifically to the inner-shell of the mollusk. Whereas Pearls are made when a small irritant such as a grain of sand gets trapped inside the shell and over many years the mollusk coats this with layers of nacre until it grows into a pearl.

What is White Sapphire?
White sapphire, also known as colorless sapphire, is a captivating gemstone renowned for its enchanting beauty and unparalleled brilliance. It is a variety of the mineral corundum, which is composed of aluminum oxide with trace elements that give it a distinct color. Unlike its blue counterpart, white sapphire stands out for its colorless appearance, resembling the ethereal allure of a flawless diamond. Its captivating charm has made it a popular choice for various jewelry pieces, including engagement rings, earrings, necklaces, and bracelets.

Colorless sapphires owe their brilliance to the gem's remarkable physical properties. With a hardness of 9 on the Mohs scale, second only to diamonds, white sapphires exhibit exceptional durability, making them a practical and long-lasting option for everyday wear. Their remarkable hardness also ensures that the gem retains its brilliance and sparkle over time, providing a lasting testament to the enduring love and commitment they symbolize in engagement rings.

The allure of white sapphire extends beyond its captivating appearance. It holds a special place in various cultures and traditions, believed to bring wisdom, strength, and good fortune to its wearer. For centuries, this precious gem has adorned the crowns, tiaras, and jewelry of royalty and aristocrats, embodying a symbol of purity and sophistication.

As with any gemstone, the value of a white sapphire is influenced by factors such as size, cut, clarity, and overall quality. While they are generally more affordable than diamonds, the most exceptional white sapphires with exceptional clarity and brilliant cuts can still command a premium price.

In conclusion, white sapphire is a timeless gemstone that exudes elegance and grace. Its colorless allure, combined with its durability and symbolism, makes it a cherished choice for jewelry that will stand the test of time and be cherished for generations to come. Whether adorning an engagement ring or any other jewelry piece, white sapphire will continue to enchant and captivate admirers with its pure brilliance.
Adjustable Silver Chain
This necklace comes with a 21"adjustable chain that slides to adjust to your look.
To slide, simply pinch the silver ball with one hand and pull the silver chain to the desired length.
If you need a longer chain that will slide over your head or to see all chain options,
Click Here.
Free Shipping
Free Returns
If you don't love it or if you need a different size just let us know and we'll Email you a return label.
For more details, Click Here.
Warranty
We know that your Marahlago® jewelry is special to you, which is why we offer a 1 year warranty against manufacturing defects! Shop worry-free knowing we've got you covered. 👍