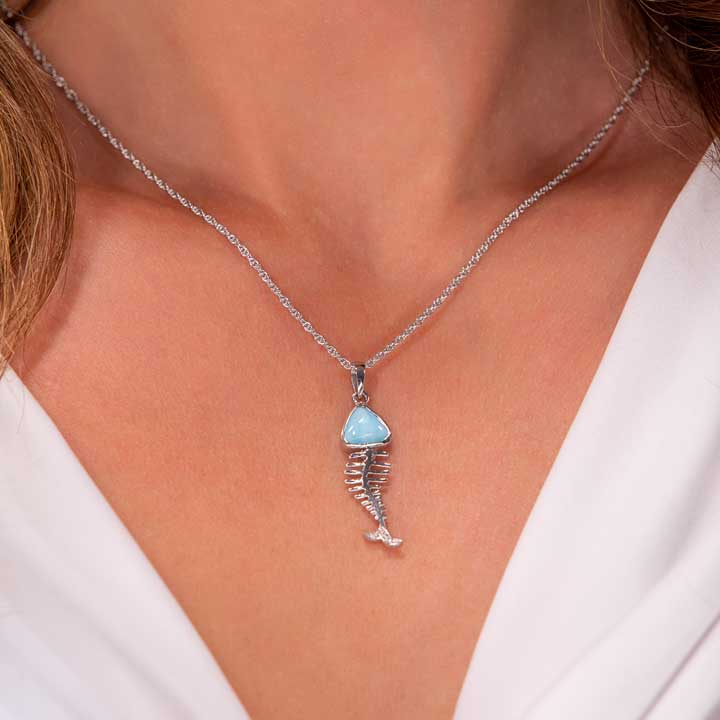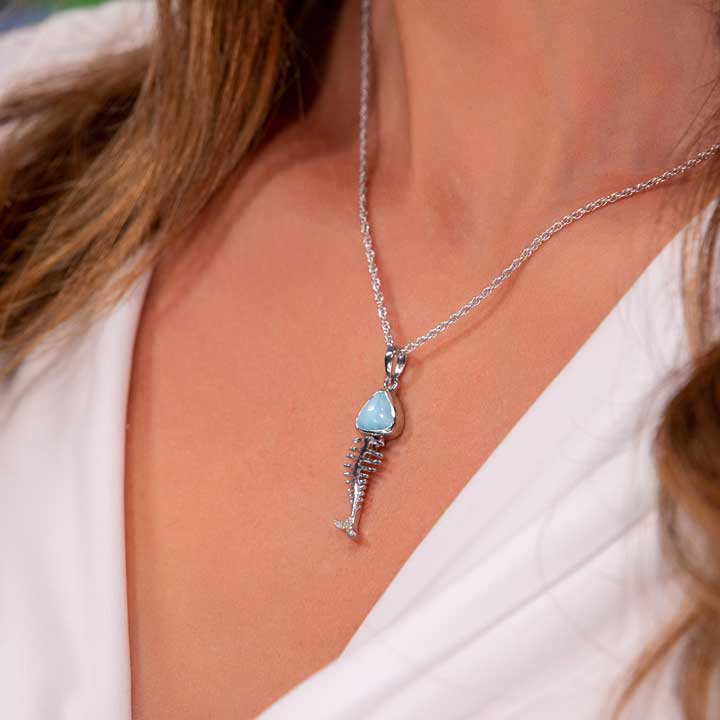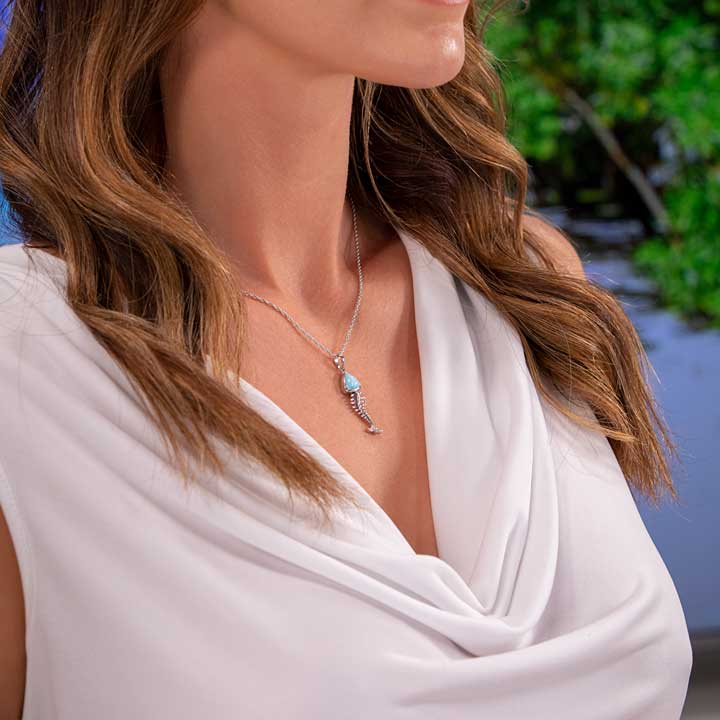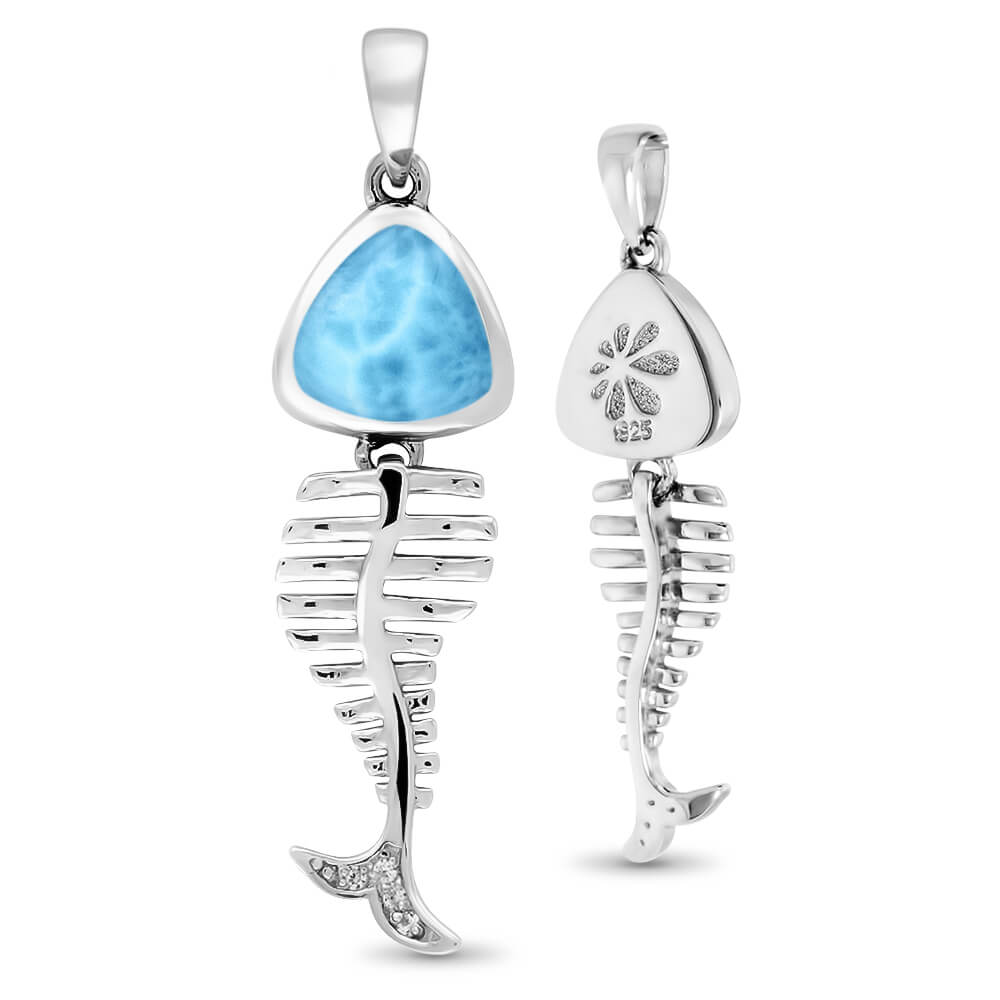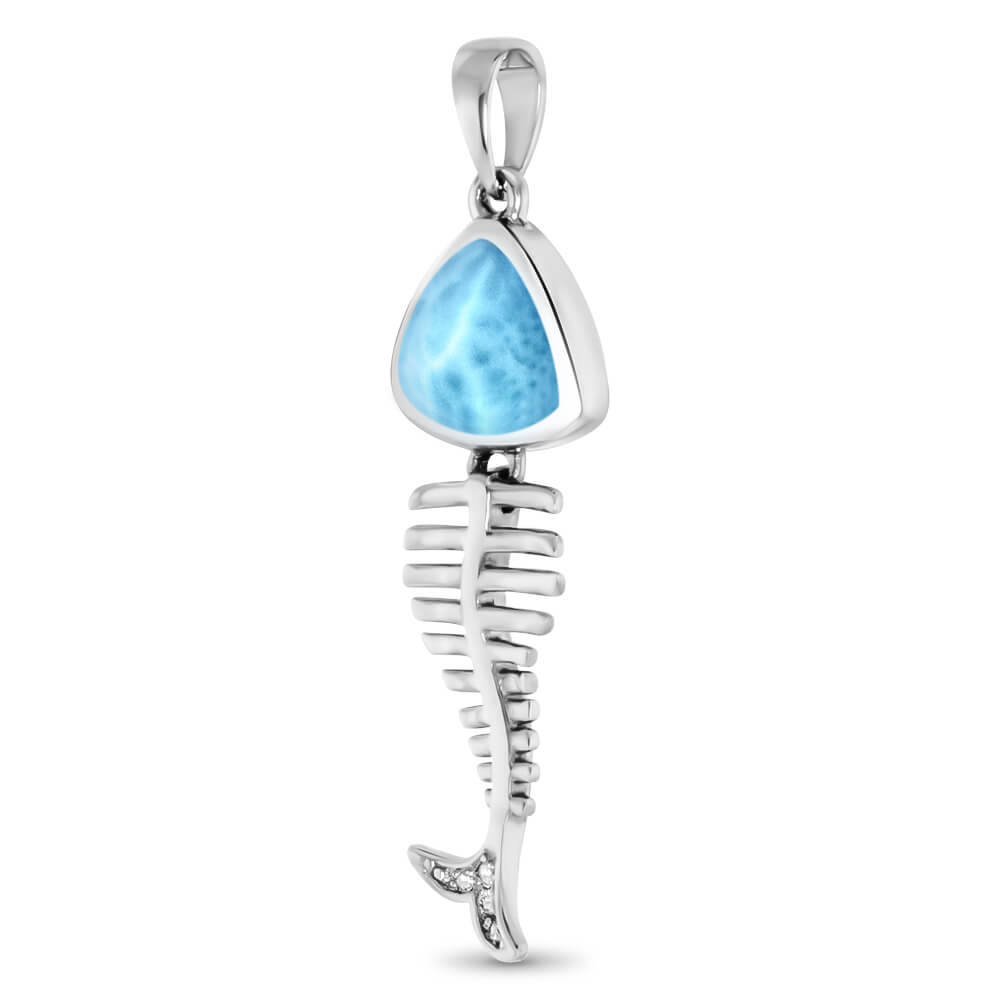 Bone Fish Pendant
Fish Pendant
$183
or 4 equal Payments of $45.75
Free Expedited Delivery
Friday, Sep 29
It is a nice sized piece. The inlay shows more color depending on what you wear it with.

- Adria H -

Love this little fish. Craftsmanship is awesome. Love wearing it.

- Nancy R -

I love the styling of the Bonefish

- Paula Z -
Fish Pendant in Sterling Silver
The Bone Fish Pendant with natural larimar gemstones sparkles with white sapphires and rhodium plated sterling silver. Each Bone Fish pendant comes with a sterling silver chain that adjusts in length up to 21".

Dimensions:
5/16"" Larimar gemstone
Overall length is 1 3/8"
Materials:
Includes:
Sterling silver chain adjustable up to 21"
Storage Pouch
Polishing Cloth
Gift Box
What is White Sapphire?
White sapphire, also known as colorless sapphire, is a captivating gemstone renowned for its enchanting beauty and unparalleled brilliance. It is a variety of the mineral corundum, which is composed of aluminum oxide with trace elements that give it a distinct color. Unlike its blue counterpart, white sapphire stands out for its colorless appearance, resembling the ethereal allure of a flawless diamond. Its captivating charm has made it a popular choice for various jewelry pieces, including engagement rings, earrings, necklaces, and bracelets.

Colorless sapphires owe their brilliance to the gem's remarkable physical properties. With a hardness of 9 on the Mohs scale, second only to diamonds, white sapphires exhibit exceptional durability, making them a practical and long-lasting option for everyday wear. Their remarkable hardness also ensures that the gem retains its brilliance and sparkle over time, providing a lasting testament to the enduring love and commitment they symbolize in engagement rings.

The allure of white sapphire extends beyond its captivating appearance. It holds a special place in various cultures and traditions, believed to bring wisdom, strength, and good fortune to its wearer. For centuries, this precious gem has adorned the crowns, tiaras, and jewelry of royalty and aristocrats, embodying a symbol of purity and sophistication.

As with any gemstone, the value of a white sapphire is influenced by factors such as size, cut, clarity, and overall quality. While they are generally more affordable than diamonds, the most exceptional white sapphires with exceptional clarity and brilliant cuts can still command a premium price.

In conclusion, white sapphire is a timeless gemstone that exudes elegance and grace. Its colorless allure, combined with its durability and symbolism, makes it a cherished choice for jewelry that will stand the test of time and be cherished for generations to come. Whether adorning an engagement ring or any other jewelry piece, white sapphire will continue to enchant and captivate admirers with its pure brilliance.

More about fish jewelry
Marahlago Fish Jewelry is a mesmerizing collection of exquisite accessories inspired by the captivating wonders of the ocean. Crafted with unparalleled artistry and attention to detail, each piece tells a tale of elegance and natural beauty.

The fish jewelry collection embodies the essence of the deep blue seas, embracing the fascinating world beneath the waves. The centerpiece of this remarkable collection is the stunning larimar gemstone carefully crafted to resemble the graceful and colorful marine creatures that inhabit our oceans.

Marahlago Fish Jewelry features a wide range of designs, from delicate necklaces to elegant earrings. Each piece showcases the unique beauty of Larimar—a rare gemstone found only in the Dominican Republic. Larimar's ethereal blue hues mirror the tranquility and serenity of the ocean, creating an irresistible allure.

Every Marahlago Fish Jewelry creation is a true testament to the brand's commitment to sustainable practices and ethical sourcing. Larimar is meticulously handpicked, ensuring its quality and authenticity, while responsible mining techniques are employed to minimize environmental impact.

Wearing Marahlago Fish Jewelry is more than just adorning oneself with stunning accessories; it's an expression of appreciation for the natural world and a reminder of the importance of preserving our oceans. Each piece evokes a sense of connection to the marine realm, carrying its unique energy and symbolism.

Whether it's a graceful fish pendant, a pair of whimsical earrings, or a statement necklace Marahlago Fish Jewelry is a captivating choice for those who seek to combine style with a deeper connection to nature. Embrace the beauty of the ocean and allow yourself to be enchanted by the allure of Marahlago Fish Jewelry—an invitation to dive into a world of elegance and wonder.
Adjustable Silver Chain
This necklace comes with a 21"adjustable chain that slides to adjust to your look.
To slide, simply pinch the silver ball with one hand and pull the silver chain to the desired length.
If you need a longer chain that will slide over your head or to see all chain options,
Click Here.
Free Shipping
Free Returns
If you don't love it or if you need a different size just let us know and we'll Email you a return label.
For more details, Click Here.
Warranty
We know that your Marahlago® jewelry is special to you, which is why we offer a 1 year warranty against manufacturing defects! Shop worry-free knowing we've got you covered. 👍