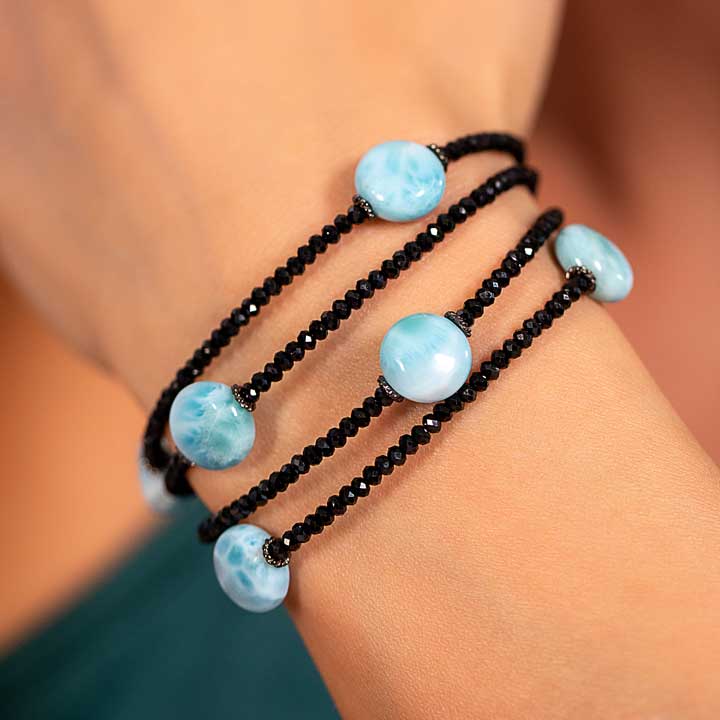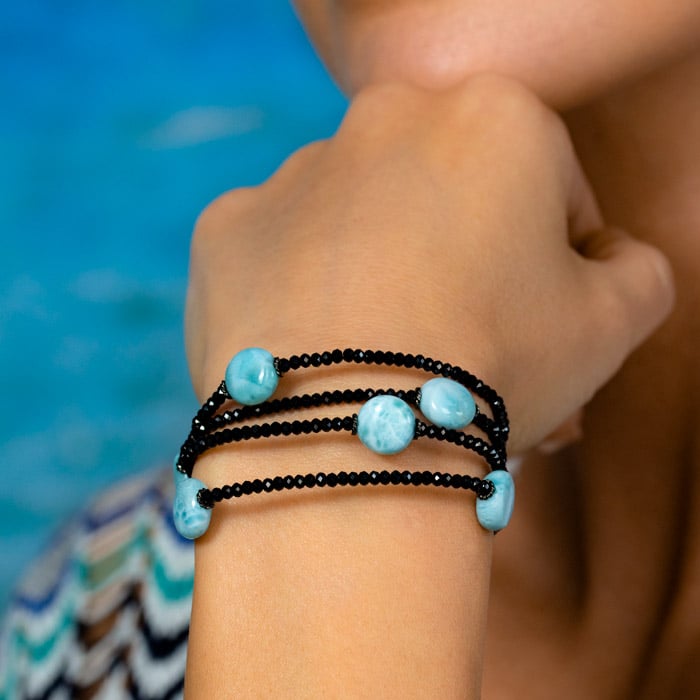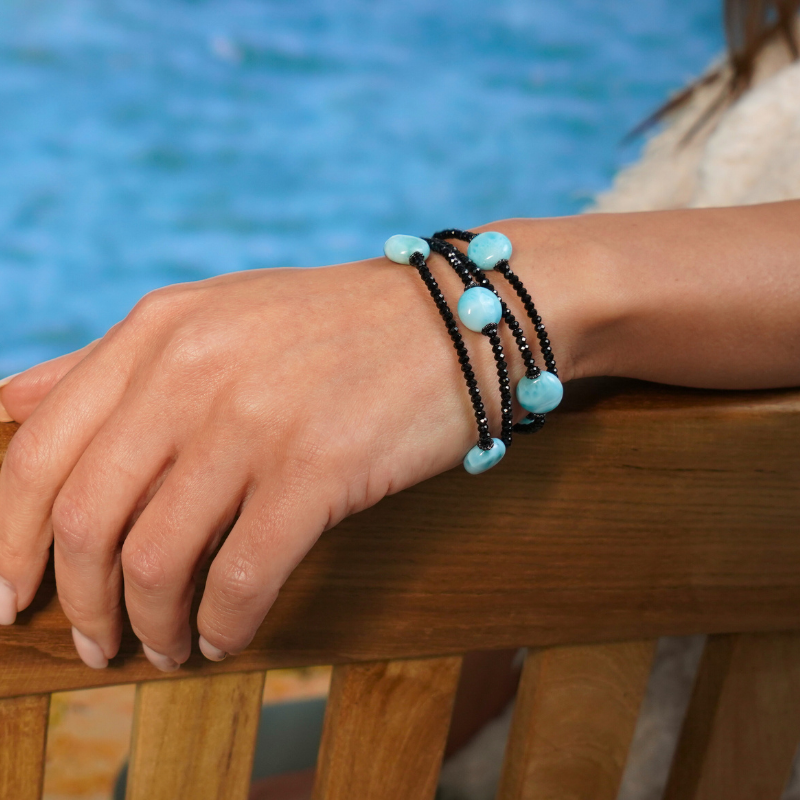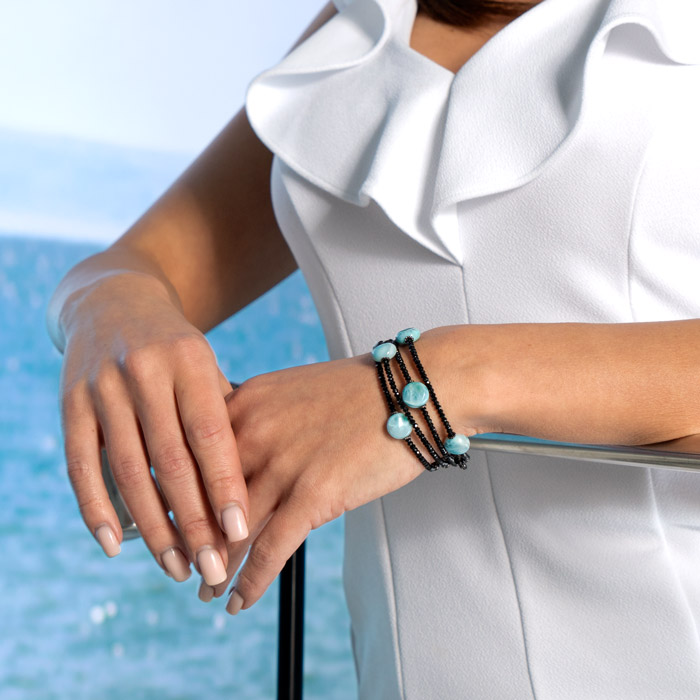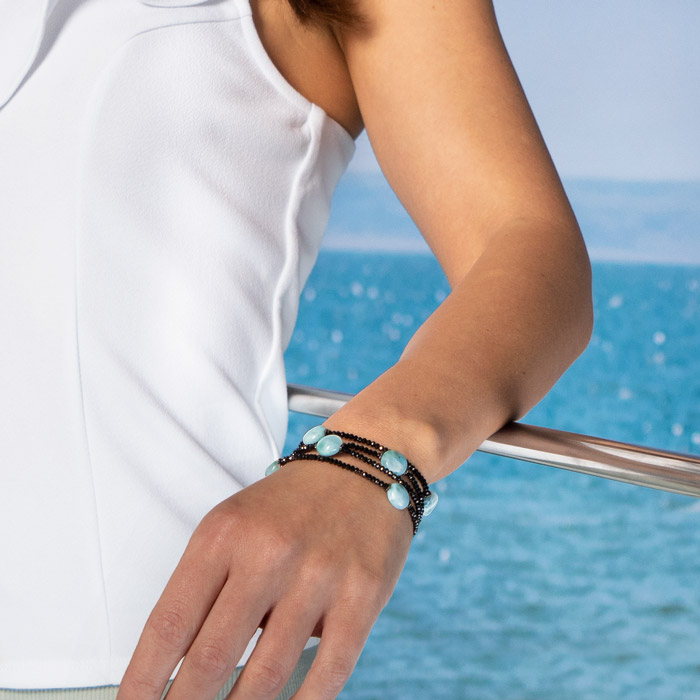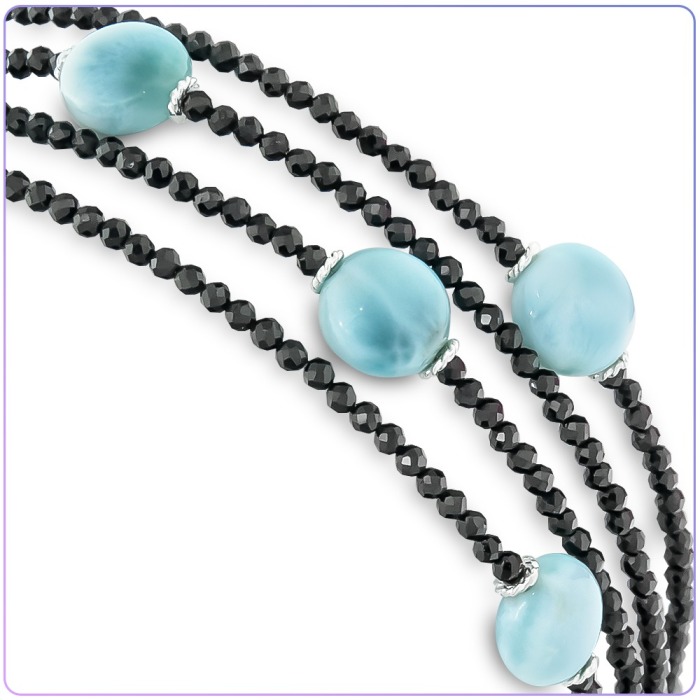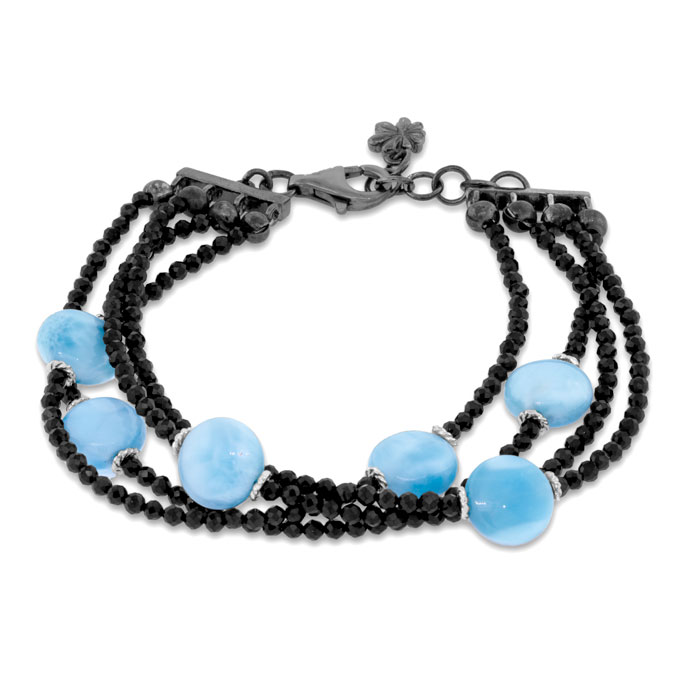 Black Spinel Bracelet
black spinel bracelet
$297
or 4 equal Payments of $74.25
I LOVE this piece. It fits me perfect and does not turn around on my wrist.

- Debbie C -

I love the bracelet! The black spinel is so sparkly!

- Gloria T -

The stones are beautiful and are complimented by the sparkly black band.

- Michael B -
Black Spinel Bracelet with Larimar Gemstone
The Marahlago Black Spinel Bracelet with larimar is a stunning piece of jewelry that combines the beauty of Larimar, the elegance of sterling silver, and the sophistication of black spinel. It is a must-have accessory for anyone looking to add a unique and stylish piece to their collection.

Sizing:
A standard stock size Black Spinel Bracelet fits a wrist measurement from 6" to 7".
For other sizes, order "custom size" below
Dimensions:
Six 3/8" Larimar Gemstones
Materials:
Black Rhodium Sterling Silver
Larimar Gemstone
Black Spinel
Includes:
Storage Pouch
Polishing Cloth
Gift Box
What is Black Spinel
Spinel is a fascinating gemstone and mineral that has captivated humans for centuries. It belongs to the family of oxide minerals and is composed of magnesium aluminum oxide, it can occur in a variety of colors, including red, pink, blue, violet, green, and even black.

What makes spinel particularly intriguing is its remarkable resemblance to other precious gemstones. In fact, throughout history, many spinel's have been misidentified as rubies or sapphires due to their similar appearance. One of the most famous examples is the "Black Prince's Ruby," which adorns the Imperial State Crown of England and is, in fact, a large red spinel.

Spinel possesses excellent hardness and durability, making it a desirable gemstone for jewelry. Its hardness ranges from 7.5 to 8 on the Mohs scale, comparable to other popular gemstones like topaz and quartz. This durability ensures that spinel can withstand the rigors of daily wear without losing its brilliance or luster.

Spinel is found in various locations around the world, including Myanmar (formerly Burma), Sri Lanka, Thailand, Afghanistan, Tanzania, and Vietnam, among others. Each location yields spinel with its unique color variations and characteristics.

In recent years, spinel has gained renewed popularity among gemstone enthusiasts and jewelry designers due to its remarkable beauty, durability, and affordability compared to other gemstones. Its wide range of colors and exceptional brilliance make it a versatile and attractive option for a variety of jewelry designs.
To measure your wrist, use a measuring tape around your wrist, snug, without squeezing the skin or leaving extra space.
Most Bracelets have a clasp that allows for some size adjustment, but if you have to bend or stretch a bracelet in any way, it does not fit and you will damage the setting. If the bracelet isn't available or if you need a different size, you may be able to order it below as a custom size. In order for us to determine the perfect length of bracelet for you, we need your exact wrist measurement.
Order a custom size
HOW MADE-TO-ORDER BRACELETS WORK:
The Larimar in Marahlago our bracelets are securely set and cannot be resized without risking damage to the stone or setting. We offer the option to custom-make your bracelet in the specific size you need. Although this process can take up to 8 weeks, it helps prevent any potential issues in the future.
Once your new piece is ready to ship, we will reach out and provide you with the tracking information.
Free Shipping
Free Returns
If you don't love it or if you need a different size just let us know and we'll Email you a return label.
For more details, Click Here.
Warranty
We know that your Marahlago® jewelry is special to you, which is why we offer a 1 year warranty against manufacturing defects! Shop worry-free knowing we've got you covered. 👍