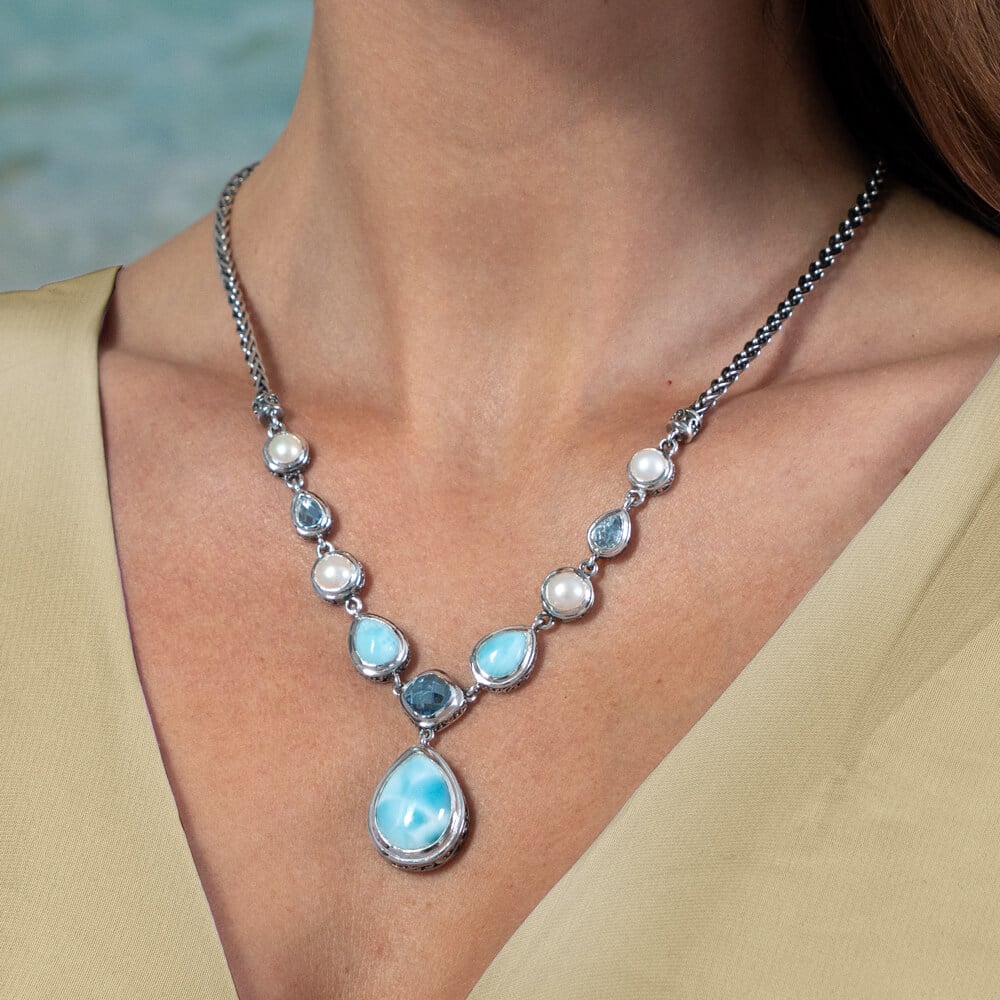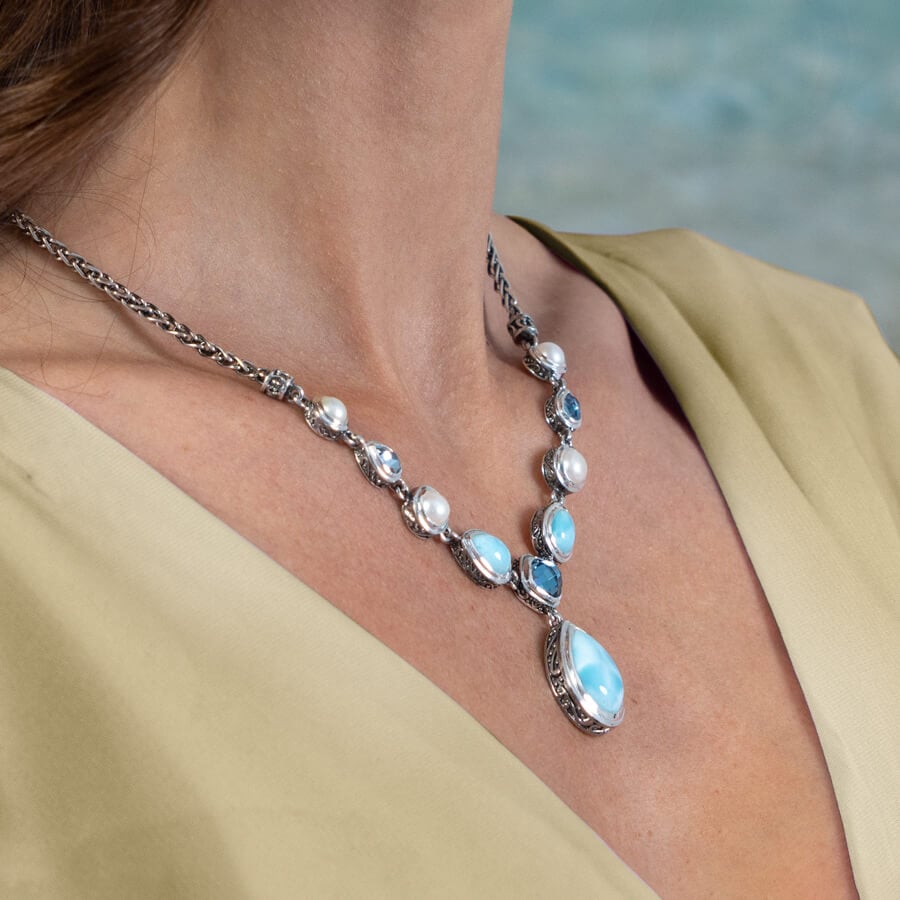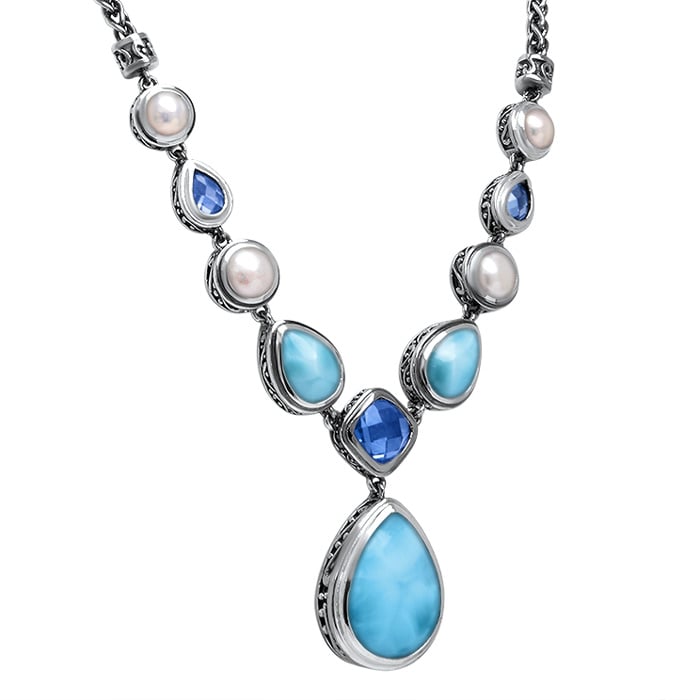 Azure Gemstone Necklace
Gemstone Necklace
$1080
or 4 equal Payments of $270.00
Free Expedited Delivery
Friday, Sep 29
I love the quality of this jewelry, it's beautiful and also unique.

- Ashley H -

Love this combination of Pearl and larimar stone.

- Lorraine -

It is very eye catching and uniquely designed.

- Martha M -
Gemstone Necklace in Sterling Silver
The Marahlago Azure Gemstone Necklace is an exquisite piece of jewelry that embodies elegance and natural beauty. Crafted with meticulous attention to detail, this necklace features a stunning centerpiece—a mesmerizing Larimar gemstone. Surrounding the Larimar gemstone are pearls and blue spinel accents with an oxidized finish to highlight the intricately detailed sterling silver.

Dimensions:
One 5/8" x 7/8" and two 3/8" x 9/16" Larimar gemstones
Length is adjustable from 16 1/4" to 17 1/4"
Materials:
Oxidized Sterling Silver
Larimar Gemstone
Blue Spinel
Freshwater Pearl
Includes:
Storage Pouch
Polishing Cloth
Gift Box
What is Vintage style jewelry?
Marahlago Vintage Style Jewelry is a captivating and unique collection of accessories that exude timeless elegance and a touch of antiquity. Inspired by the allure of bygone eras, Marahlago combines modern craftsmanship with classic design elements to create exquisite pieces that resonate with nostalgia and sophistication.

Crafted with meticulous attention to detail, Marahlago Vintage Style Jewelry showcases a seamless blend of traditional craftsmanship and contemporary materials. The collection predominantly features the mesmerizing beauty of larimar gemstones, renowned for their celestial blue hues reminiscent of the Caribbean seas.

Each piece in the collection is a work of art, carefully handcrafted to evoke the charm and allure of vintage jewelry. From intricately designed filigree patterns to delicately set gemstones, every element is thoughtfully crafted to evoke a sense of romance and grace.

Marahlago's dedication to sustainability and ethical practices also shines through in their vintage style collection. Emphasizing quality and longevity, the jewelry is designed to be cherished for generations, ensuring both its beauty and meaningfulness endure over time.

Whether worn for a special occasion or to add a touch of sophistication to everyday attire, Marahlago Vintage Style Jewelry encapsulates the essence of timeless glamour, making it a beloved choice for those who seek to embrace the past while celebrating the present.

What is Blue Spinel?
Blue spinel is a captivating gemstone known for its exquisite blue hues, reminiscent of the serene depths of the ocean. Belonging to the spinel family, this gem has long captivated the hearts of gemstone enthusiasts and collectors alike. Revered for its brilliant color, impressive durability, and unique brilliance, blue spinel has cemented its place as a sought-after gemstone in the world of jewelry.

Unlike its more commonly recognized cousin, the ruby, which is also part of the spinel family, blue spinel's vibrant shades have often been compared to sapphires. Blue spinel has been cherished throughout various cultures and it was often mistaken for sapphire due to its close resemblance. One of the most famous spinel gems in history is the Black Prince's Ruby, set in the British Imperial State Crown, which is, in fact, a large red spinel.

Found in various parts of the world, including Myanmar, Sri Lanka, Tanzania, and Vietnam, blue spinel has a remarkable geological origin. It forms in the earth's crust through a combination of elements such as aluminum, oxygen, and magnesium. The presence of trace elements contributes to the gem's distinct blue coloration.


Free Shipping
Free Returns
If you don't love it or if you need a different size just let us know and we'll Email you a return label.
For more details, Click Here.
Warranty
We know that your Marahlago® jewelry is special to you, which is why we offer a 1 year warranty against manufacturing defects! Shop worry-free knowing we've got you covered. 👍