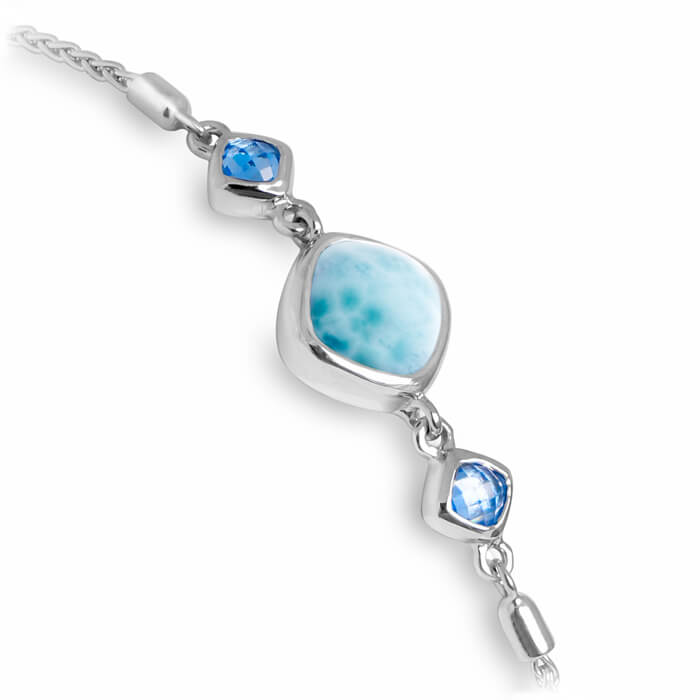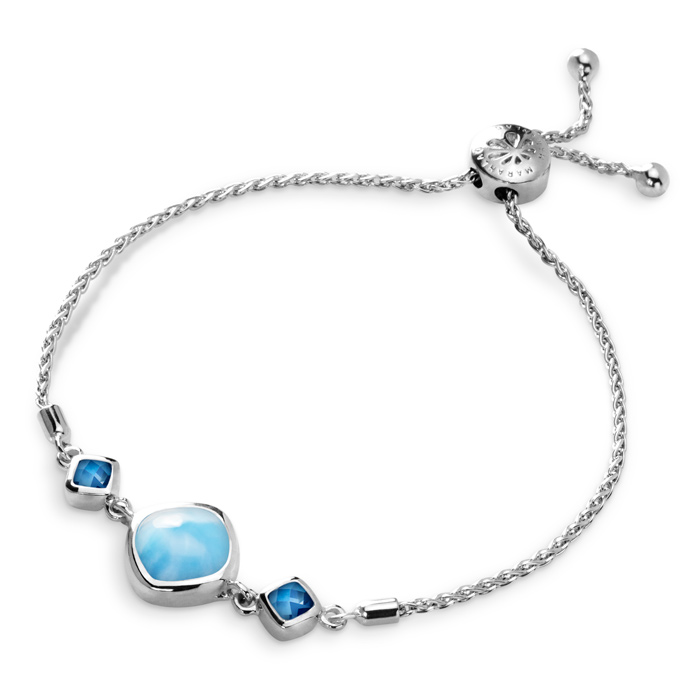 Atlantic Blue Stone Bracelet
Blue Stone Bracelet
$270
or 4 equal Payments of $67.50
Free Expedited Delivery
Friday, Sep 29
Vibrant rich color in both larimar and spinel. Design really beautiful!

- Elizabeth Y -

I love the delicateness of the bracelet.

- Lavonne S -

I love this bracelet. It's so simple it goes with everything, but also beautiful.

- Sarah R -
Blue Stone Bracelet
A beautiful bracelet with the blue gemstones larimar and spinel! Set on a sterling silver adjustable bolo chain.

Sizing:
A standard stock size Atlantic Cushion Lite Bolo Bracelet fits a wrist measurement from 4.5" to 7".
The bolo has a slide that allows you to adjust it to fit your wrist up to a maximum of 7"
This style is not available in custom sizes
Dimensions:
Materials:
Includes:
Storage Pouch
Polishing Cloth
Gift Box
What is Blue Spinel?
Blue spinel is a captivating gemstone known for its exquisite blue hues, reminiscent of the serene depths of the ocean. Belonging to the spinel family, this gem has long captivated the hearts of gemstone enthusiasts and collectors alike. Revered for its brilliant color, impressive durability, and unique brilliance, blue spinel has cemented its place as a sought-after gemstone in the world of jewelry.

Unlike its more commonly recognized cousin, the ruby, which is also part of the spinel family, blue spinel's vibrant shades have often been compared to sapphires. Blue spinel has been cherished throughout various cultures and it was often mistaken for sapphire due to its close resemblance. One of the most famous spinel gems in history is the Black Prince's Ruby, set in the British Imperial State Crown, which is, in fact, a large red spinel.

Found in various parts of the world, including Myanmar, Sri Lanka, Tanzania, and Vietnam, blue spinel has a remarkable geological origin. It forms in the earth's crust through a combination of elements such as aluminum, oxygen, and magnesium. The presence of trace elements contributes to the gem's distinct blue coloration.

Aside from its allure and beauty, blue spinel is also valued for its exceptional durability. Ranking 8 on the Mohs scale of hardness, it is a gemstone well-suited for everyday wear in various types of jewelry, from rings to necklaces and earrings. Jewelers love working with blue spinel due to its excellent toughness, allowing them to create intricate and stunning designs that highlight the gem's brilliance and color.

The popularity of blue spinel in modern times has grown steadily, as more people become aware of its existence and extraordinary attributes. It has found its way into both high-end and artisanal jewelry pieces, appealing to those who seek a unique gemstone alternative to more traditional options.

In conclusion, blue spinel is a mesmerizing gemstone that combines breathtaking beauty, durability, and rarity. Its rich history, coupled with its vibrant blue color and impressive sparkle, makes it a treasure cherished by those who appreciate the allure of exceptional gemstones. Whether set in a regal ring, a graceful necklace, or an elegant pair of earrings, blue spinel is sure to continue captivating hearts and minds for generations to come.

A bolo bracelet is a type of adjustable bracelet that features a unique sliding mechanism to secure it on the wrist. The distinctive feature of a bolo bracelet is the sliding mechanism, which allows the wearer to adjust the length of the bracelet by moving a small bead along the chain. This mechanism also serves as the clasp, allowing the bracelet to be easily put on and taken off.

Bolo bracelets have gained popularity in recent years due to their versatility and modern aesthetic. The adjustable nature of the bracelet makes it suitable for various wrist sizes and provides a comfortable fit. The sliding mechanism also adds an element of interactivity and personalization, as wearers can customize the length of the bracelet to their liking.
To measure your wrist, use a measuring tape around your wrist, snug, without squeezing the skin or leaving extra space.
Most Bracelets have a clasp that allows for some size adjustment, but if you have to bend or stretch a bracelet in any way, it does not fit and you will damage the setting. If the bracelet isn't available or if you need a different size, you may be able to order it below as a custom size. In order for us to determine the perfect length of bracelet for you, we need your exact wrist measurement.
Free Shipping
Free Returns
If you don't love it or if you need a different size just let us know and we'll Email you a return label.
For more details, Click Here.
Warranty
We know that your Marahlago® jewelry is special to you, which is why we offer a 1 year warranty against manufacturing defects! Shop worry-free knowing we've got you covered. 👍