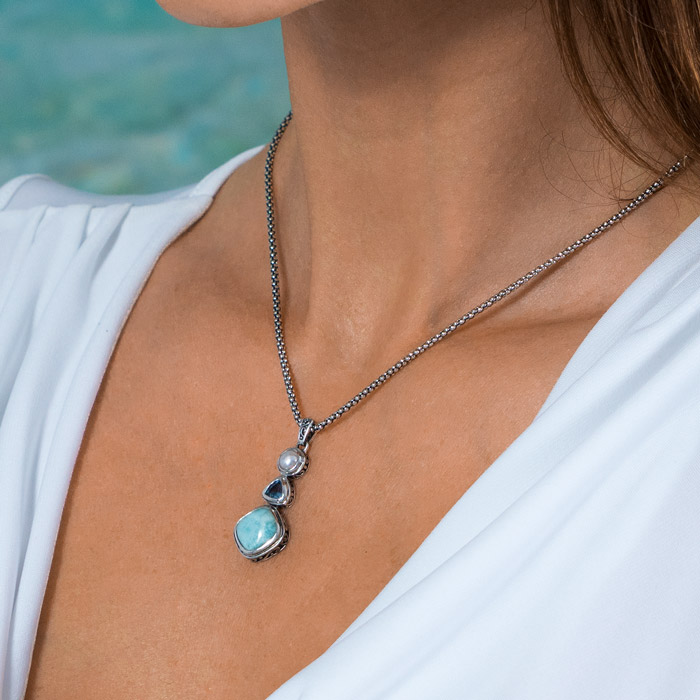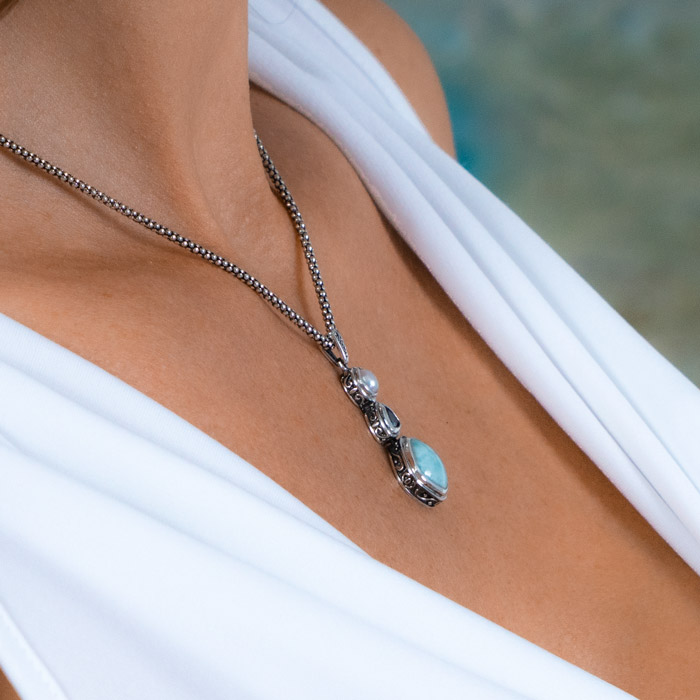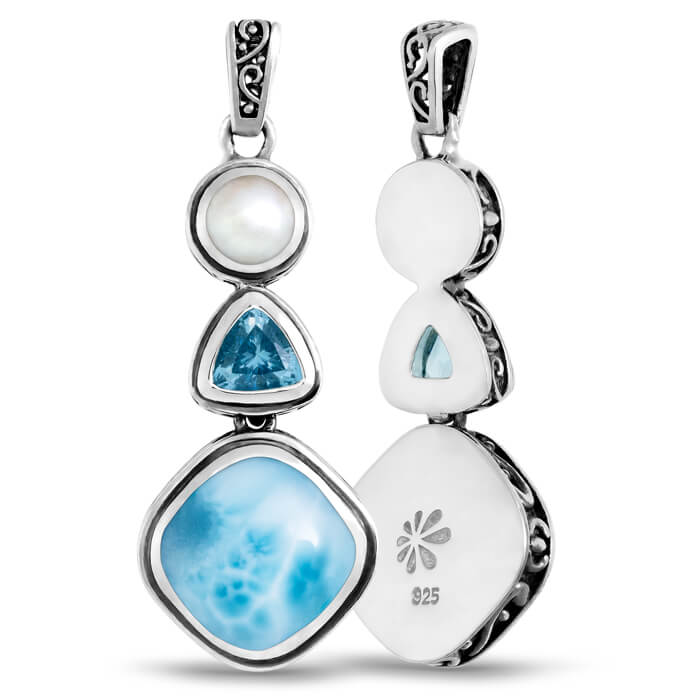 Antique Necklace Azure Cushion
Antique Necklace
$360
or 4 equal Payments of $90.00
Free Expedited Delivery
Friday, Sep 29
Love this necklace. Great quality, beautiful stones/pearl.

- Joanne R -

Absolutely beautiful necklace. Very well made. You can either dress it up or down. Very versatile.

- Rachael Y -

Perfectly sized... to wear either on a short or longer chain.

- Sandra E -
Antique Style Necklace in Sterling Silver
The Antique Jewelry collection is truly a combination of all things elegance. Blue spinel, freshwater pearl and filigreed sterling silver are combined with a gorgeous cushion-cut Larimar gemstone. The Antique style Necklace includes a Sterling silver chain that adjusts upto 21"

Dimensions:
3/8" Larimar Gemstone
Overall pendant length is 1 5/8"
Materials:
Oxidized Sterling Silver
Larimar Gemstone
Blue Spinel
Freshwater Pearl
Includes:
Sterling silver chain adjustable up to 21"
Storage Pouch
Polishing Cloth
Gift Box
What is Antique style jewelry?
Antique style jewelry is a popular look that is created by dipping the silver in an antiquing solution to darken the sterling silver to an aged patina which results in an aged antique style appearance. The antique silver effect is often used to create contrast and highlight details in the silverwork that would otherwise go unnoticed. Once all of the silver is oxidized black, the raised surface is polished to remove the patina and leave the deeper areas black for contrast. The oxidation is just a surface treatment and does not change the properties of the metal. It is possible to intentionally or accidentally remove the effect by using silver cleaning solutions or a buffing wheel.

What is Antique style Jewelry?
Marahlago Antique Style Jewelry is a captivating and elegant collection that artfully blends the allure of antiquity with modern design. Inspired by ancient aesthetics and traditional craftsmanship, Marahlago has created a range of jewelry pieces that exude timeless beauty and sophistication.

Each piece in the Marahlago Antique Style collection showcases a seamless fusion of vintage elements and contemporary innovation. These treasures often feature intricate filigree work, ornate motifs, and delicate detailing reminiscent of historical jewelry styles. The designs are carefully crafted to evoke the essence of ancient civilizations and historical periods while incorporating a touch of luxury and refinement.

One of the standout features of Marahlago Antique Style Jewelry is the prominent use of Larimar gemstones. Larimar is a rare and stunning blue stone found only in the Dominican Republic, renowned for its captivating swirls of oceanic hues. The combination of this exquisite gem with the antique-inspired settings results in a mesmerizing and unique allure.

Whether it's a pendant, necklace, ring, or bracelet, each piece of Marahlago Antique Style Jewelry is a true work of art that speaks to the sophistication and refined tastes of the wearer. This collection is a celebration of timeless beauty, combining the elegance of the past with the desires of the modern jewelry enthusiast, making it a treasured addition to any jewelry collection.

What is Blue spinel?
Blue spinel is a captivating gemstone known for its exquisite blue hues, reminiscent of the serene depths of the ocean. Belonging to the spinel family, this gem has long captivated the hearts of gemstone enthusiasts and collectors alike. Revered for its brilliant color, impressive durability, and unique brilliance, blue spinel has cemented its place as a sought-after gemstone in the world of jewelry.

Unlike its more commonly recognized cousin, the ruby, which is also part of the spinel family, blue spinel's vibrant shades have often been compared to sapphires. Blue spinel has been cherished throughout various cultures and it was often mistaken for sapphire due to its close resemblance. One of the most famous spinel gems in history is the Black Prince's Ruby, set in the British Imperial State Crown, which is, in fact, a large red spinel.

Found in various parts of the world, including Myanmar, Sri Lanka, Tanzania, and Vietnam, blue spinel has a remarkable geological origin. It forms in the earth's crust through a combination of elements such as aluminum, oxygen, and magnesium. The presence of trace elements contributes to the gem's distinct blue coloration.

Aside from its allure and beauty, blue spinel is also valued for its exceptional durability. Ranking 8 on the Mohs scale of hardness, it is a gemstone well-suited for everyday wear in various types of jewelry, from rings to necklaces and earrings. Jewelers love working with blue spinel due to its excellent toughness, allowing them to create intricate and stunning designs that highlight the gem's brilliance and color.

The popularity of blue spinel in modern times has grown steadily, as more people become aware of its existence and extraordinary attributes. It has found its way into both high-end and artisanal jewelry pieces, appealing to those who seek a unique gemstone alternative to more traditional options.

In conclusion, blue spinel is a mesmerizing gemstone that combines breathtaking beauty, durability, and rarity. Its rich history, coupled with its vibrant blue color and impressive sparkle, makes it a treasure cherished by those who appreciate the allure of exceptional gemstones. Whether set in a regal ring, a graceful necklace, or an elegant pair of earrings, blue spinel is sure to continue captivating hearts and minds for generations to come.
Adjustable Silver Chain
This necklace comes with a 21"adjustable chain that slides to adjust to your look.
To slide, simply pinch the silver ball with one hand and pull the silver chain to the desired length.
If you need a longer chain that will slide over your head or to see all chain options,
Click Here.
Free Shipping
Free Returns
If you don't love it or if you need a different size just let us know and we'll Email you a return label.
For more details, Click Here.
Warranty
We know that your Marahlago® jewelry is special to you, which is why we offer a 1 year warranty against manufacturing defects! Shop worry-free knowing we've got you covered. 👍