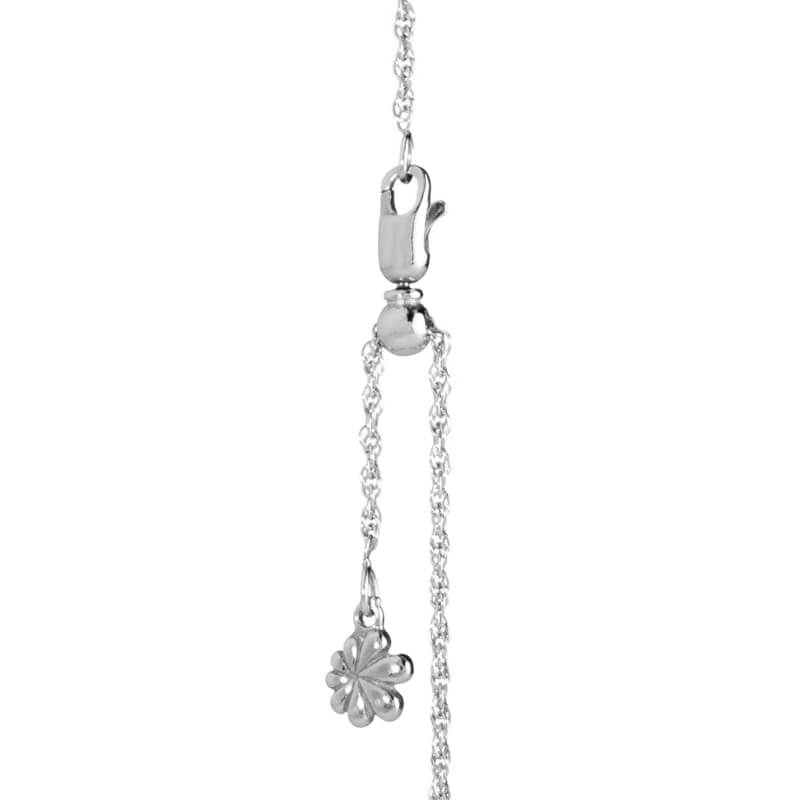 Marahlago 21 inch Rope Chain 1mm
Marahlago 21 inch Rope Chain 1mm
Sterling Silver
Or 4 equal Payments of $11.25
Order in
and receive by:
Monday, Jun 05
Twisted sterling silver 1mm thick Loose Rope Chain with an easy sliding adjuster that you can set to the perfect length for your look! Adjustable up to 21".
Adjustable up to 21".


Adjustable Chains
Different necklines require different necklace lengths. Thankfully, all Marahlago chains come with a patented sliding clasp that is fully adjustable to fit every outfit.
For people that have trouble with clasps, the Chains 26" and longer are designed to slide over the head without having to unclasp the chain.
Which chain should I select? 
-
Loose Rope
: sturdy and very flexible so will not easily kink or damage. This is a great chain for people on the go who need a low maintenance and versatile chain! It will look good on all pendants. 
-
Popcorn Chain
: Because of its oxidized look, this style looks great with oxidized and antique looking pieces.
-
Snake Chain
: Highly polished chains that look beautiful on high polished silver pendants. Needs to be gently rolled for storage to avoid kinks.
What chain diameter/weight to pick?
The heavier your pendant is, the thicker you want to select your chain diameter. When in doubt, contact us! Our team will gladly guide you towards your perfect chain.
Luxury at an affordable price
All chains are made with 100% nickel-free sterling silver and are rhodium plated to minimize tarnishing that plagues so many silver chains.
READ MORE
READ MORE

Adjustable Chain
This necklace comes with a 21"adjustable chain that slides to adjust to your look.
To slide, simply pinch the silver ball with one hand and pull the silver chain to the desired length.
If you need a longer chain that will slide over your head or to see all chain options,
Click Here.
Care & Cleaning
Wipe your Larimar jewelry with a soft cloth after each wear — the microfiber cloth that came with your piece is ideal.
Store each piece separately in an airtight container, such as a plastic bag, inside the original fabric pouch it came in to prevent tarnishing and scratching.
For a deeper clean, follow our cleaning tutorial Here.
Gift Packaging
Free Shipping
Free Returns
If you don't love it or if you need a different size just let us know and we'll Email you a return label.
For more details, Click Here.
Warranty
We know that your Marahlago® jewelry is special to you, which is why we offer a 3 year warranty against manufacturing defects! Shop worry-free knowing we've got you covered. 👍
What is Larimar?
Larimar is the result of volcanic activity that occurred millions of years ago deep within the mountains of the Dominican Republic. The Volcanic blue color with swirling bands of white, mimic the waves of the Caribbean waters. No two stones are alike; each piece is as unique as the person who wears it.
About Marahlago
Adrian came to America, bought a boat and sailed to the Caribbean where he came across Larimar. The love for the stone was immediate and immense. So began his journey of sharing it's beauty with the world.
The Community
Exclusively mined in only one place in the world, Larimar is the main driver of community development in the surrounding villages by providing work and steady income for the local men and their families.
Gift Packaging
Each Marahlago piece will arrive in packaging that protects your jewelry, looks good and is gift-ready!
Every piece comes in a protective suede storage pouch and all sterling silver pieces will also be delivered in a branded marahlago gift box.
Secure Stone Settings
At Marahlago, we prioritize the durability of our larimar jewelry by avoiding glue or prong settings. Instead, we carefully fold a band of silver over the edges of the larimar gemstone to make a very secure bezel setting.
Premium Finish
Marahlago applies a custom coating to the sterling silver that is highly resistant to tarnishing.


• Maintain's brilliance and value
• Long term durability
• Tarnish resistant
Genuine Larimar Vs. Fake
Every piece is made with naturally-occurring larimar from the Dominican Republic. Synthetic resins, artificially-dyed glass or dyed larimar is never used in marahlago jewelry.
Sterling Silver
Marahlago's sterling silver pieces are composed of a blend of pure silver and a small amount of other metals, which increases their shine and durability. All sterling silver pieces are imprinted with the mark 925 to ensure authenticity.
Flawless Cutting
Flawless is a term used to describe a gemstone that does not have any discernible internal or external flaws.